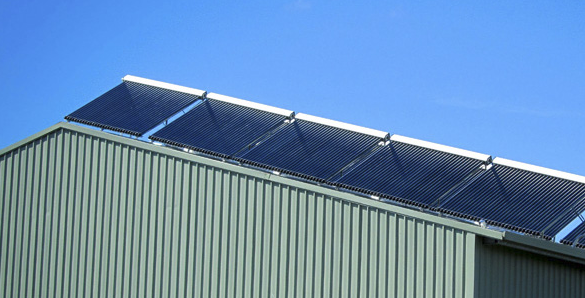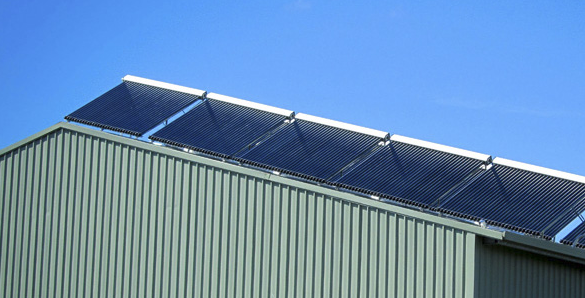 Solar heat for multinational agribusinesses under way
Solar heat for production processes is spreading. Now it is the turn of Argentina, where the engineering company Placentino Cia has announced four projects for agribusinesses totalling 18 MW with concentrating solar collectors in the early development phase. Natural gas prices in Argentina are currently still highly subsidised, which usually makes the use of solar thermal unprofitable. But multinational corporations with strict internal CO2 reduction targets are looking for alternatives. The photo shows one of the few SHIP plants in operation with vacuum tube collectors.
Photo: Skenta
Argentina has one of the best solar resources in the world. Together with Chile, Peru and Bolivia, some of its regions achieve record-breaking conditions. Areas such as Salta or Tucuman receive over 7.2 kWh/m2 of horizontal irradiation daily, which is almost the world's highest level. Despite its mild temperatures and clear skies, Argentina is, however, a fossil fuel economy and 88 % of its primary energy consumption comes from domestic gas and oil sources. Barely 8 % of its primary energy consumption is covered by renewables – mainly biomass.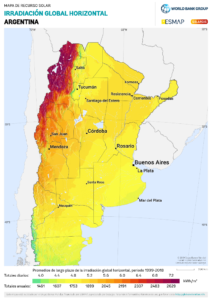 Source: Wikimedia Commons
Agricultural sector searching for alternatives
"Some companies, mostly foreign multinationals, are demanding huge amounts of renewable heat." Adrián Placentino with his company Placentino Cia is one of the few solar thermal project developers for industrial clients with linear Fresnel technologies in the country. He confirms that he is in the early stage of development of four projects totalling 18 MW. Among his customers are mostly large farm operators and oil & gas plants, including the Swiss Syngenta Agro SA. "These companies do not choose solar because of the economics but mostly due to internal requirements to reduce their CO2 footprint." Placentino Cia was founded in 1990 with its core business being HVAC solutions for industrial customers. Solar solutions have been promoted for five years under the brand name FríoSolar.
According to Placentino, the current, subsidized price of natural gas of around 0.15 USD/m3 discourages investment in solar heat by domestic companies. "However, large foreign multinational agribusinesses have internal targets on CO2 emission reduction. Together with compliance carbon trading and the possibility of an increase in gas prices, it makes more and more sense to search for alternatives." Placentino stated that some of his undisclosed clients operate very large farms with up to 20,000 hectares. They need to dry cereals such as corn or wheat using large amounts of natural gas. "These farms consume around 5 million m3 of gas during a season of six months; they are some of the largest gas consumers in the country."
Placentino explained that the most advanced project features 9,936 m2 of linear Fresnel collectors (6 MWth). During the agricultural season, solar heat is used primarily for drying; for the remaining part of the year the solar heat is used to run an organic rankine cycle (ORC) to produce electricity. The return heat from ORC is used for air conditioning and heating.
The solar plant will allow a reduction of around 12 % of the gas consumption. "We expect to start with the construction of the project in late 2023 or early 2024." Although he acknowledged that he is still waiting for the approval of the client. The estimated cost of the plants is close to USD 10 million.
| | |
| --- | --- |
| Collector type | Linear Fresnel 432 modules model LF-11 |
| Size of collector field | 9,936 m2 aperture area, 6 MWth |
| Solar field EPC | Placentino Cia, Argentina |
| Collector manufacturer | Industrial Solar, Germany |
| Prefeasibility study conducted in | 2022 |
| Start of construction planned for | 2024 |
| Commissioning planned for | 2025 |
| Operating temperature of solar field | 250 °C |
| Annual yield | 8,790 MWh |
| Solar heat contribution to total heat production for drying crops | 12 % |
Key figures for the most advanced solar concentrating heat project for a large agricultural producer in Argentina Source: Placentino Cia
Competitive with liquefied natural gas
According to Jorge Poppi, a former executive for the solar thermal installer Skenta, the current price of gas makes the use of solar thermal mostly unprofitable. "Those using liquefied natural gas (LNG), which is more expensive, however, can save some money with solar thermal." Currently Argentina imports LNG and the price is based on international markets, reaching 1.5 USD/m3 in the latest bids.
According to Poppi there are some smaller solar industrial heat (SHIP) plants in Argentina for "pharmaceutical, dairy, wine, metallurgical and meat processing companies". They mostly use solar thermal for medium-temperature purposes with flat-plate collectors and vacuum tube technologies.
Nevertheless, Placentino believes that the tide is turning and in the near future we could see SHIP technologies displacing gas. "The consumer only pays 20-30 % of the gas costs and the rest is subsidised. This situation is untenable. We expect the government to raise gas prices sharply in the coming months. The price will at least double."
Placentino believes that the first large-scale SHIP projects will be a flagship for the coming ones. Recently, he has joined the Low-Carbon Business Action initiative. The EU-funded Doing Business platform aims at developing B2B relations between EU providers of low carbon technologies and companies based in Argentina, Brazil, Chile and Colombia that are seeking sustainable solutions. His intention with this membership is to promote solar thermal for industrial processes: "First, European and American multinationals are installing these systems, but in the future local consumers will undoubtedly join this market, too. It is a question of time."
Organisations mentioned in this news article:
Placentino Cia : http://www.placentino.com
Skenta: http://www.skenta.com.ar/colectores-solares/Aplicaciones
Low-Carbon Business Action initiative: https://latam.lowcarbonbusinessaction.com/