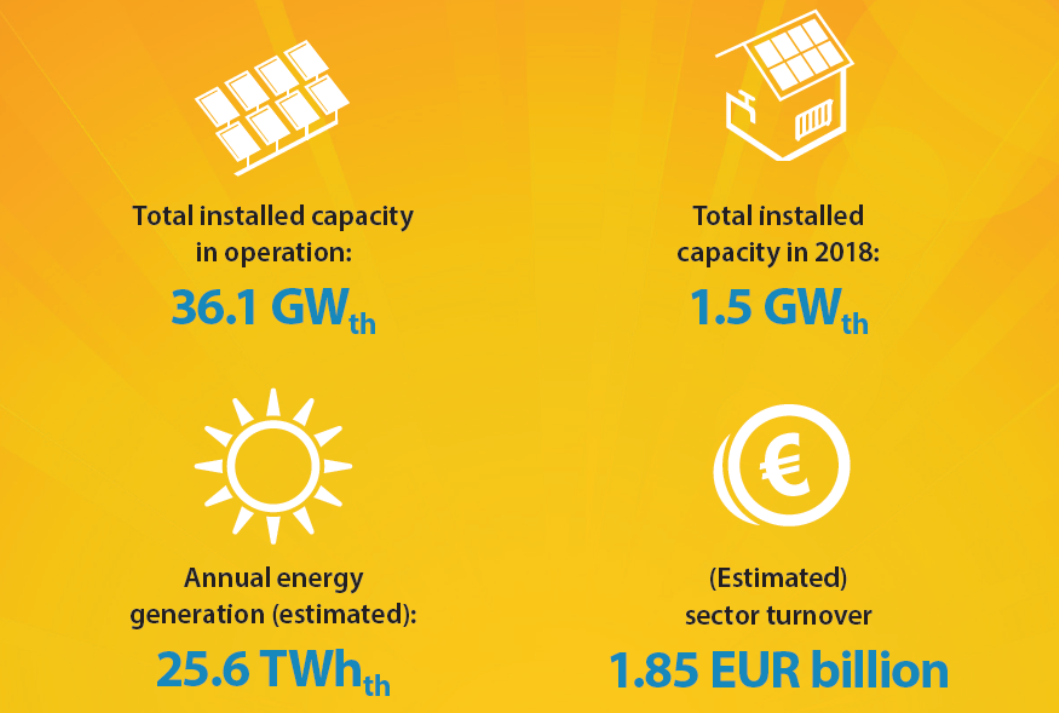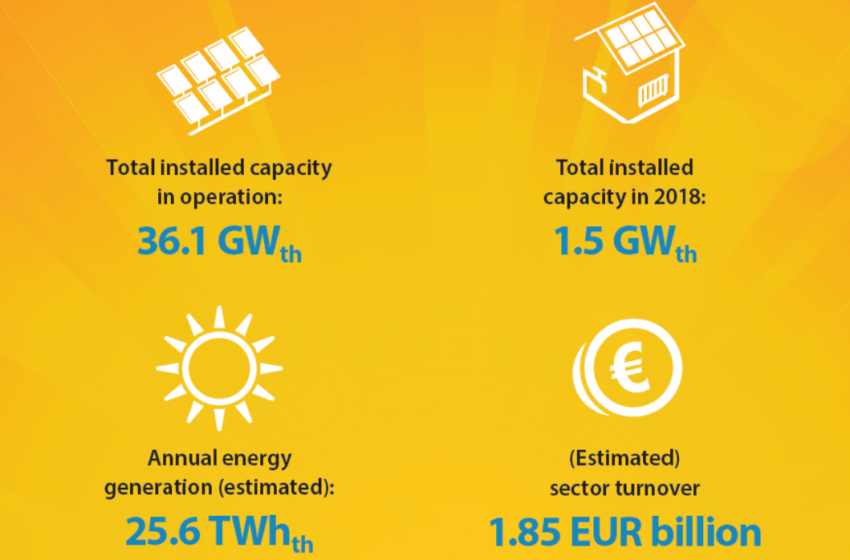 Last year brought the European solar heating and cooling sector back on track for growth, the Solar Heat Europe association based in Brussels, Belgium, emphasised in a press release published on 13 December. The newly installed collector area in the 28 EU member countries and Switzerland grew by 7.8 % from 1.4 to 1.9 GWth, a reversal of the trend in previous years. This increased the capacity in operation in 2018 to more than 36 GWth. The entire industry provided jobs for 18,800 people. A detailed analysis of Europe's markets can be found in a six-page Solar Heat Europe brochure, which is available for download at http://solarheateurope.eu/publications/market-statistics/solar-heat-markets-in-europe/
Images: Solar Heat Europe
Last year's capacity champions were the solar thermal markets in Poland and Denmark. According to the press release, the former showed impressive growth (+179 %) because of an emissions reduction programme to improve local air quality. The latter saw the completion of 10 big solar district heating projects, which led to a 77 % growth rate during the same period.
Another milestone reached in 2018 concerned total solar heat generation capacity, which came to 25.6 TWh at the end of last year. This amount of heat would be enough to meet the annual demand in both Cyprus and Estonia (see the infographic below).
Regarding steady market growth, Solar Heat Europe said Greece earned the highest accolade, as it grew for the ninth year in a row. The continuing growth in output is the result of highly competitive products from suppliers with decades of know-how in selling solar equipment. In Greece, retail prices for solar water heaters can be as low as 285 EUR/kWth, including energy storage, according to the organisation.

Another champion is Cyprus. At 0.6 kWth (about 0.85 m2 of solar thermal collector area), the island state had the world's highest capacity per capita in 2018. In addition, it led the way by seeing a 14 % increase in capacity, beating all other southern European countries.

Solar Heat Europe has members in over 20 European countries, so that it represents, in some form or another, 90 % of the solar heating and cooling industry along the value chain. A four-people team led by Pedro Dias, General Secretary of Solar Heat Europe, aims to turn solar heat into a widely accepted and vital component of sustainable heating and cooling, just as the organisation itself is working hard to utilise the high potential offered by the technology across the continent.
More information: