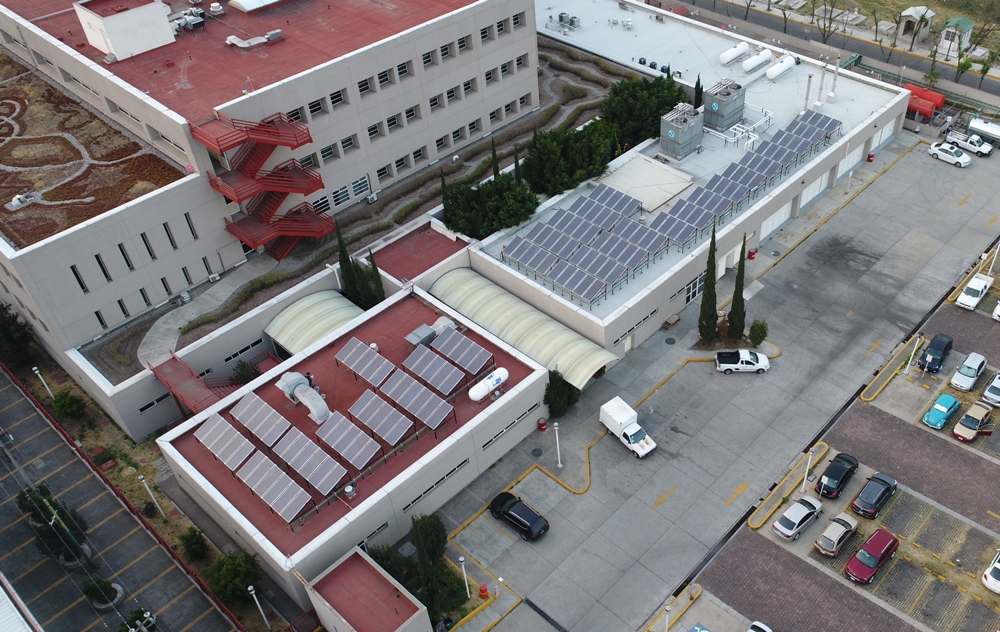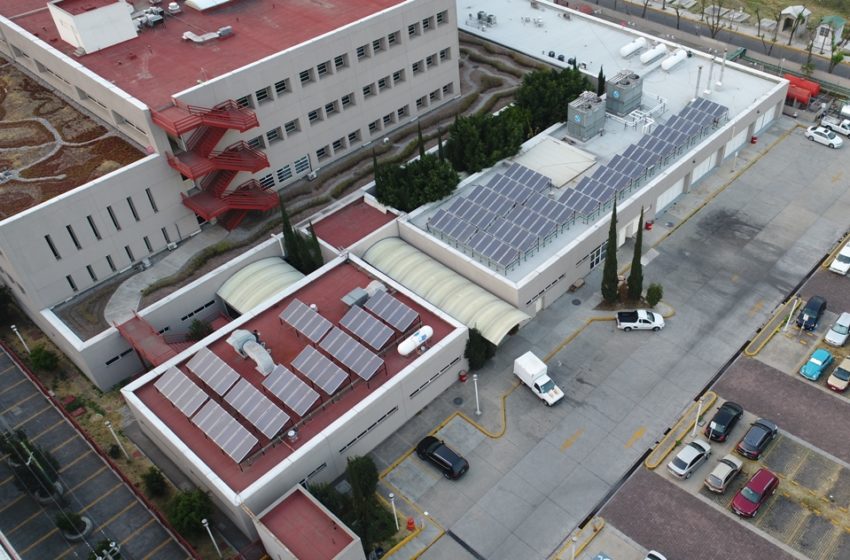 Solar heat in 10 Mexico City hospitals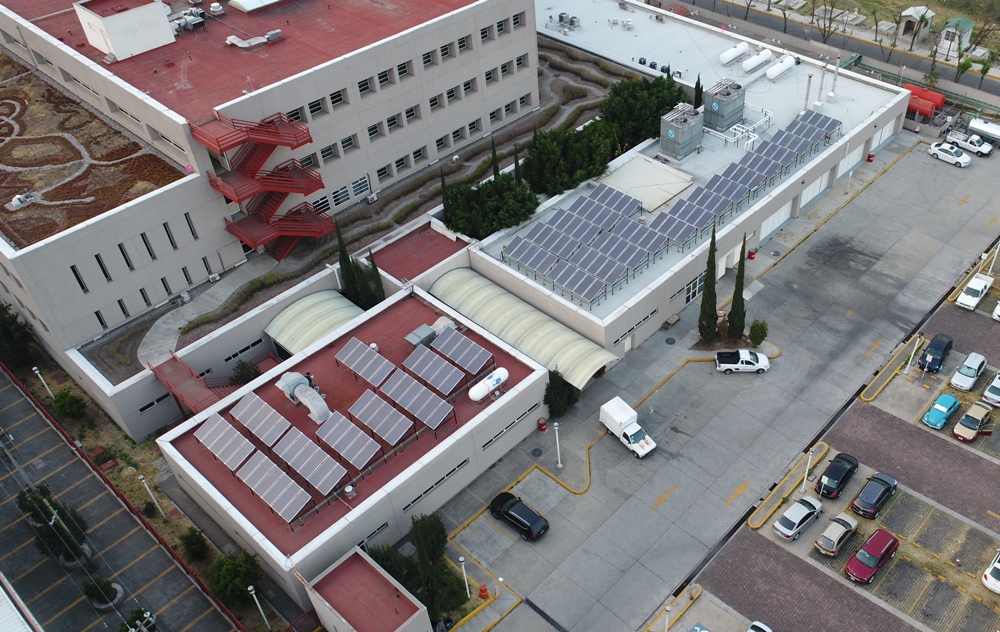 Mexico City has invested Mexican Peso (MXN) 14.7 million – about EUR 672,000 – in bringing solar water heating to 10 public hospitals via PACCM, its Climate Action Programme 2012-2020. The aim is to reduce fuel consumption by 35 % to save MXN 4 million and 446 tonnes of carbon dioxide equivalent, or CO2eq for short. After six months, the systems totalling 1,176 m2 of collector area have already contributed over 50 % to the estimated emission savings per year. The photo shows the installation at 
Dr Belisario Domínguez Hospital with 276 m2
. 
Photo: Módulo Solar
"The installation of the systems proved very challenging, since we had only four months to finish all 10 and start them up simultaneously," said Daniel García, CEO of Módulo Solar, the Mexican-based solar thermal manufacturer which won the tender. "However, all projects have been implemented successfully. Now, there are 10 more examples of solar heating technologies being profitable, well advanced and reliable. Likewise, they are contributing to lower fuel consumption and air pollution levels in Mexico City."
Módulo Solar used flat plate collectors tested according to Mexico's NMX-ES-001-NORMEX-2005 standard to meet hot water demand for the hospitals' bathrooms, laundry rooms, kitchens and staff showers. The goal had been a solar fraction of 35 % at each hospital. By end-August, solar technology had saved them 62,388 litres of LPG and 51,997 litres of diesel and had reduced emission levels by 233 tonnes of CO2eq. The systems have already contributed more than 50 % to the programme's emission reduction target of an estimated 446 tonnes CO2eq per year (see the table below).
Name of hospital

Daily hot water demand (litres)

Gross collector area
(m2)

Storage tank capacity
(litres)

Estimated annual savings
(tonnes of CO2eq)

Days of operation

Fuel savings*
(litres)

Type of fuel

Emission savings*
(tonnes of CO2 eq)

General La Villa

17,600

302

7,000

 112

210

 26,348

Diesel

 65

Materno Infantil Inguarán

15,000

124

5,750

 46

207

 10,712

Diesel

 26

Especialidades Dr Belisario Domínguez

40,000

276

12,500

 107

180

 34,115

LPG

 53

Materno Infantil Tláhuac

7,000

46

2,100

 17

216

 4,092

Diesel

 10

General Milpa Alta

10,000

72

3,500

 27

182

 5,668

Diesel

 14

Materno Infantil Topilejo

7,000

56

2,750

 21

180

 4,372

Diesel

 11

Materno Infantil Magdalena Contreras

8,000

54

2,500

 21

197

 7,143

LPG

 11

Pediátrico Coyoacán

15,000

118

5,500

 45

180

 9,213

Diesel

 22

Pediátrico Tacubaya

12,000

88

4,500

 34

177

 10,740

LPG

 17

Pediátrico Iztapalapa

8,000

40

2,000

 15

108

 1,983

Diesel

 5

Total

139,600

 1,176 

 446   

   

 233   
Comparison of annual estimates and current emission savings achieved by 10 solar water heating systems at hospitals in Mexico City (*by 28 August 2018).
Efficiency of the conventional heating: 74% (plus altitude of Mexico City), calorific value Diesel: 10,700 kcal/kg and LPG: 10,500 kcal/kg; Densities: Diesel: 0.87 kg/litre and LPG: 0.56 kg/litre
Emission factors: 2,601 tCO2/m3 of diesel and  2,985 tCO2/tonne of LPG
Source: Módulo Solar
Preheating cold water in direct solar water heaters
The solar water heating systems have been connected directly to the hospitals' water pipes and pressure levels have been adjusted to meet those of the existing storage tanks. The simplicity of direct solar water heating has made it a very popular choice in Mexico. The heat transfer fluid is the storage tank water itself. No additional heat exchangers are required.
The solar thermal installation is operated in combination with the conventional system of boilers and tanks. Cold water is first preheated by the solar field. It is then fed to the storage tank of the solar water heater before being directed to the tank of the boiler.
Screenshot of the unit monitoring the 302 m2 flat plate collector system at General la Villa Hospital
Source: Módulo Solar
Each system is equipped with an advanced web-based monitoring unit for remote data capture in real-time. It has three components, which control the installation, measure energy output and collect additional climate data, to improve operation. The unit can analyse performance, energy savings, daily hot water consumption and climate conditions specific to each site. The control component additionally ensures that the system is protected against freezing and over-heating.
Mexico City's Climate Action Programme
The implementation of the solar thermal programme at Mexico City's public hospitals has been made possible thanks to the success of a pilot system financed by USAID and installed at Pediátrico la Villa Hospital in 2014. This one is also a direct solar water heating installation and consists of 32 collectors supplying water at 60 °C to hot water network. It has reduced the amount of diesel the hospital needs for heating about 10,000 litres of hot water each day by up to 40 %.
In 2017, Mexico City decided to replicate the project's success at 10 hospitals run by the Ministry of Health of Mexico City, also known as SEDESA. The retrofits are part of its Climate Action Programme 2012-2020, a scheme managed by the city's Ministry of Environment, or SEDEMA, and supported by its Climate Change Fund known as FACC.
It is expected that the new city government, which was voted into office this July and will start work in December, will continue the programme by installing another 15 solar water heating systems at public hospitals and extend the scope of the endeavour to include other types of public buildings.
Organisations mentioned in the article: