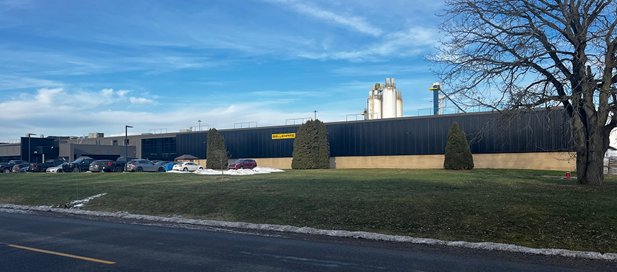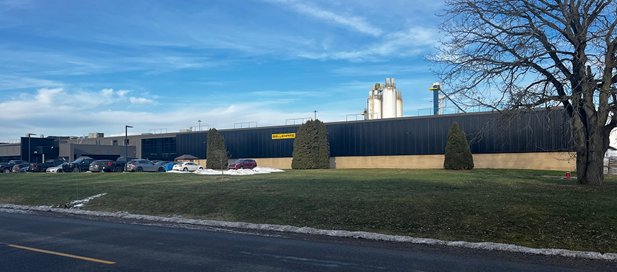 Solar air collector supplier from Canada goes Europe
With rising energy costs, the need for regenerative alternatives in industry and commerce is growing. If a façade facing East, West or South of approx. 100 m2 and beyond is available, solar air collectors can be a good choice. However, these are still hardly known in Europe. The Canadian company Trigo Energies Inc. wants to change that. The solar air collector supplier, which has 75 air heating plants already commissioned in North America, is currently looking for sales and installation partner companies in Europe. Trigo's Solar Keymark listed collectors can be integrated in simple systems that cover between 15 % and 50 % of the space heating demand of industrial premises using outside air. The photo shows a recent solar air heating facade in Trois-Rivieres, Quebec, Canada.
Photos: Trigo Energies inc.
In most industrial and commercial areas in Europe, the façades of large buildings and halls primarily serve as carriers of the company logo. It is often unknown that these surfaces can also be used to generate energy if they are favourably orientated towards the sun.
Trigo Energies wants to change that. It was founded in 2015 as a supplier of solar air heating and heat recovery solutions, mainly for the Canadian market at first. The company has built solar air heating systems with a total area of approximately 60,000 m2 since 2015. Trigo now wants to establish in Europe what has long been common practice in the North American country: the use of building facades for energy generation with the help of solar air collectors.
"The climatic conditions in Canada allow us to cover about a quarter of the space heating demand for a building or process with solar air," explained Christian Vachon, Vice President Technologies and R&D at Trigo. The situation is somewhat different in Germany, where winters are warmer and less sunny on the one hand, and heat recovery is usual for the ventilation of large buildings and halls on the other. "The energy demand is therefore significantly lower than for a comparable building in Canada. This also means that fewer kilowatt hours can be saved in absolute terms," elaborated Vachon. "However, we can reduce the remaining heat demand significantly by using solar air collectors. With the high energy prices in Europe, we can achieve shorter simple payback periods in Munich than in Montreal!"
Site
Montreal, Canada
Würzburg, Germany
 
Fresh air circulation
10,000
m3/h
Solar air heating area
100
m2
Weekly operating hours (12 h/day)
84
hours
Operation time of solar air heating system
October till April
Total heat demand
192,410
138,830
kWh/year
Solar yield
54,203
38,998
kWh/year
Annual solar fraction
28 %
28 %
Efficiency of heating system
92 %
92 %
Saved energy
58,916
42,389
kWh/year
The solar fraction is comparable for projects in Canada and Germany Source: Trigo Energies
Lower investment costs compared to water-based systems
The investment costs for an air collector system are lower compared to water-based systems because piping, pumps and heat exchangers are not necessary. "We create a space between the building and the collector. When the sun shines, air goes through the various perforations, is heated up, and pulled into the building by a fan," said Vachon, describing the mode of operation. In summer the fan doesn't operate but the collector cools itself with natural convection because of the perforations. The warm air rises and the cool air is drawn in, so there is no issue with stagnation and overheating.
In winter a gas burner is used as a second heat source, which comes on only when it is needed. Trigo is currently investigating the possibilities for combining air collectors with an air heat pump. "We also want to install systems in combination with heat pumps", stated Vachon. "We definitely see that there is a huge market in Europe and particularly in Germany." Adding a solar air heater to a heat pump increases its COP (Coefficient of Performance) and reduces the frequency of defrost cycles.
New selective coating for solar air outdoor applications
Trigo markets its unglazed air collectors under the brand name Calento SL. "We offer several different profiles and perforation types, including lanced and drilled perforations. The choice depends on architectural integration objectives", said Vachon. Consisting of thin steel sheets, the collectors are produced directly from the coil, are profiled and perforated, and cut to the required length. They are coated with a new selective coating from a well-known German supplier, who developed a specific black coating for Trigo. According to Vachon, this is insensitive to weather and moisture. In addition, Trigo has the glazed collector Calento SLG in its range. Both models have been tested at Fraunhofer ISE, Germany, and have a Solar Keymark certificate.
Vachon believes, however, that the funding conditions in Germany could be improved. Despite testing and certification, only the glazed model is eligible for subsidies. "It is difficult to understand why unglazed air collectors do not receive funding in Germany, because they are not only more efficient, but also significantly cheaper," stated Vachon. A subsidy would not only reduce costs, but above all increase credibility.

Project in Trois-Rivieres, Canada, where Trigo has incorporated 520 m2 of collectors with its new weather-resistant selective surface in black, developed specifically for architectural applications.
Search for partners in Europe
Trigo is currently looking for partner companies in Europe, as this is a better option than managing solar air projects from Canada. "We need partners who have good knowledge of HVAC and, if possible, are comfortable with architecture", said Vachon, describing the profile required. "To be able to integrate a solar air collector efficiently in a building one needs to know how the building ventilation and the building system work and how they are controlled."
More Information:
http://trigoenergies.com/en/