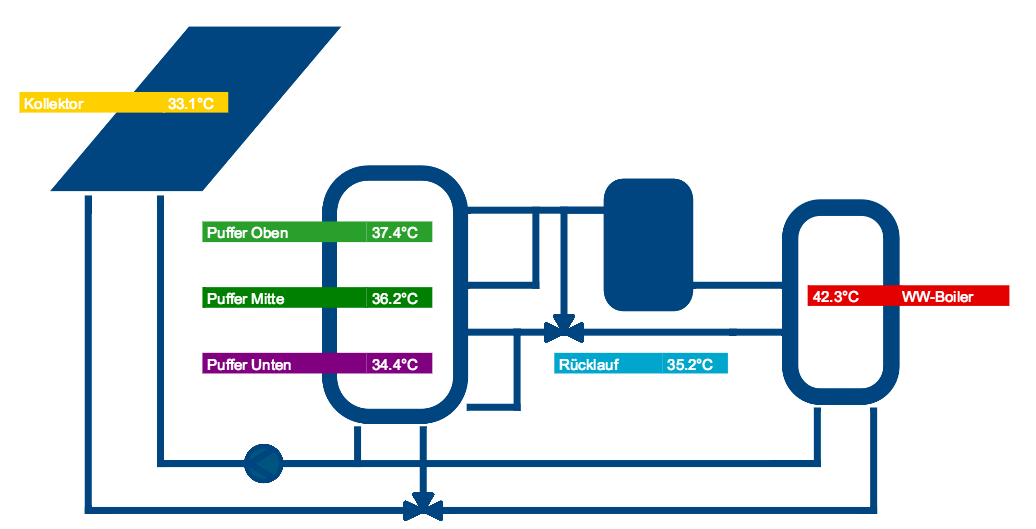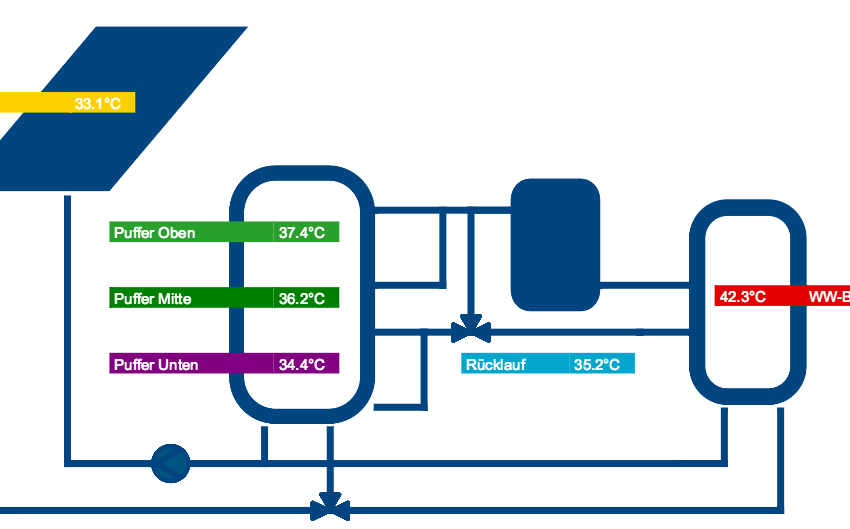 Smart Heat: Ruvi Solar Highlights Customer Experience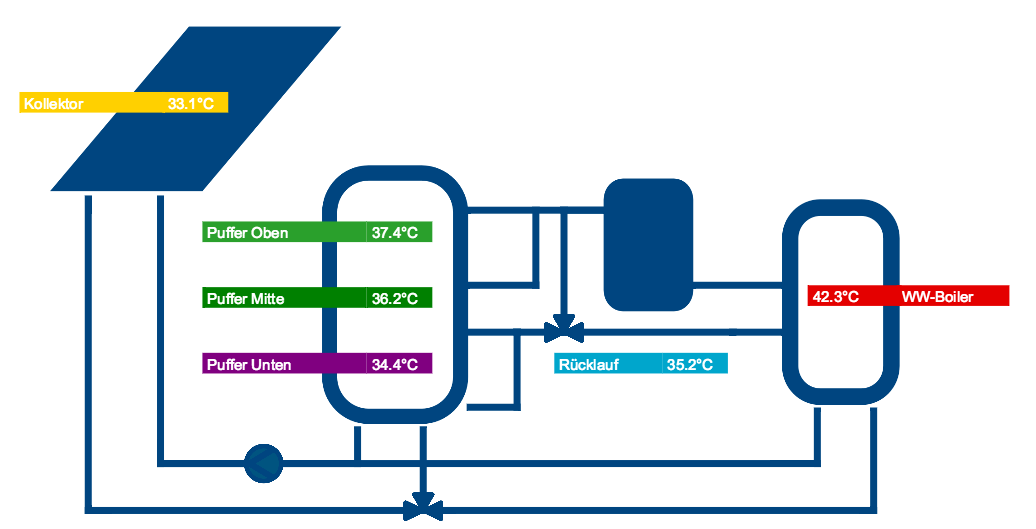 Studies by different consulting companies, such as PricewaterhouseCoopers and Oliver Wyman, agree that information technology will revolutionise the energy sector from the ground up. Along with the trend of "digitalisation" goes the one of "customer centricity", which means putting the end users' preferences and way of thinking in the focus of product design – just as has been done by providers of convenience products. The energy sector in general and solar thermal in particular have hardly pushed the issue into the public spotlight. Now the Austrian start-up ruvi created a new solution to monitor solar thermal systems. The company's novel approach: Make solar thermal easily understandable without forcing the user to read a manual. 
ruvi solar is a web-based monitoring tool enabling users to view the performance of their solar thermal system at any given time. If the system experiences a malfunction, the tool will send a message to the user and, optionally, to the installer as well. According to the company´s founder, Michael Ruthensteiner, ruvi solar does not collect data itself or controls the installation, but possesses an interface compatible with all major controller brands and it communicates through this interface, which is provided by the manufacturer, e.g., VBus/USB for the German controller manufacturer Resol or D-LOGG for the Austrian manufacturer Technische Alternative. So the idea of ruvi solar is not to compete with established controller manufacturers, but to complement their systems by offering an easy-to-use tool for end customers and installers who do not wish to invest much time into reading manuals. The hardware is a mini computer, which is "not Raspberry Pi but something more suitable", as Ruthensteiner puts it.
Using a web interface does not seem much like a technical revolution at first. Several controller manufacturers have developed web interfaces to show users the performance of their solar thermal systems. For example, Resol has established a platform based on
VBus.net
, with which interested end users can observe almost every detail of their system. Resol said that the tool had seen the registration of several thousand users.
Easy-to-use without reading the manual
So why would anyone need an additional tool like ruvi solar? As Ruthensteiner explains it, the established interfaces were developed by technicians for technicians. When taking a look at the user interfaces of ruvi solar and Resol VBus, it becomes clear what he means by that.
For instance, ruvi solar's graphics not only show temperature curves or energy yields by default, but also the CO2 or money saved. So far, oil or gas have had prices set upon configuration, but will probably be updated with the current ups and downs in the foreseeable future. Although the Resol tool can display even more data and very specific configurations, it is also much more complex and even technology-minded end users will have to put some effort into understanding it. "Our interface is self-explanatory. The user does not have to read any manual to understand how it works," Ruthensteiner says.
"Customers are in control of their data at any time"
Ruthensteiner also likes to point out that ruvi solar gives customers full control over their data. If a malfunction is detected, the system will notify the customer – and the installer as well, but only if the relevant setting has been activated. If wished, customers can permit installers to log into their systems during a 24-hour period for maintenance. "We found that many users do not feel comfortable when their data is sent directly to the installer," says Ruthensteiner. "With our system, the customer is in control of his data at any point in time." Again, it is not so much the technology that makes the difference, but rather the user experience. As the controller is the property of the customer, a Resol controller will, of course, offer customers the same choice of allowing installers to have their own account. But the ruvi tool will enable even less technology-minded users to make their own settings.
Usability and focus on customer needs are skills to which the IT sector is usually much quicker and more efficient in responding than the energy sector, as several consultancies – such as PricewaterhouseCoopers, Oliver Wyman and Deloitte – have pointed out recently. In contrast, energy companies tend to be more conservative. The first signs have already been apparent in the power sector: Many utility companies are afraid of losing customers to the newcomers, according to a survey by PricewaterhouseCoopers.
Installers to offer comprehensive service contracts with more ease
Just as any component manufacturer, ruvi is selling its system to the installer, not the end user. The hardware has to be connected to the controller, which means that customers would lose the guarantee if they did the installation on their own. To convince installers, they need to draw some advantage out of the solution as well. Here, ruvi solar makes it easier to offer maintenance contracts and guarantees. It continually re-evaluates available data to detect and warn of possible malfunctions early on. For example, if the tank does not warm up on a sunny day, although the controller says that the pump is running, the circulation does not work properly. Possible reasons could be a broken pump or a controller malfunction. The ruvi solar device would directly notify users of these possible defects.
Again, the innovation is not so much about the technical recognition of the defect, but about the user experience. For example, most Resol controllers would also recognise the problem (even without internet access) and let the user know that there is an issue with the temperature difference. Then the user or installer can look up possible causes in the manual. On Resol´s platform VBus.net, the defect would be indicated if the user had chosen to indicate errors detected by the controller. "We believe that in order to establish a certain quality standard – even for not so ambitious installers – it must be easy for users and installers to understand what is happening with their system – during normal operation as well when it is malfunctioning," Ruthensteiner says. "ruvi solar makes it a lot easier for installers to provide a real, comprehensive service contract which does not only include a visual inspection every few years, but also a certain response time in case of defects," Ruthensteiner says. Of course, if the user turns off the alarm for the installer, the guaranteed reply time will only start counting down from when the user notifies the installer.
Monitoring tool sparks system provider interest
There have been similar approaches on the PV market for a while now. One example is Beegy, a start-up offering complete PV systems, including the service contract and a performance guarantee. ruvi – as a single-component provider – has not been able to offer anything similar so far. "But this is the direction in which many companies in the solar thermal sector are going as well," Ruthensteiner says, and adds, "We are in negotiations with major international providers of heating systems." There may be branded versions of the tool for various system suppliers. In addition to heating and solar thermal system providers, ruvi is partnering with Vienna-based start-up 3F Solar Technologies, which has developed a new hybrid collector and is also offering complete solar systems.
Since ruvi entered the market with its product called solar in September 2015, it has sold 15 systems altogether. It also installed five pilot systems prior to market entry, which means that there are 20 of the company's systems currently in operation.
Ruthensteiner has already sketched out many other ideas for added services and enhancements. For example, the web interface is currently the only access point for users. The interface is optimised for mobile devices too, but there has so far been no app available. Those customers who enjoy sharing data could upload it to Facebook and Twitter. They could also compare the performance of their system to current average performance across the region.
ruvi is a member of the working group Next Generation within the Austrian solar thermal association Austria Solar. Under the aforementioned title, a small group of young solar thermal experts is trying to offer a fresh perspective on the solar thermal sector. Other members of the group are start-up 3F Solar, energy blogger Cornelia Daniel, Ronald Gattringer, who took over management of Gasokol in 2014 from his parents, as well as Christof Sief, one of three managing directors of Siko Solar together with his father Arthur Sief and brother Wolfgang Sief.
Websites of companies mentioned in the article: