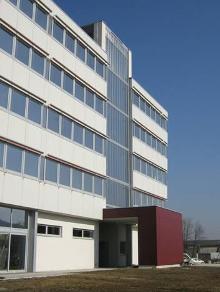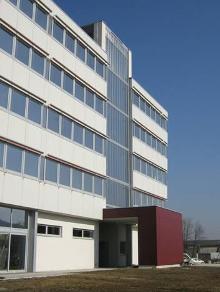 Slovenia: Coloured Air Collectors Replacing Typical Building Facades
A demonstration system for an air collector façade: 1.5 years ago, the Slovenian company Solar Thermo Sistems STS Inc. covered one part of the façade of the Technopark III building in Celje, Slovenia, with 88 m2 of air collectors. Photo: STS
Solar Thermo Sistems STS Inc. (STS), a Slovenian company based in Celje, currently specialises in developing and producing solar air collectors for space heating. "At the moment, we are developing a new type of air collector, whose colour can be customized according to almost every builder's requirement," Jože Felicijan, board member of STS, says. The company is now in the stage of installing necessary machinery equipment and is going to start pilot projects with the coloured collectors soon.
Meeting architectural requirements: In the near future, frames of STS' air collectors could come in ten different colours. Photo: STS
"We wanted to produce solar collectors, which could replace the roof cladding or conventional façade of a building," said Felicijan. Besides, the new product was to meet the following requirements: It had to satisfy architectural needs and it had to be possible to integrate panels into existing ventilated facades or roof systems. The result was a tailor-made solar air collector that "allows us to produce a system adjusted to specific climate areas, as well as to dimensions and colour needs of a building," explained Felicijan. "At first, we will be able to produce absorbers in ten different colours, from red to turquoise to ochre." The company's plans for a later stage include extending production to every colour of the rainbow. The selective paint for the aluminium absorbers with a star-shaped cross-section supplies the Slovenian company Color d.d. Based in Medvode, it is a subsidiary of the Helios group, one of the largest paint manufacturers worldwide. Felicijan said they will be on the market with air heating collectors within the next two months, and with the water heating variant at the beginning of next year.
The first demonstration plant with STS air collectors was realised in Celje, Slovenia, in cooperation with Slovenian educational institutions at the beginning of 2008: Technopark III, a € 35,000 project with more than 88 m² of air collector surface and a ventilation system with a designed airflow of 2,400 m³ per hour (27 m³ per collector area and hour). The required electricity to power the fans amounts to 2.3 MWh per year. Felicijan predicts a specific yield of 469 kWh/m2 collector area, which will be checked by measurements at the installation this year.
Private investors founded Solar Thermo Sistems STS Inc. in February 2007, with an initial capital of € 972,430. Since then, the company has invested more than € 500,000 in research and development and more than € 1,000,000 in machinery. Part of the invested capital will be refunded by the EU. The young company works together closely with both the universities in Ljubljana and Maribor and the National Institute of Chemistry in Ljubljana.
More information
http://www.color.si/sl/
http://www.sts-inc.eu
Text was written by communication expert Hanna Schober based in South Africa. schober@solrico.com