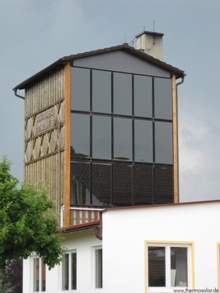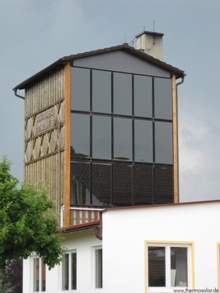 Slovakia: Thermosolar doubles Production Capacity
Solar exterior with collectors produced in Slovakia: The company Thermosolar has just recently invested EUR 1.5 million in upgrading the machinery in its factory in Žiar nad Hronom, in order to increase productivity and reach a manufacturing capacity of 500,000 m2 per year.
Photo: Thermosolar
One third of the investment was covered by EU funds, two-thirds came out of the company's own resources or were made possible through loans from the banking sector. "If the solar markets come out of recession, we will be able to reach the production capacity of 500,000 m2 solar collectors per year in a very short time and thus strengthen our position among the biggest European producers," Milan Novák, Operating Director at Thermosolar in Žiar nad Hronom, says.
In spite of last year's economic crisis, Thermosolar has not suffered any major decrease in sales. A press release explains this minimal drawback with the diversified and steadily growing number of countries, especially in Eastern Europe, to which the country sells its products. Furthermore, Novák remarks that "even though our staff of around 105 people did not increase, we still had an impact on employment within the supply chain of our products". Currently, Thermosolar has 222 partner companies in Slovakia, mostly small ones and individuals, which install the solar systems. "According to my modest estimate, this would represent employment for about 600 people," adds Novák.
The operating director estimates its company's market share in Slovakia at 70 %. The national market, however, accounts for only about 10% of the company's sales. 90% of its collectors are exported. Johann Kollmannsberger, the Managing Director of the company, which has a sales office in Germany besides the factory in Slovakia, does not want to publish production figures. Only that: According to Thermosolar, Slovakia's 2009 market volume was much larger than the 13,500 m2 estimated by the European Solar Thermal Industry Federation (ESTIF).
In order to make the high investment costs needed for a solar thermal system less of a hurdle for new installations, Thermosolar agreed to a bilateral cooperation with the Slovakian branch of the international bank Unicredit. Customers can receive loans for the purchase and installation of solar heating systems at the standard loan's lowest possible interest rate and a 50% discount on the loan's fees. The favourable financing conditions only apply to the amount stated on the invoice issued by Thermosolar.
More information:
http://www.thermosolar.com
The text was written in cooperation with Vladislava Adamenkova, a Czech student of international business studies in Vienna, Austria.