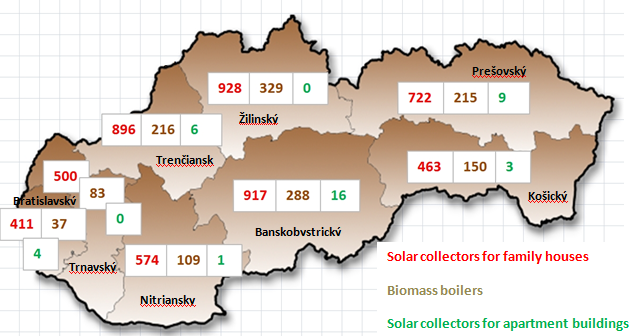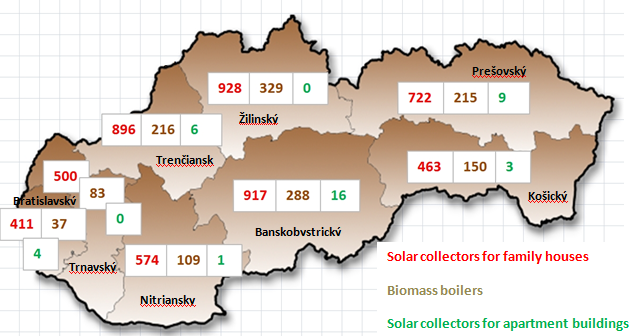 Slovakia: National Incentive Programme Stopped in November 2011
The Programme for an Increased Usage of Biomass and Solar Energy in Households in Slovakia, which was launched in April 2009, has now exceeded its budget. Although applications were accepted until 30 October 2011, the Ministry of Economy had already announced on 27 October 2011 that the number of subsidy applications had overtaken the funds available for the programme. All submitted applications are going to be evaluated in order of their submission date. The map illustrates the geographical spread of the approved applications depending on the respective solar sector and is published by the Slovak Innovation and Energy Agency (SIEA).
Source: http://www.siea.sk
According to Katarína Antalová, Director of Communications of SIEA, the map includes all approved applications between April 2009 and 27 January 2011. The regions of Banskobystrický, Trenčiansky and Žilinský were able to claim the highest number of applicants – significantly more than in the economically developed capital of Bratislava and its surroundings in the eastern part of the country.
The government published a formal notice as early as 1 August, informing the public that the subsidies will run out at the end of November. It also asked for any applications to be submitted as soon as possible. As expected, the number of applications rose significantly after the announcement. By 7 October, 77% of the 2011 budget had already been paid out. Milan Novák, Director of Thermosolar, the largest flat plate collector manufacturer of the country, says: "Two months after the government officially notified the public of the programme's end, 75% of the funds were gone. A few months before the announcement, it had still seemed as if the programme would not run out of money until the end of the year."
The Slovak subsidy scheme was launched in April 2009 with a total budget of EUR 8 million. At the beginning of 2011, the Ministry of Economy announced that there were still EUR 2.7 million left. However, according to government decree 38/2010 from 1 December 2010, EUR 1.3 million of the budget was to be re-allocated for projects which develop strategic investments. According to Dagmar Hlavatá, spokesperson at the Ministry of Economy, the re-allocation occurred after the new government had finally taken over. Until now, there has been no information on any new incentives planned in the coming years.
 

Number of approved applications

Total amount of subsidies (EUR)

Technology

Number of solar systems / boilers

Amount of subsidies (EUR)

2009

602

617,631

solar collectors

565

590,115

biomass boilers

37

27,516

2010

3,514

3,377,553

solar collectors

2,747

2,876,134

biomass boilers

767

501,420

2011

2,761

2,671,370

solar collectors

2,138

2,247,774

biomass boilers

623

423,595

TOTAL

6,877

6,666,554

solar collectors

5,450

5,714,023

biomass boilers

1,427

952,531
Of all applications that have been received since April 2009, almost 80% referred to solar collectors, three quarters of these to flat plate collectors in particular. The overwhelming majority was submitted by home owners. Only about 40 applicants requested approval of a solar system subsidy for a block of flats.
Source: Slovak Innovation and Energy Agency
It is worth mentioning that between January and May 2011, application approval was officially paused, although submissions were still being accepted. The reason for it was a new draft law, which was to change the conditions of how subsidies are being distributed. All applications submitted on or after 1 January 2011 have been subject to these new regulations. Since then, subsidies have been limited to 8 m2 of solar collector area, whereas earlier applicants had received EUR 50 for every additional m2 above 8 m2.
 
More information:
http://www.siea.sk
http://www.thermosolar.com
The article was written by Vladislava Adamenkova, a Czech student of international business studies in Vienna.