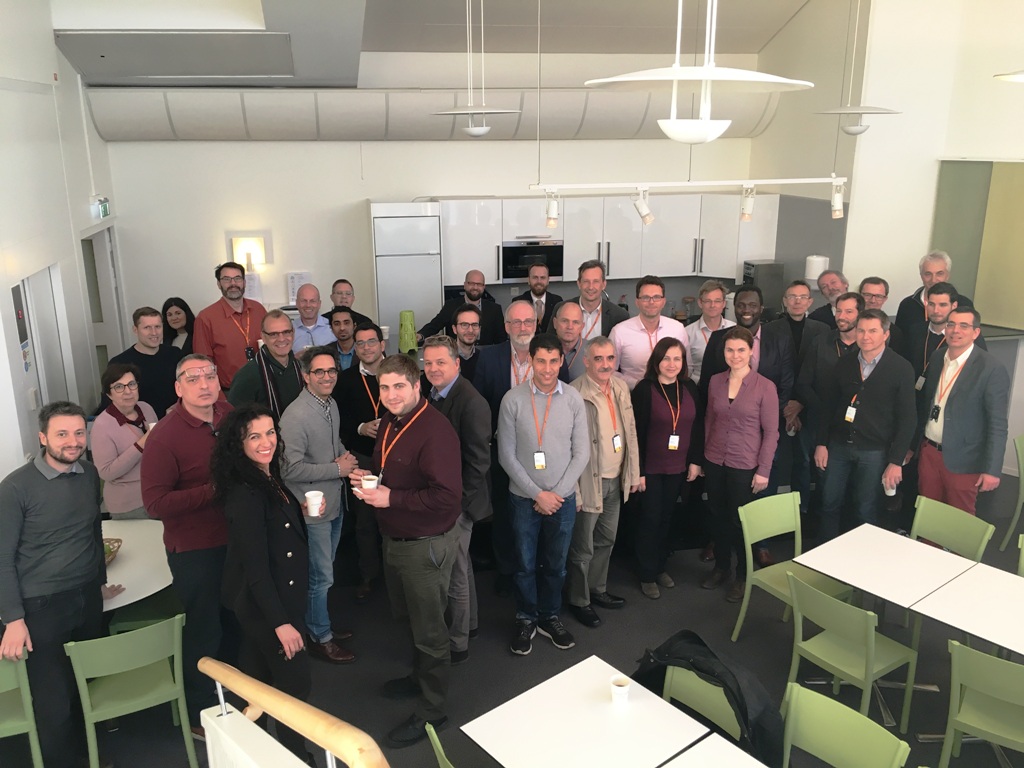 SKN approves remote factory inspections, launches new certificate database
In January 2019, Dr Vassiliki Drosou, Director of the Solar Thermal Systems Department at the Greek Centre for Renewable Energy Sources (CRES), was appointed head of the Solar Keymark certification scheme. At the time, Dr Drosou, a dedicated expert on solar standards and certification, had already been leading the European Solar Thermal Systems and Components Committee (CEN/TC 312) for 13 years. Solarthermalworld.org spoke with her about the key responsibilities of her new role. The photo shows the participants of the Solar Keymark Network (SKN) meeting in Sweden in March 2019. 
Photo: CRES
As the new manager of Solar Keymark, what will be your key aims over the next two to three years?
Drosou: First of all, we will focus on promoting Solar Keymark recognition in the EU market. In practice, this means we will ensure more certificates are issued and more governments and national organisations make Solar Keymark a requirement for subsidy applications. We will also promote the use of the SK datasheet, so it can serve as a reference point for statistics, for example, regarding CO2 emissions, energy production and so on.
Furthermore, we are seeking stronger industry involvement. In each country, we aim to have at least two actively contributing representatives for industrial companies. Participation is free for industrial members. To attract more certificate holders, we organise special webinars. The most recent one was held in June.
Remote factory inspections via Skype and desktop-sharing tools
Your most recent web meeting took place from 22 to 23 October. What were the hottest topics on the agenda?
Drosou: Many important issues were discussed at that meeting, but if I had to pick the two most important ones, they would be approval for remote factory inspections and the optimisation of the online database of Solar Keymark certificates. Remote inspections are now being tested in a two-year trial. They will be up for review at the autumn meeting in 2021, following an exchange of experiences and lessons learned. Remote inspection is a common procedure, which has already been described in ISO 19011:2018. A perfect set of tools for conducting this sort of inspection includes Skype or a similar program for online video recording and a desktop-sharing tool, such as WebEx, for evaluating documents. The remote connection has been a very important contribution to reducing travel time and carbon emissions across our network.
In what way did you optimise the online certificate database? 
Drosou:
Clicking on a line in the new database we have made available at
http://www.solarkeymark.nl
and
http://www.solarkeymark.nl/DBF
will open a window to show key information about a certificate, as well as test results and yields. Previously, users had to download a PDF for each certificate to view the results.
The new database also has features for generating reports and making digital data available to third parties in a more or less automated way. Users can generate online PDFs meant for EU directives' input, such as ErP and EPBD, or annual performance reports. Moreover, summary reports are available per subcategory, for example, collectors or storage tanks, in order to provide information on all valid certificates.
The changes we made did not alter the format of the datasheets but added software to the backend Excel workbook. By using these tools, the certification bodies can upload single figures from certificates, such as the collector efficiency or annual yield, together with the PDF file of the certificate, so updated information will be instantly available. In the new SK database, a separate Regulatory column has already been in use to provide access to specific reports linked to ErP or EPBD.
The next physical meeting of the Solar Keymark Network (SKN) will take place in Tunisia in March 2020. What are your reasons for having the meeting in a non-European country?
Drosou: Besides continued efforts to keep Solar Keymark in a leading position in Europe, one of our main aims over the next years will be to improve recognition of the quality mark in other parts of the world, for example, in the MENA region. SKN has been invited by Tunisia's energy ministry and we are excited about the opportunity because Tunisia is a leader in certification across the Maghreb and has a well-established solar thermal collector industry.
For example, the country has transposed EN 12975 and EN 12976 into national standards and is also a CEN Companion. Furthermore, the CTMCCV, the Tunisian laboratory for solar thermal product testing, is in the process of getting ISO 17025 accreditation, and the country's certifying organisation INNORPI has asked to become an SK certification body. Overall, a meeting in Tunis will be a great opportunity to get a foothold in Africa's markets and other countries in the Maghreb, for example, Morocco and Algeria.
After experiencing some problems with issued certificates, you developed new complaint procedures in 2016. Have you had to use the new procedures since then? 
Drosou: All complaints against organisations engaged in certification, testing and inspection and any kind of misuse of Solar Keymark will be treated according to the procedures which are part of the SK Scheme Rules. These rules can be found in their latest version on the SK website. However, we did not receive a complaint in 2018 or 2019.
Organisations mentioned in this article: