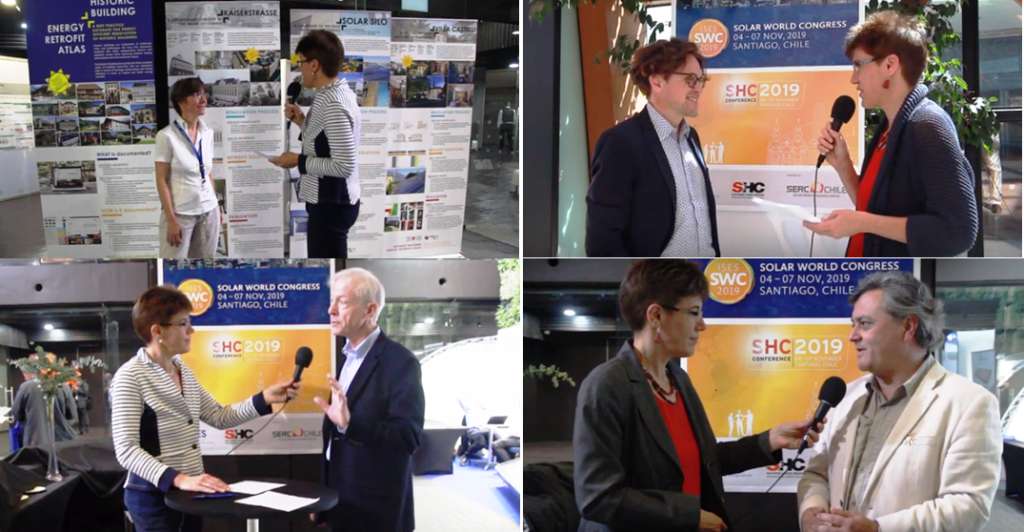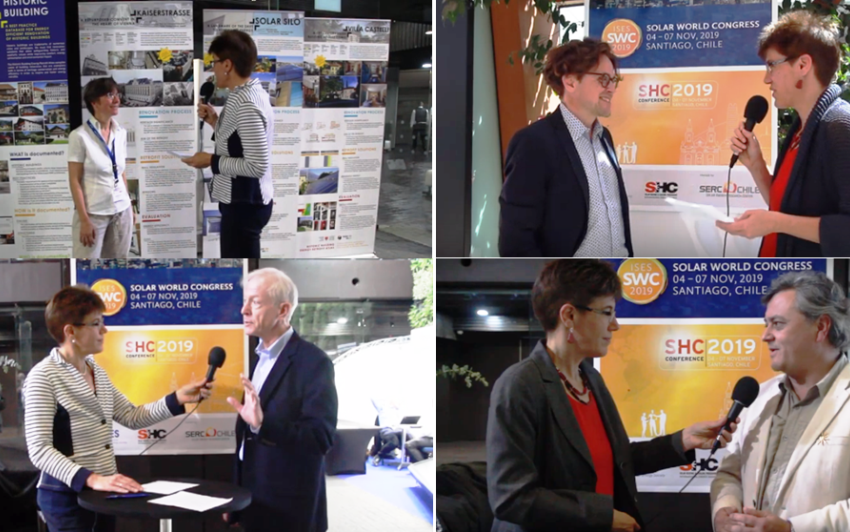 SHC 2019: 15 Expert Interviews highlight technology and market trends on Tape
At the beginning of November, the SHC 2019 conference in Santiago de Chile brought together more than 400 researchers, industry specialists and other experts on solar heating and cooling. With 15 video interviews filmed at the conference, the conference organiser, the IEA Solar Heating and Cooling Programme (IEA SHC), highlighted the trends and pinpointed the crucial issues of today's global solar heating and cooling sector. You can watch these interviews by running a playlist on the YouTube channel of IEA SHC.
One of the interviews was carried out with John O'Donnell. The Vice President of Business Development at Glasspoint confirmed that another 200 MW of solar steam production capacity at Oman's Amal West oilfield was put into operation this quarter and is now in performance testing. Together with the previously installed capacity of 100 MW, which came online in 2017, the US-based supplier is currently operating a 300 MW plant in Oman. This makes the installation the largest industrial solar heat system worldwide.
"Miraah is on time and on budget and we are proud to have met all expectations so far," confirmed O'Donnell. The 200 MW of capacity added in the second phase is being tested for its performance at present and is to be inaugurated in 2020. O'Donnell said the Miraah project works because the solar steam costs are lower than the costs of gas-produced steam even though systems are not supported via subsidies or carbon taxes.
Miraah is 800 km away from bigger towns and has to withstand ambient temperatures of over 48 °C and dozens of heavy dust storms a year. Usually, the oilfield is shut down and evacuated prior to a storm. For example, cyclone Mekunu caused an almost two-month stop of operations in May 2018. "The fact that we have proven that solar heat works reliably there means anywhere on earth that's true," O'Donnell said in the interview.
Glasspoint, founded just 10 years ago, has grown to over 300 employees since 2009. "We wanted to identify sectors where the energy price is of high value to the customer," he explained his company's focus on enhanced oil recovery. "Solar thermal is, worldwide, the only heat technology which offers fixed prices over 20 years, an important argument for industries where energy is a significant part of product costs."
However, the 1 GWth plant at the Aman West oilfield is far from Glasspoint's only project. It has also signed an agreement with Aera Energy in California (850 MW) and announced it was planning to put up another system in Oman, this time a 2 GW installation (see the table below).

| | | | | | | | |
| --- | --- | --- | --- | --- | --- | --- | --- |
| Project | Customer | Location | Size (MW) | Status | Start-up of first 50 MW unit | Business model | More information |
| Miraah | Petroleum Development Oman | South Oman | 1,000 | 300 MW online since November 2019 | 3rd quarter of 2017 | Turnkey and O&M contract | |
| Belridge | Aera Energy | California | 850 | Contract signed | 4th quarter of 2021 | Solar heat contract | |
| Mukhaizna | Occidental of Oman | Oman | 2,000 | Announced | 2022 | n/a | |
Overview of Glasspoint's SHIP projects
Source: Glasspoint
Depending on the type of customer, Glasspoint offers different business models: EPC construction and operation of a solar field, as in the case of Miraah, or a solar heat contract, like the one signed with Aera Energy. "It is much more comfortable if the supplier is taking all the technical risk," said O'Donnell. He then pointed to the existence of a sophisticated, worldwide investor base financing low-risk, lower-return and long-payback solar projects, and it seems only logical to make use of this solar finance opportunity to support ESCO projects.
Organisations mentioned in this article: