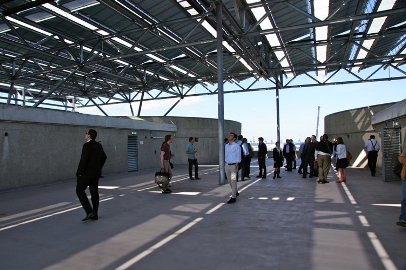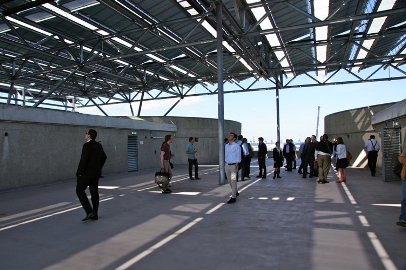 SDH Conference 2014: "We have to work on lighthouse projects"
On 3 and 4 June 2014, the halls of the old waterworks of municipal utility "Hamburg Energie" in Hamburg, Germany, became the venue for the 2nd International Solar District Conference. 115 participants from 13 countries and many different backgrounds were offered a wide range of presentations covering policy, market and technical issues, along with several practical examples of solar district heating plants. On top of that, the conference offered a technical tour to the solar district heating project "Energy Bunker" at the site of the International Building Exhibition IBA in Hamburg-Wilhelmsburg (see photo). The Energy Bunker is one of these lighthouse projects speakers and participants deemed nessessary to make solar district heating visible to consumers and politicians. 
Photos: Stephanie Banse
The first conference day started with a great view over Hamburg's habour and city centre. At about 40 meters above the ground, the participants had the chance to examine the 1,350 m² solar thermal installation on the Energy Bunker in Hamburg-Wilhelmsburg. The restored anti-aircraft bunker, which was built during World War II, is one of the flagship projects for explaining how renewable energies and solar district heating work. "In its first year in operation, the solar plant produced 517 MWh and withstood two hurrican-force storms with wind speeds above 200 km/h," Dr Rolf Meißner, CEO of German Ritter XL Solar, explained. Ritter XL delivered the vacuum tube collectors, mounting systems, pipes and pumps for the solar installation, which was set up in less than three months, between December 2012 and February 2013. According to Meißner, the total costs for the turnkey solution amounted to EUR 700,000.
From bunker to regenerative CHP plant
The other components of the heating plant and the 2,000 m³ storage tank are located inside the bunker. Later, during his presentation, Joel Schrage, Project Manager Contracting at Hamburg Energie elaborated on the installation's heating design. "We restored the bunker and are turning it into a regenerative CHP plant," Schrage explained. "To this end, we are using four renewable energy sources." The design combines the solar thermal installation on the roof (750 kWth) with the use of industrial waste heat (400 kWth), one biomass CHP unit (610 kWth/510 kWel) and one woodchip plant (2,000 kWth), which will be installed this year. Two natural gas boilers (2 x 2.3 MW) are installed for peak loads. At the moment, the bunker supplies district heat to about 800 households and some small businesses. Until the end of 2015, the figure is said to increase to 3,000.
Monitoring results of six Austrian solar district heating plants
On the morning of the second conference day, one session was dedicated to policy, market strategies and business models. The other session dealt with smart district heating systems, including solar thermal and the smart district heating plant Sunstore 4 in Marstal, Denmark.
Franz Mauthner from the Austrian Institute for Sustainable Technologies, AEE Intec, presented the monitoring results and a detailed system analysis of six Austrian solar district heating plants constructed in the frame of a
national funding programme
for large-scale solar thermal plants. Annual system output was between 287 and 528 kWh/m², the solar fraction between 3 and 25 %. Mauthner sees great potential in the integration of solar thermal into existing district heating networks. But he also came to the conclusion that in Austria, solar thermal district heating would require incentives to be competitive.
Designs to place solar district heating at the forefront
During the final conference session, experts were searching for strategies to provide greater visibility for solar thermal district heating. The experts considered the integration of solar thermal into existing district heating networks to be a good opportunity to do just that. "We need big district heating networks to use renewable energies in this context and we should combine different heating networks in one region," Morten Hofmeister from the Danish District Heating Association stated. "We can improve efficiency by running the networks at lower temperatures or by generating really high temperatures with CSP collectors."
"The low prices for gas and oil make CHP and district heating not really profitable," Christian Maaß, Director of Hamburg Institut Consulting (HIC), added. "But they offer a good opportunity for the integration of renewable energy into these networks." Maaß also mentioned the current
EU discussion on energy security
. "Now, it matters to which extent renewable energies will be integrated into this concept," Maaß said. "We must set up a market where we can combine CHP and renewables."
To achieve that goal, the key challenges of the global solar district heating community seem to be lobbying and awareness-raising. "We need lighthouse projects in every country that work at a competitive price," Christian Stadler, CEO at the German company Arcon Solarwärme and former Technical Head at Austrian company General Solar Systems , summed up the discussion. "Solar thermal heat is competitive with oil and gas if we produce it on a large scale."
The conference was organised by the German Heat & Power Association, AGFW, and the German Steinbeis Research Institute for Solar and Sustainable Thermal Energy Systems, Solites, in the frame of the Intelligent Energy Europe project SDHplus – New Business Opportunities for Solar District Heating and Cooling.
More information: