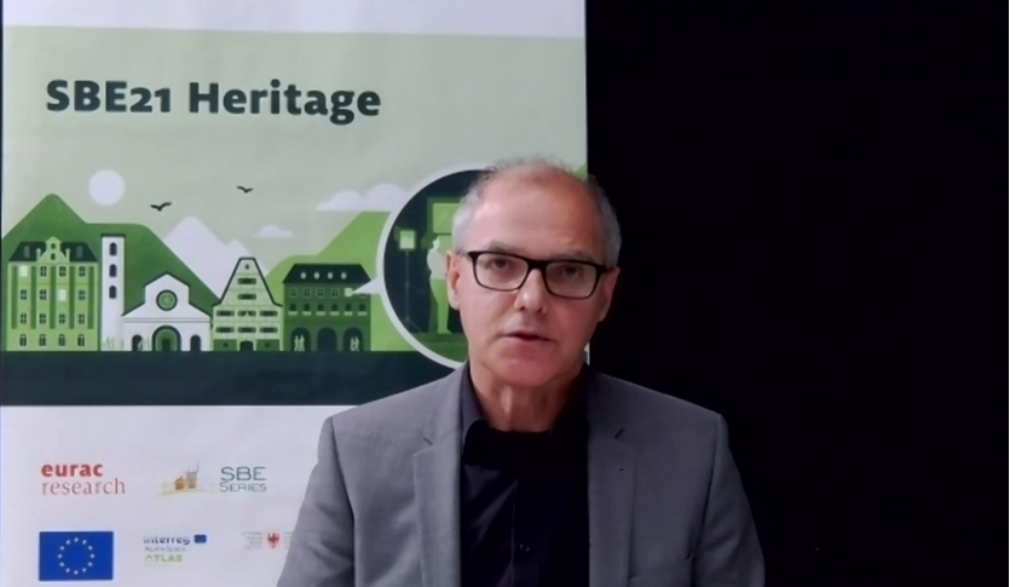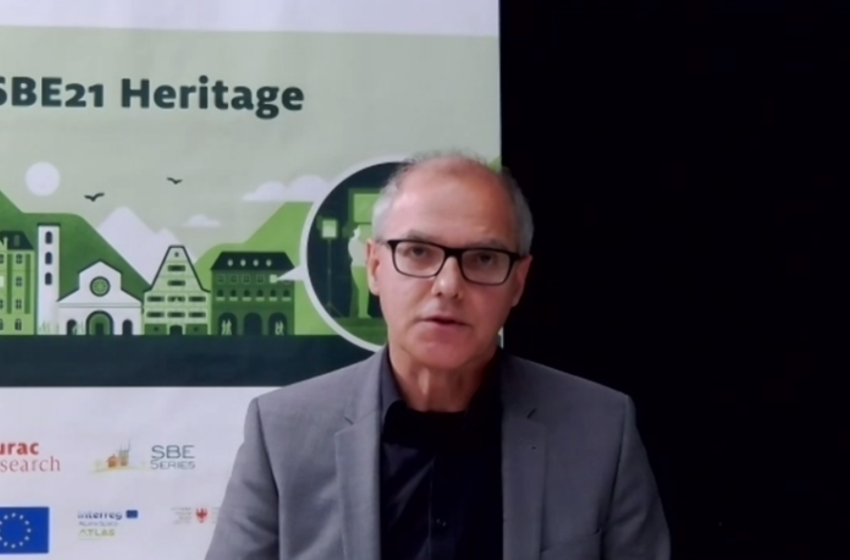 SBE21 conference spotlights historic NZEBs
The SBE21 Heritage conference in mid-April involved a deep exchange of ideas between researchers, architects and practitioners about how to reduce the energy consumption of historic buildings while retaining their aesthetic features and cultural significance. The main contributors to the three-day conference, organised by Italian-based Eurac Research, were the experts of IEA SHC Task 59 – Renovating Historic Buildings Towards Zero Energy, who contributed more than 20 speeches and poster presentations. The conference focused on best practice examples, retrofit solutions for buildings, decision-making tools and multidisciplinary design concepts and was attended by about 150 people.
Photo: Screenshot of SBE21 conference presentation
"We can benefit a great deal from research projects when trying to answer the question of how to preserve our unique architectural heritage in South Tyrol's alpine environment," said Johann Vonmetz, who presides over the region's architectural association. During his opening speech for the Research meets Practice sessions, held on the second conference day (see photo above), he said he appreciated the many ideas that have come out of the association's close and long-term partnership with Eurac Research. Both organisations are based in Bolzano, the capital of South Tyrol, a region studded with castles and historic buildings.
At the Research meets Practice sessions, architects presented a variety of case studies taken from the online platform Historic Building Energy Retrofit Atlas, better known as Hiberatlas. The session was interpreted into English, Italian, German and French, the languages spoken in the alpine areas rich in historic building stock.
The Hiberatlas currently contains 57 case studies that describe successfully retrofitted historic and listed buildings in regions all over Europe. Each project is illustrated by a number of photos and plans depicting the buildings before and after modernisation. The platform is available in English, some portraits are also available in German, Italian, French or Slovenian:
Photo: Screenshot of SBE21 conference presentation
For example, the presentation given by architect Michael Tribus at the conference focused on the retrofit of a 1920s-era multi-storey residential building in the centre of Bolzano. The key to minimising its energy demand was well-designed interior insulation, he explained. He then pointed attendees to the original box-type windows, the style of which was left unchanged, whereas the glazing was changed from one layer to triple glazing. Additionally one window per flat now function as a ventilation system (see the photo above). All measures taken together have cut down the building's specific annual heat demand from 365 kWh/m2 to 45 kWh/m2.
And Alexandra Troi, who led Task 59, invited attendees at Research meets Practice to go on a virtual tour of best practice examples of renovated heritage sites (see the map below).
This 'green tour' leads past historic buildings in the Alps while exploring the utility of active solar systems integrated into the building envelope:
Even though the SBE21 conference marked the end of Task 59 Renovating Historic Buildings Towards Zero Energy, its numerous publications remain available online. Below you will find several links to help you get an overview of the results of the 3.5-year research platform: