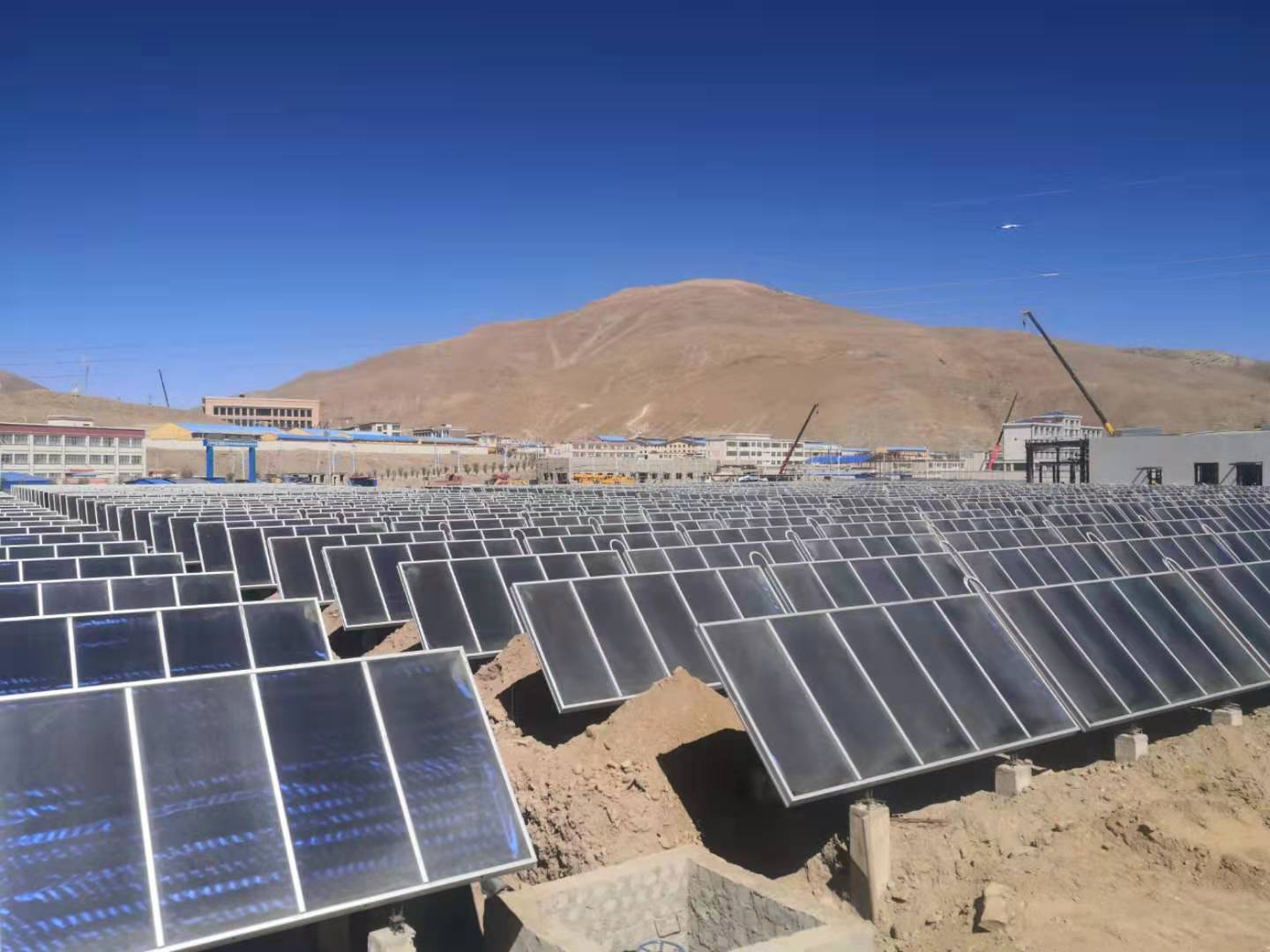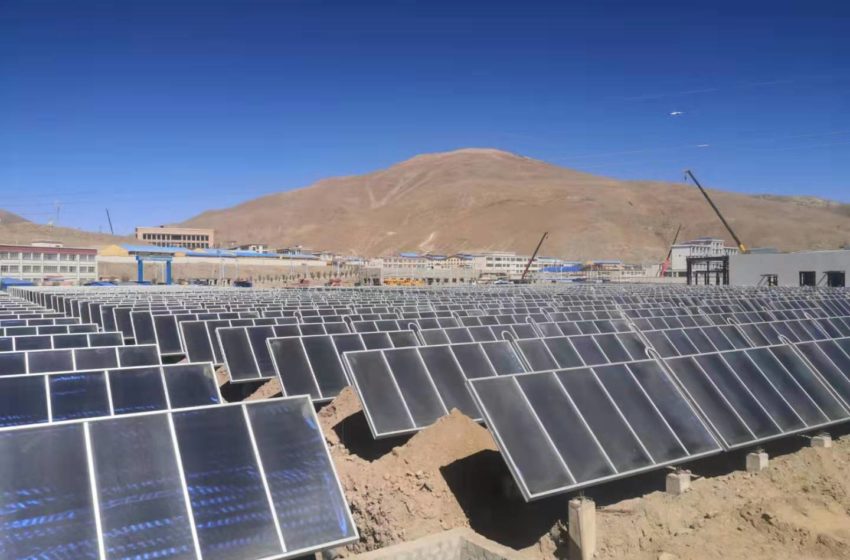 Saga in Tibet tests solar heating in public buildings
Since November 2019, the southern Tibetan town of Saga has been home to the fourth solar district heating plant in the region after similar systems had already been installed in Langkazi, Shenzha and Zhongba. The plant, which is currently undergoing testing, has a heat generation capacity of 13.4 MWth (19,136 m2) and includes large flat plate collectors by Chinese manufacturer Jinheng Solar as well as two storage units that can hold 4,500 m3 each. The state-owned Zhongjiu Construction Engineering Group was responsible for the turnkey delivery of the entire solar system, the laying of the pipes to end consumers and the installation of the heating centre. According to Jinheng Solar, construction was carried out during the summer season between last May and last October.
Photo: Jinheng Solar
"The field in Saga features our EFPC115 collectors, which have 11.4 m2 of gross area and are designed for space heating applications," said Sherry Wu, Sales Director at Jinheng Solar. The SDH plant provides space heating for public buildings in Saga, not residential properties. Its backup system consists of electric boilers.
A report published on 22 November at China Clean Heating Plaza (
http://www.chplaza.com.cn/
) says that the performance test phase of the solar district heating system started in November, whereas the entire project would most likely be completed this spring. In addition to a solar field, the project also includes a heating centre, which houses three 1 MW water heat pumps and three 1 MW oil boilers, and energetic modernisation of buildings, according to the online article.
| | |
| --- | --- |
| Start of construction | May 2019 |
| In testing since | November 2019 |
| Situated at a height of | 4,900 m |
| Solar field size | 13.4 MWth (19,136 ㎡ ) |
| Collector type | EFPC 115 (11.4 m2) |
| Solar collector supplier | Jinheng (BTE) Solar, China |
| Storage tanks | Two, each capable of holding 4,500 m3 |
| Solar fraction | About 60 % |
| Backup system | Electric boilers |
| Total investment, including cost of district heating network and backup | RMB 154 million (EUR 20.1 million) |
| Funding source | Chinese central government |
| Heat clients connected to DH grid | Space heating in schools, a hospital, council buildings, a theatre, etc. with a total floor space of 80,000 m2 |
| Supply temperature | 65 ℃ |
| Return temperature | 50 ℃ |
| Organisation that owns and operates the SDH field | Zhongjiu Construction Engineering Group, China |
Key data on the SDH project in Saga
Source: Jinheng (BTE) Solar / China Clean Heating Plaza
The support structure underneath the solar field consists of blocks of cement, to which metal bars are fixed at the top (left). A crane then lifts the collectors onto this support structure.
Photos: Jinheng Solar
Company mentioned in this article: