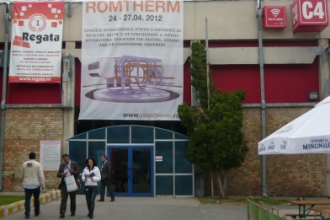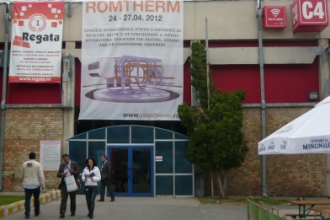 Romania: Signs of Recovery at Bucharest's RomTherm
The Romtherm, the international exhibition for heating, cooling and air conditioning, has become a meeting point for solar thermal system suppliers in Romania. Installation companies in the field of heating, cooling and renewable energies have greatly appreciated the trade fair. The 17th Romtherm opened its doors in the capital city of Bucharest at the end of April, with 92 exhibitors on an area of 7,000 m². According to the organiser, Romexpo, the fair has attracted approximately 4,000 visitors.
Photo: Mihai Vintila
The building and financial crisis has certainly had its negative effect on the market, which was reflected in the size of the fair. According to the Romexpo website, the organisers expected around 200 exhibitors on 10,000 m². Only two years ago, the Romtherm had attracted 274 companies and 5,400 visitors. However, the solar supply industry sees at least some positive signals ahead.
"The fair is good and there are signs of market recovery after the crisis," says Vitalie Dragan, Romanian Sales Representative from the Serbian office of Caleffi Spa, which has its headquarters in Italy.
Camelia Deschiu's assessment of the Romtherm has carried a similarly positive message. "So far, the fair has been a success for us," says the Product Manager at Afriso Romania, which is a subsidiary of Afriso Euro Index SRL, a German manufacturer of measuring and control devices for temperature and pressure. "This year, we celebrate the 20th anniversary of our subsidiary in Romania," adds Deschiu. The Product Manager is convinced that the new range of energy analysers measuring pressure and flow in the solar thermal system will be as well-received by the market as the solar pumping station PrimoSol.
On a tour around the fair, visitors could also see a fair number of Romanian solar thermal system providers, such as El-Mont Srl, distributor of solar thermal systems by German company Wolf Heiztechnik, Solar Power Systems, representative of international wholesale group Sonnenkraft or Caldura Vie SRL, a boiler manufacturer importing vacuum tubes from China.
Besides the annual Romtherm, there will be two other international fairs for renewable energy and energy efficiency technologies in Bucharest this year: The International Fair for Renewable Energy, Conventional Energy, Equipment and Technologies for Oil and Natural Gas (EEE 2012) between 17 and 20 October, and the 5th international energy trade fair Renexpo South-East Europe between 21 and 23 November.
This text was written by Mihai Vintila, owner of InfoEst.ro, a Romanian news portal.
More information:
Solar Power Systems SRL: http://www.solarpower.ro/
El-Monto SRL: http://www.el-mont.ro/
RomTherm: http://www.romtherm.ro/
Caldura Vie SRL: http://www.calduravie.ro/
AFRISO Euro Index SRL: http://www.afriso.ro
International Fair for Renewable Energy, Conventional Energy, Equipment and Technologies for Oil and Natural Gas (EEE): http://www.eee-expo.ro
Renexpo South-East Europe: http://www.renexpo-bucharest.com
Infoest.ro: http://www.InfoEst.ro