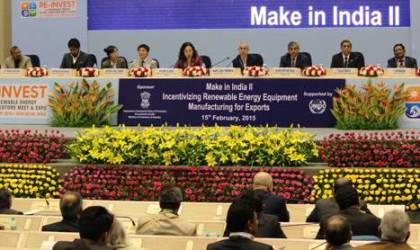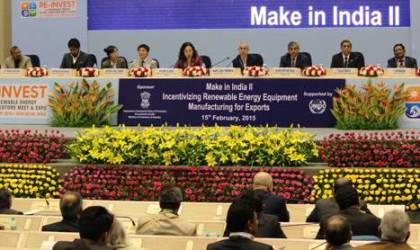 RE-Invest Establishes India as New Global Renewable Hub
RE-Invest 2015, the first Renewable Energy Global Investors Meet & Expo, organised by the Ministry of New and Renewable Energy (MNRE), showcased the Indian government's commitment to the development and uptake of renewable energy in India, in order to meet the national energy requirement in a socially, economically and ecologically sustainable manner. The conference held in New Delhi from 15 to 17 February brought together the global investment community and renewable energy stakeholders from India. The photo shows the industry panel Make in India II, which was attended by representatives of well-known renewable energy manufacturers, among them D V Manjunatha, Founder and Managing Director of flat plate collector and tank manufacturer Emmvee Solar Systems (first from left). He bought back the 50 % stake in his company from Danish Solarcap in June 2014 and is now again the sole owner of a company with a turnover of between EUR 9 and 11 million and around 200 employees.
Photo: MNRE
According to statistics published by the MNRE, the overall size of the Indian solar thermal market is close to USD 200 million annually and 99 % of it is collector technology used largely in the residential and institutional sector. Concentrated solar thermal technology is a challenge, but is likely to become commercially viable in another 5 years, given the kind of technological developments undertaken and the fillip provided by the UNDP-GEF project.
2,860 delegates from 42 countries
The event statistics on re-invest.in highlight the most important figures: The three-day conference, which was inaugurated by the Prime Minister of India, Narendra Modi, attracted 2,860 delegates from 42 countries. The attendees represented 578 Indian and 124 international companies. The exhibitors, on the other hand, came from 118 different campanies and institutions, and the exhibition was attended by an additional 2,000 visitors.
Piyush Goyal, the Minister for Power, Coal and New & Renewable Energy, said: "Renewable energy is an article of faith with the Prime Minister and he is not just doing it out of compulsion or pressure or to impress the world. We will ensure renewable energy in India will be a people's movement and become every individual's vision in India's energy future." The renewable energy sector of the country is looking to attract investments USD 200 billion across all energy-related sectors.
The most ambitious plan is for solar electricity, for which the government has increased the deployment target to 100 GW by 2022 under the Jawaharlal Nehru National Solar Mission, which means an additional 15 GW of capacity per year. The already set target of 20 million m2 of collector area by 2022 was confirmed by the government, but not increased.
Great commitment and leadership required to reach such ambition targets
"It is an exciting time for India with a government announcing such ambitious targets," the Director-General of the International Renewable Energy Agency (IRENA), Adnan Z Amin, said. "You need great commitment and leadership to reach such ambition targets, but they are absolutely doable." Amin stressed in his opening speech that solar thermal had an important role to play in the socio-economic development of India and has the potential to create great job opportunities. He praised the Indian solar thermal developments as role models for the world.
Dr Carsten Corino, CEO of
SunOyster Systems
, the developer of a concentrating heat and electricity producing unit and participating for the third time in an Indian renewable energy exhibition, said: "I have come here to explore manufacturing in India and am already in talks with a couple of producers who have shown interest in my product." Together with an Indian partner, he aims to start serial production in the country at the end of 2015.

More information: