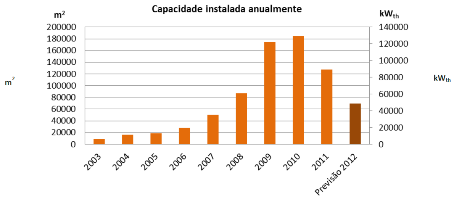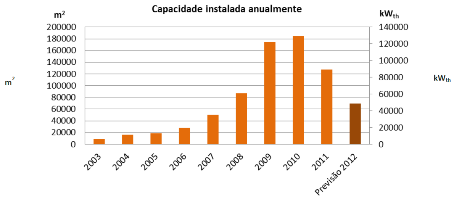 Portugal: 45 % Drop in 2012
The Portuguese national solar industry association, APISOLAR, has just released the solar thermal statistics for the third quarter of 2012 and has once again reduced its forecast for the entire year. In September, the half-year result showed an estimated annual decrease of 35 % compared to 2011. Now, the association forecasts an even stronger drop in the market of 45 %.
Source: APISOLAR
"In the first half of 2012, sales of solar thermal collectors had slowed down compared to 2011, but not in a way that could have led us to expect this kind of a decrease. The second half of the year was then characterised by the market's reaction to the austerity measures and news of a worsening of the fiscal situation in 2013," Victor Júlio, APISOLAR's Vice President for solar thermal, explains. He also points out that by the end of 2011, the market saw a sudden increase in sales because the government had just announced to increase the VAT on renewable energy technologies at the beginning of 2012. "What greatly attenuated the market decrease at that time acts now in the opposite way, making the decline in 2012 even more evident," he adds.
According to APISOLAR´s latest market report, the newly installed area in Portugal only reached 52,122 m² by the end of September – a 26% decrease compared to the same period in 2011 (see the attached PDF). APISOLAR estimates the market to have dropped by 45%, which means that only 69,500 m² (48.7 kWth) were installed in 2012. Still, the Portuguese association expects the new solar thermal incentive Edifício Eficiente (see table below) to help slow down the downward spiral this year. "There are incentives, such as the one planned by the Energy Efficiency Fund for buying solar thermal systems for DHW, that are thought to lessen the effect of the current trend during 2013," it states. Including these measures, the cumulative installed area in the country may rise to 945,000 m² (662 kWth) by the end of 2012.
The new incentive launched last November with a total budget of EUR 1 million supports up to 50% (maximum EUR 1,500) of the costs for buying and installing a residential solar thermal system. Both APISOLAR and the industry have welcomed the scheme, although the incentive is very small. Some companies have also noted that the application procedure was very complex. "The application procedure is as bureaucratic as for a EUR 150,000 investment, with too many requirements to meet and documentation to hand in," Pedro Correia de Carvalho, CEO of Richworld Renewables, says. The businessman thinks that the incentive was a missed chance by the Portuguese government to help support national solar thermal manufacturers. "At a time when the government is trying to favour imports over national products and is claiming that the reindustrialisation of the Portuguese economy is part of its strategy, I think it is strange to not include any criteria that could somehow defend the interest of the national industry," he adds.
More information:
http://www.apisolar.pt/
http://www.richworld-renewables.com
Country / region
Portugal
Name of programme
Edifício Eficiente 2012
Type of incentive
Investment subsidies
Eligible technologies
Solar thermal systems and energy-efficient windows
Applicable sectors
Residential – existing buildings
Amount
 50% of the investment costs, including installation
Maximum incentive
Max EUR 1,500 for solar thermal systems;

max EUR 1,250 for energy-efficient windows

Requirements for system
Certif or Solar Keymark
Requirements for installation
Maintenance contract over 6 years;

installations must be done by a certified expert (CAP or other)

Finance provider
Energy Efficiency Fund, under the Energy Efficiency Action Plan
Total funds
EUR 2,000,000 (total)

EUR 1 million for solar thermal systems

EUR 1 million for windows

Funding source
Public budget
Effective date
30 November 2012
Expiration date
3 June 2013
Website
fee.adene.pt
Last review of this tabloid
December 2012
Contact
http://www.adene.pt