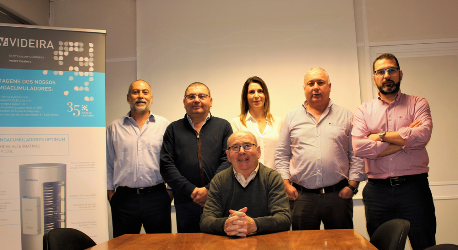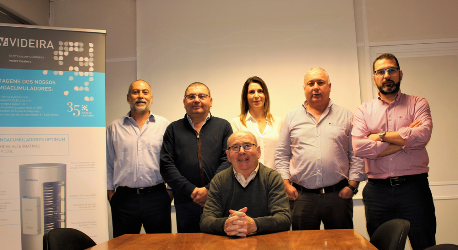 Portugal: 35 Years' Solar Storage Tank Production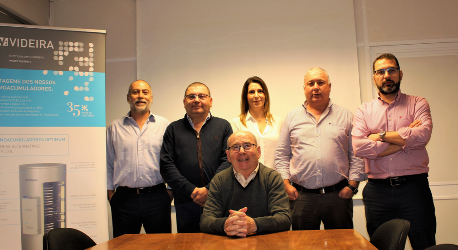 Videira, a family-owned storage tank manufacturer from Portugal, is celebrating its 35th anniversary this year. In 1982, José Oliveira Rocha (sitting) and three of his five children (back) established a small business in Paredes in northern Portugal. In the beginning, it was only him, his three sons and one additional staff member who worked at the 200 m² factory. Meanwhile, production facility has grown to 5,000 m² and the company employs 155 staff, who generated a turnover of EUR 15 million in 2016. Exports made up 70 % of the, all in all, 45,000 water heaters and tanks manufactured last year.
Photo: Videira
Videira initially focused on electric storage tanks, but soon added units for alternative energy sources, such as solar thermal, to its offering. In Portugal, the business pioneered the use of polyurethane as a thermal insulation material and abroad it became known among OEM customers for its copper tanks. It took its first step towards globalisation in 2000 when it partnered with an Irish-based company and experienced a period of strong growth. But rising raw material prices in 2006 forced the company to search for another solution. "We put in a great deal of effort and invested around EUR 400,000 to change to stainless steel. We delivered the first units a year later," said Carlos Rocha, one of Oliveira Rocha's five children and the current head of the company (left in the photo).
Exports helped Videira compensate for the drop in national demand in 2011, when Portugal's Medida Solar Térmico incentive programme – which had been launched in 2009 and led to a booming market in 2010 – came to an abrupt halt from one day to the next. Since 2011, Videira has expanded its facilities and implemented a programme to improve production quality, investing around EUR 1.2 million in total. Rocha said that the latter "was a turning point" needed to address OEM customers.
"We're still struggling with the stigma of being Portuguese"
Last March, Videira attended the ISH in Frankfurt, Germany, to showcase its product range. It was the company's first time as an exhibitor at the fair. "It was a positive experience. We sent the message that we're increasingly approaching the international market," said Rocha. There had been another reason for the trip: The business wants to be viewed as a manufacturer of high-quality products. Rocha explained: "Unfortunately, we're still struggling with the stigma of being Portuguese. Because our company is based in southern Europe, people often assume that our products must be of inferior quality. We've been challenging this image many times."
Videira's strategy proved successful and several months later, the business had attracted interest from markets such as France and Denmark, which it hadn't even entered yet. The new prospects joined the ranks of an existing customer base from Ireland, the Netherlands, Poland and the UK, and a huge market – the United States of America – may be next. "It will be one of our challenges for 2018," Rocha said, adding that negotiations were well advanced, with prototypes nearly ready for testing.
All of this would not have been possible without Videira's research and development unit, a laboratory staffed with three employees and used for designing new equipment and conducting tests. "R&D is essential when you approach international markets," Rocha said. "There are always issues related to product performance and technical aspects, which you need to quantify to give customers well-informed answers."
Last year, turnover was EUR 15 million, which should rise to EUR 16.5 million in 2017. In 2018, Videira will again be exhibiting at a large European trade fair, the Mostra Convegno Expocomfort in Milan, Italy. The company is also planning to add another 2,500 m² of factory space by investing an estimated EUR 1.5 million in new facilities and equipment. "We expect to hire more people and increase production to between 50,000 and 52,000 units annually," Rocha said. "The outlook remains positive, so does the work."
More information: