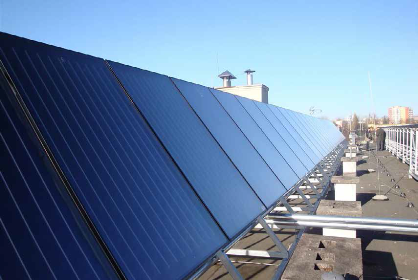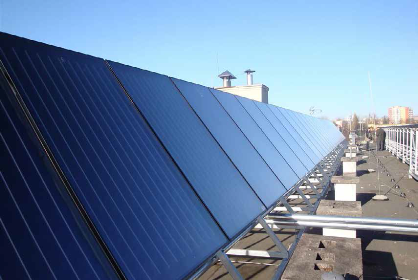 Poland: Swiss Contribution Ups Solar Thermal Funding
The binational cooperation between Switzerland and Poland to support solar thermal technology has reached the halfway mark: According to the Swiss State Secretariat for Economic Affairs (SECO), there were around 30,000 m² of solar water heaters installed between 2012 and 2014. Until the end of the implementation process in December 2016, this number should rise to at least 103,000 m2 for an estimated 20,000 private households and 195 public institutions. The photo shows a solar thermal collector field at a public hospital in Poland.
Photo: SECO
In 2011, around Swiss Franc (CHF) 100 million were allocated to solar water heating projects in Poland as part of the
Swiss Enlargement Contribution
, a CHF 1.302 billion fund aiming to reduce economic and social disparities across the enlarged European Union. Originally, the target was to install solar thermal technology in 16,500 private households and 195 public buildings. "Because of the appreciation of the Swiss Franc against the Polish Zloty, we expect to increase our target to around 20,000 residential buildings with the same budget," Ralph Ammann, Programme Manager at SECO, Switzerland, said. He added that May 2017 will mark the deadline for a complete implementation of the projects, as the legal basis for the Swiss contribution will end at that time. According to SECO, the plans were to install solar thermal and energy efficiency projects in five villages across Poland.
Projects to meet best-practice requirements
Depending on the project, SECO subsidises between 45 % and 85 % of the system costs, without any cap. Overall, private beneficiaries only have to pay between 15 % and 30 % of the total amount. Some projects are also subsidised through other sources, for example, national co-financing. "Most municipalities actively advertise the programme, and interest in it is high, so that most projects have a waiting list," Ammann explained. Potential beneficiaries are chosen based on a first-come-first-served basis, taking into account socio-economic criteria, such as household income, environmental criteria – for example, the type of fuel that was used initially, with the priority on reducing coal usage – as well as geographical criteria, with the highest importance placed on environmentally protected areas. All projects must fulfil the best-practice criteria which SECO developed during the commitment phase and which were communicated to the project partners.
Flat plate collectors are the dominating technology
During the tender process, SECO encouraged the Polish project partners not to select solar thermal system suppliers just for their prices, but to also take into account other criteria like the quality of the delivered material. According to SECO, the following Polish solar thermal system suppliers have so far won tenders and delivered solar thermal systems: Viessmann, Solver, Wiktor + Eco-Team, Skorut, Buderus, Neon, Hewalex, Sunex, and Ensol. Flat plate collectors seem to dominate the projects: SECO's analysis found a share of 88 % of flat plate collectors versus 12 % of vacuum tube collectors during one of the projects. At the others, all installed systems are based on flat plate technology.
More information: