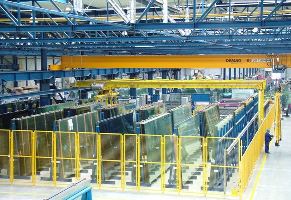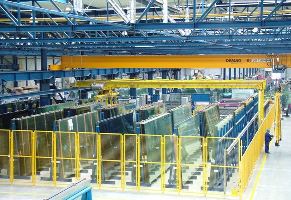 Poland: Press-Glas invests in Solar Glass
Polish glass producer Press-Glas has begun constructing a new glass processing factory in Radomsko near Lodz city in central Poland, which will manufacture solar glass covers for solar thermal collectors and photovoltaic models. The new plant is expected to deliver its first shipments in spring 2012. Press-Glas is already running four glass factories in Poland. The company employs 1,500 people and reached a turnover of EUR 100 million in 2010. The photo shows the magazine of basic glass panels in the Radomsko factory. Photo: Press-Glas
According to Gerard Plaze, Communication Manager at Press-Glas, the solar glass market is not new to the company. However, the new site will dramatically increase production capacity and improve the quality of its products: "We have been present in this market, but only on a small scale because of the capabilities of our previous equipment parts," says Plaze. As soon as the processing factory is ready, Press-Glas will start purchasing float glass elements on the world market for further enhancement – including putting and tempering. "The new line consisting of glass cutting machines and a tunnel furnace for continuous annealing will provide a huge increase in production capacity, to 1.8 million m2 per year," adds Praze.
 
Press-Glas believes that the solar glass market has great potential: After analysing future demand, the company decided to design the new factory in a way that production could be increased very quickly in the future.
The company is currently in the process of setting up the first delivery agreements for the new product. "We have been talking to Polish and foreign producers about deliveries from the new Radomsko solar glass factory. According to our estimates, most of the products will be sold abroad," Gerard Plaze told solarthermalworld.org. Considering that the Polish market sold 146,000 m2 of solar thermal collectors in 2010 and only minimal quantities of PV panels, Press-Glas' solar glass will have to count on export.
Press-Glas is owned by Polish businessman Arkadiusz Muś. In the early 1990s, Muś started his company by buying one of the manufacturing sites. 20 years ago, the businessman – who started his career as a prosecutor – invested half a million US dollars to establish a company which today controls 25 % of the Polish glass market in the building sector.
More information:
http://www.press-glas.com
This news was written by Marcin Czekanski, a Polish journalist specialised in renewable energies and based in Szczecin. mczekanski@econaviga.eu