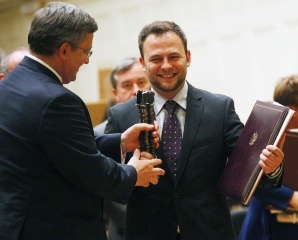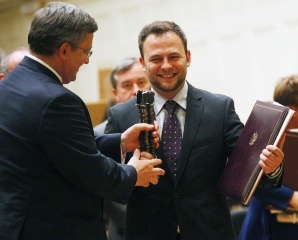 Poland: Collector Manufacturer Watt gets Economy Award
Marek Szymanski (right), Managing Director of Polish collector manufacturer Watt, received the Economy Award from the hands of Polish President Bronislaw Komorowski in Poznan on 14 June. Watt is the only renewable energy company among the four award winners which received a prize that had been suspended for a few years despite the prestige that comes with it.
Photo: Watt
"I am happy to once again be able to present the economy award to persons who have a vision for our country's economic future," President Komorowski said during the awards ceremony. "We have been honoured as the greenest company, because we not only manufacture green energy technology, but also use these renewables to cover parts of the energy demand of our factory," explains Szymanski. A combination of solar thermal system and heat pump meet the factory's heating needs.
Watt has invested PLN (Polish Zloty) 59 million (about EUR 15 million) into an entirely new collector factory, an office complex and two automatic production lines – one for flat plate and one for vacuum tube collectors – in Sosnowiec in southern Poland. The European Regional Development Fund – Innovative Economy contributed PLN 24 million (41 % of this sum) in subsidies to it, Szymanski confirmed. The absorber manufacturing line includes a laser welding machine, as well as an automated absorber soldering machine with patented technology. The vacuum tube collector line has an automated roll forming line for CPC reflectors. The factory is said to have a production capacity of 300,000 collector panels annually.
Inaugurating the new factory in Sosnowiec in May 2011
Photo: Watt
Watt, founded in 1998, is one of the biggest collector manufacturers in Poland. According to company information, it produced 40,000 m2 of flat plate collectors and 16,000 m2 of vacuum tube collectors in 2010. Managing Director Szymanski puts this year's production output at about twice as much as last year. The company employs 70 people in the production area and 40 in offices.
This news piece was written in cooperation with the Polish solar thermal website http://www.heliosfera.pl