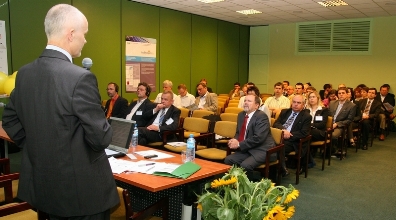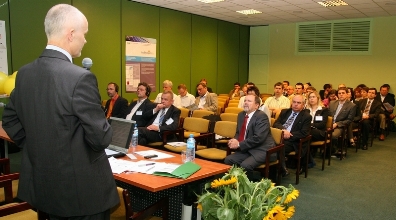 Solar Energy Industry Forum in Poland
Poland: a Coalition Setting High Solar Thermal Targets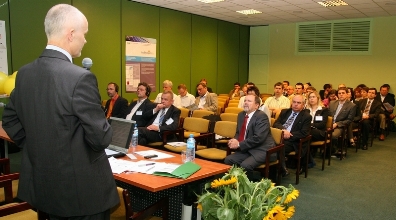 Grzegorz Wisniewski (left), President of the Institute of Renewable Energy (IEO) in Warsaw, initiated the foundation of a coalition between solar thermal manufacturers and distributors during the second Solar Energy Industry Forum in Poznań, Poland, in May this year. Photo: IEO

The reason behind the foundation of the Solar Panel 20×2020 network, with its coalition of leading collector manufacturers, as well as solar thermal system distributors, importers and installers, is simple:  The Polish solar thermal industry wanted to have one voice speaking for it. Initiator and actual coordinator of the network is the Polish Institute for Renewable Energy (IEO) in Warsaw. Solar Panel 20×2020 is a coalition of currently nine companies: Action, Junkers, Rapid, Euro-Baltic Therm, Sunex, Viessmann, Vaillant, Watt and Wolf – representing a considerable part of the solar thermal market in Poland.
"Solar thermal should play a major role in the Polish Renewable Energy Action Plan 2020, which is required due to the new renewable energy directive 2009/28/EC by the European Commission," Grzegorz Wisniewski, President of IEO, explains one of the objectives of the Solar Panel. The EC published the template for the National Renewable Energy Action Plan (NREAP) on 30 June. Each Member State had to then submit a NREAP to the Commission by 30 June 2010 at the latest, including national sector-related targets for heating and cooling, as well as electricity and transport. The template mentions in explicit terms that national governments must define the contributions each renewable energy will make to the sector-related targets.
 "The Polish solar thermal sector declares its capacity to produce and install up to 20 million m2 of solar collectors by 2020," Wisniewski formulates the vision on behalf of the Solar Panel 20×2020 members. The first important step will be to prepare an action plan for 2020, which contains the means to reach this ambitious target. The next step will be to hand over the document to the Polish government, so that it becomes part of the National Renewable Energy Action Plan 2020.
More information: Institute for Renewable Energy (EC BRECIEO) http://www.ieo.pl