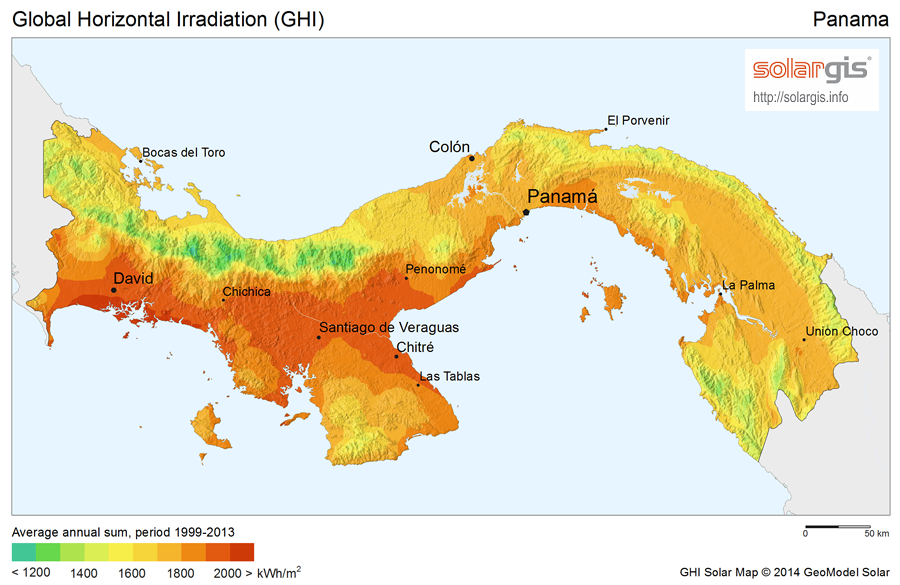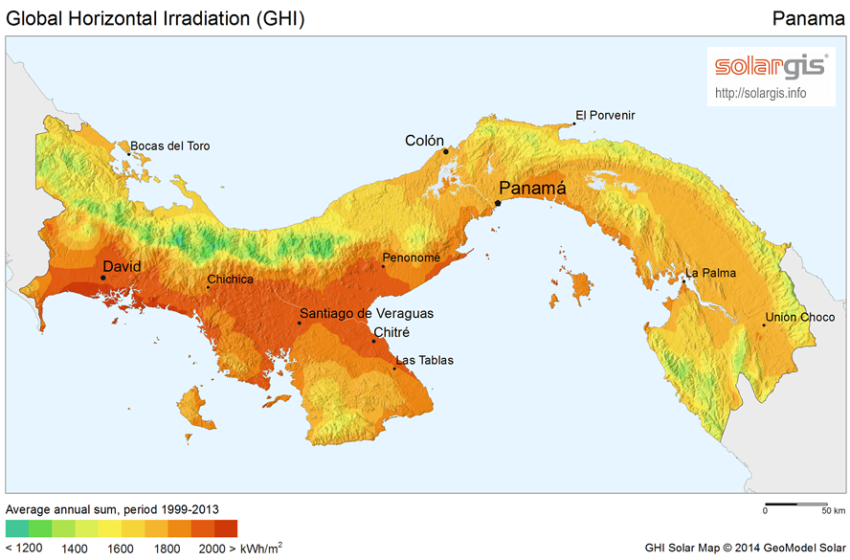 Panama: Solar Thermal to Benefit from New Building Regulations
On 17 November 2016, Panama's secretary of energy approved Resolution No. 3142 to create a new Sustainable Construction Standard Guide with the aim of reducing energy consumption in newbuilds. The new building regulations target a 15 % reduction in energy use in newbuilds within one year and a 20 % one in two years compared to the baseline values on pages 28 and 29 of the attached document. The authors of the guide consider solar thermal to be one of the most preferable solutions to achieve these efficiency targets (see page 53). However, there has not been an effective mechanism in place to implement the suggested changes and ensure compliance. Additionally, the Panamanian government is coordinating with the United Nations Environment Programme (UNEP) to establish a new support scheme for solar thermal.
Map: GHI Solar Map © 2017 Solargis
Administrators in Panama are taking important steps towards greater use of renewable energy and energy efficiency. With almost 270 MW of wind and more than 50 MW of PV power, the small country is one of the leaders in central America. Solar, wind and hydro meet more than 60 % of electricity demand and the National Energy Plan 2015-2050 sets the 2050 renewable target to 70 % of gross energy consumption.
Solar thermal recommended to satisfy building regulations
Still, local organisations have done little to incentivise solar thermal. The new building regulations may change that. The ones from last November stipulate that all municipalities of Panama must achieve a 15 % energy reduction in newbuilds (whether private or public). This includes residential buildings (but not social housing), shopping centres of more than 50,000 m2, offices, hotels with more than 50 rooms, educational facilities of more than 8,200 m2 and health centres above 1,500 m2. After two years, the reduction target will increase to 20 % for these types of buildings.
The regulations entail all kinds of active and passive house measures to meet set targets (insulation, ventilation, efficient lighting, renewables, etc.), but solar thermal is the option recommended above all others.
Installing solar heaters is said to provide a possibly important contribution to energy saving in health centres (5.4 % reduction), residential buildings (16.4 %) and hotels (19.4 %). Solar thermal must cover at least 50 % of hot water demand. The average payback period for these systems is assumed to be between 2.6 years at hotels and 3 years at health centres or between 6 and 15 years for single-family buildings depending on the income from the home owners.
Abdy Hernandez, Executive Director of Panama's Chamber of Solar Energy, said that "this building code is a good starting point. However, its effectiveness remains difficult to assess, as not every municipality has measures for verification or enforcement in place. Still, there needs to be an actual measure to guarantee that the targets are really binding." Hernandez believes that over the coming months and year, the government should create a framework to enforce and evaluate the new building regulations.
New solar heater market
In addition to the already mentioned initiatives, the secretary of energy is working with UNEP to design and implement a programme for the introduction of solar heaters to industry, commerce and the residential market. The aim of the project is to install 9,000 m2 of solar thermal pilot systems within four years (2016-2019) and achieve a total of 90,000 m2 by 2028. The four key components of the project are:
Developing policies to promote solar thermal
Creating a quality control programme to improve supply chain processes
Raising awareness of solar thermal among end users
Supporting the creation of pilot and demonstration projects (9,000 m2)
Armando Osorio, Engineer at the Secretaría Nacional de Energía, said that the project budget was expected to be above USD 1.5 million (local and UNEP), although it had not yet been made available. "We still need to sign a couple of agreements with the UN, but we expect the programme to enter into force in 2017, which will definitely give the domestic market an important boost," he explained.
The Panamanian Chamber of Solar Energy was founded in 2016 and has around 40 businesses as members. Hernandez said that most of these companies designed, sold and installed solar thermal equipment.  He added that there were no official statistics on the number of solar thermal systems installed across the country.
Website of organisations mentioned in this article:
Panamanian Chamber of Solar Energy:  https://www.facebook.com/camarasolarpanama/