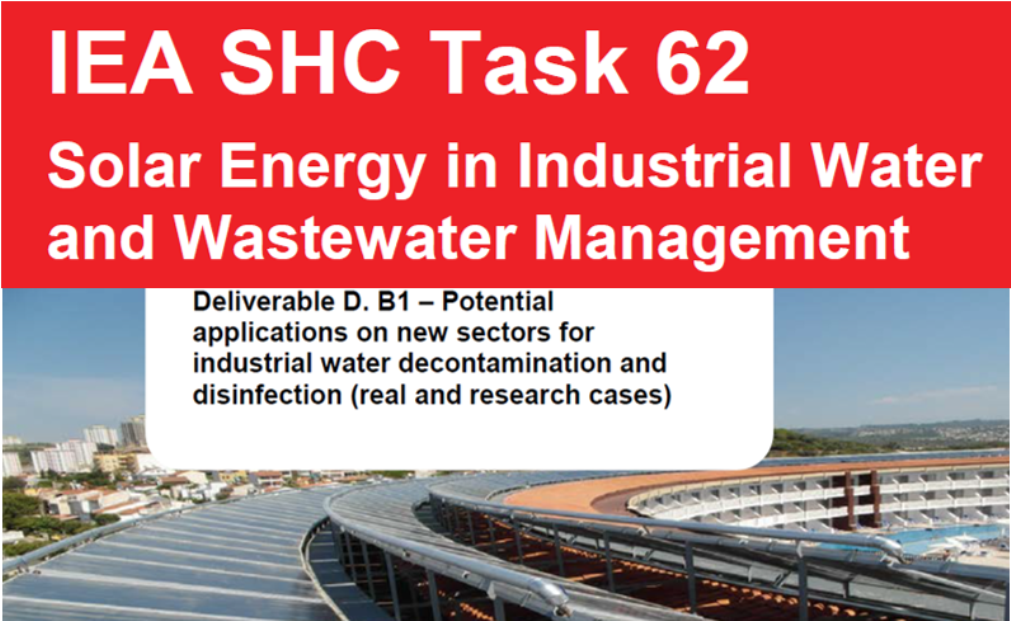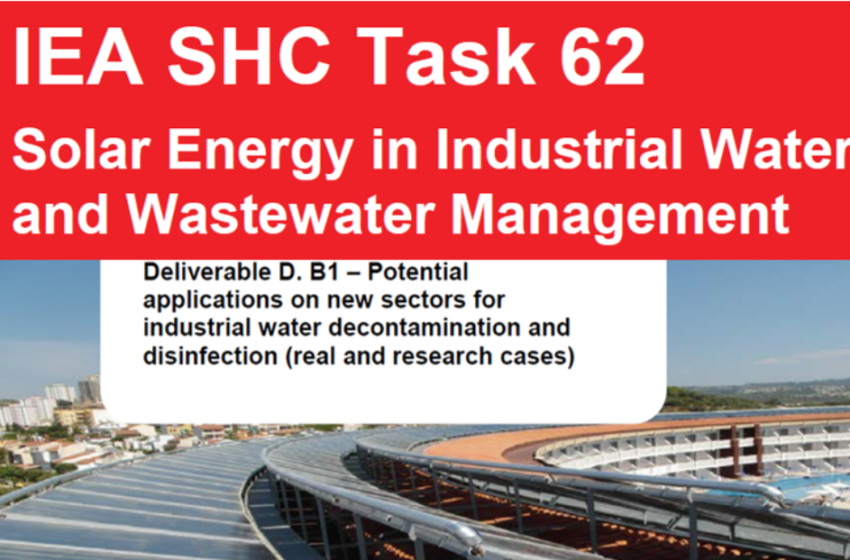 Online workshop about solar-powered industrial water management
Using solar energy to decontaminate and disinfect industrial water could save both GHG emissions and water. To this end, the Water Solar Treatment research group of Plataforma Solar de Almería (PSA) in the south of Spain has specialised in designing new types of solar-powered water treatment units. In addition, one of the group's members, Alba Ruiz-Aguirre, has, on behalf of IEA SHC Task 62, just finished a report that provides readers with an overview of current research activities, potential applications and real-world case studies of water treatment and reuse in industry and agriculture. The 32-page document will soon be available for download from http://task62.iea-shc.org/.
PSA researchers will likewise be speaking at a workshop titled Solar energy in industrial water and wastewater management, which will take place on Wednesday, 25 November 2020, between 8 am and 5 pm AEDT (Australian Eastern Daylight Time) – partly face to face in Melbourne, Australia, and partly online, to give stakeholders from all around the globe the chance to attend. The workshop will present the intermediate results of Task 62, a global research platform that was launched in October 2018 and will end in September 2022. You can register for the event for free and
online
.
"A lot of research is being conducted on industrial wastewater treatment and reuse, but new solar technologies have not yet been implemented in real cases in the industry," Ruiz-Aguirre said about the state of the market as she described it in the report. This is why one of the round table discussions during the workshop will tackle the question "What research needs have to be met to increase the adoption of solar technology in the water treatment industry?"
Circular wastewater management in fresh produce industry
Chart: PSA
Alternatives to chlorine in disinfection
The report's chapter 1.5 on Solar water decontamination and disinfection describes several options for water treatment. According to Ruiz-Aguirre, disinfected water is a crucial resource in southern Spain's fresh produce industry: fresh water is scarce and vegetables and fruit are grown in huge greenhouses. The sector uses water during several processes, which include not only cooling and cleaning but also vegetable and fruit washing, the main source of water consumption in the industry. At present, washing is mostly done via chlorination, to guarantee microbiological food safety. But there are drawbacks to this method, for example, the presence of possibly unhealthy disinfection by-products after washing.
"As an alternative to chlorination, we could use sunlight-driven advanced oxidation processes, which are well-known for their ability to oxidise and mineralise almost any organic contamination," said Ruiz-Aguirre. "Even at high levels of turbidity, we have observed excellent bacterial inactivation rates when using solar energy to disinfect water." In circular wastewater management, costs will also be cut by using the same process to recycle wash water and irrigate crops (see the chart above).
Decontaminating wastewater
Another advanced oxidation process described in chapter 5.1 is called heterogeneous photocatalysis. It has so far been used for a pilot unit developed by those participating in EU project Life-Aquemfree (see the photo below). The method causes the degradation of pesticide residue found in wastewater after rinsing and cleaning containers and tanks employed for phytosanitary treatment. The pilot unit is run in batch mode, which means contaminated water is filled in glass tubes equipped with compound parabolic concentrators (CPCs) at the back.
Heterogeneous photocatalysis uses titanium dioxide as the catalyst. The process absorbs illumination with energy equal or greater than the band gap of the semiconductor. This means an electron passes from the valence to the conduction band to create, in the presence of water, hydroxyl radicals. These radicals can oxidise and mineralise almost any organic molecule and yield CO2 and inorganic ions.
Wastewater treatment unit in Spain's Murcia region, developed during EU project Life-Aquemfree
Photo: Federation of Agricultural Cooperatives of Murcia (FECOAM)
Organisations mentioned in this article: