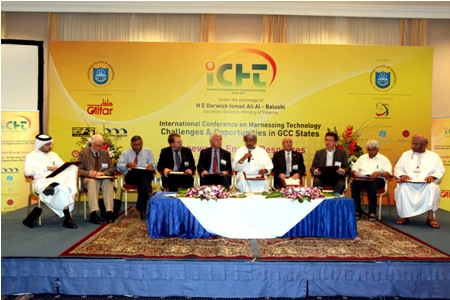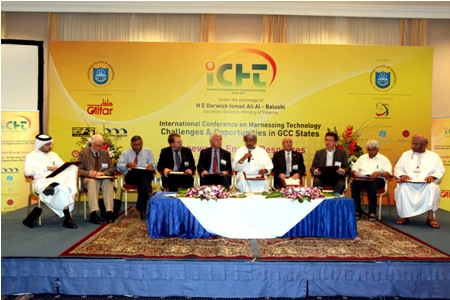 Oman: International conference proposes "Energy Roadmap"
International experts discussing the potential of renewable energy sources for the Sultanate of Oman in the middle of February: Among the keynote speakers were Omran Al Kuwari, CEO of GreenGulf Inc, Qatar (1st from left), Werner Koldehoff, Board member of the German Solar Industry Association BSW Solar (2nd from left), David Renné, President of ISES, USA (5th from left), Saif Al Hinai, Advisory Committee ICHT, Oman, (6th from left), Prof Ali Sayigh, Chairman of World Renewable Energy Congress UK (7th from left) and Mohammed Al Mahrouqi, Chairman of the Public Authority for Electricity and Water, Oman (1st from right).
Photo: Photo: A.R. Rajkumar, Times of Oman
Oman should prepare an energy road map for the future, experts proposed during a panel discussion at the end of the two-day "International Conference on Harnessing Technology" (ICHT) in Oman. Initiated by the Caledonian College of Engineering (CCE), Oman, the conference took place for the second time. Around 150 participants attended, including 50 international delegates and speakers from 12 countries. This text bases on several articles published in the national Newspaper Times of Oman.
Werner Koldehoff, Board Member of BSW Solar, presented in his speech the challenges of tackling climate change and the role that solar thermal technology can play in the future. The consultant was pleased to see a change in thought across the Middle East country: "Now, it is time to focus on the proper technology and devise a 'Roadmap of Energy' for Oman". Koldehoff also proposed that all new government buildings could use energy-saving and energy-efficient techniques and become examples for society. He stressed that it is time to "Download the Sun" – maybe this could become the slogan for solar in the future!
 
Several panellists supported the idea of a roadmap. Omran Al Kuwari, CEO of GreenGulf, Qatar, said it is important to consider, "technology, economy and policy" while developing roadmaps. He stressed that collaboration within the region is another aspect playing into it.
Saif Al Hinai, Chairman of the Advisory Committee of ICHT, pointed out that the success of the conference is clear evidence of the awareness among industry and academia in Oman. He suggested that a non-governmental organisation on renewable energy must be formed on the national level, "so that the deliberations can persist".
Link to conference homepage:
http://www.icht-oman.com.om/
Links to the original newspaper articles in Times of Oman:
http://www.timesofoman.com/innercat.asp?detail=41600
http://www.timesofoman.com/innercat.asp?detail=41526
http://www.timesofoman.com/innercat.asp?detail=41647
Links to the organisations mentioned in the text:
BSW solar: http://www.solarwirtschaft.de: http://en.solarwirtschaft.de/
ISES: http://www.ises.org/ises.nsf
Caledonian College of Engineering (CCE): http://www.cce.edu.om
Public Authority for Electricity and Water: http://www.paew.gov.om