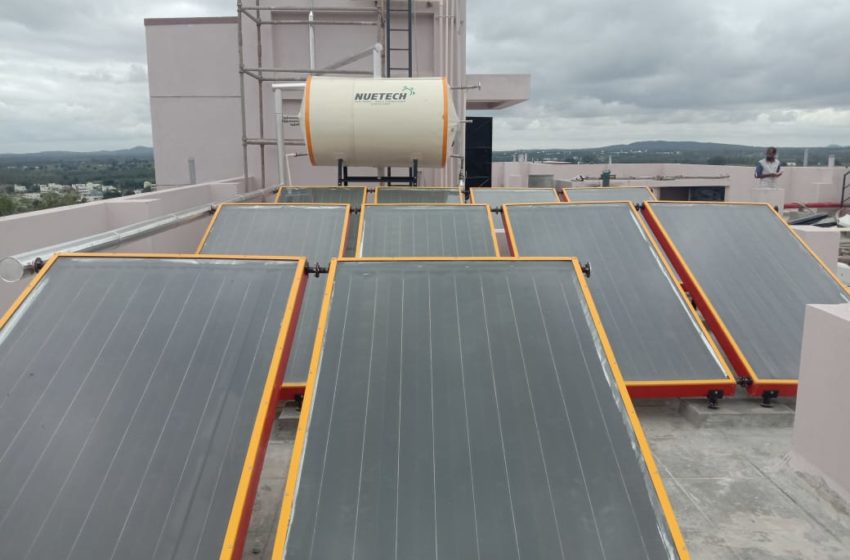 Nuetech Solar renews Clean Development Mechanism
Nuetech Solar – which in December 2012 became India's first solar water heater manufacturer to register a Clean Development Mechanism Programme of Activities under the UN Framework Convention on Climate Change – is about to launch another seven-year component project activity (CPA) with UNFCCC support. The initial CPA, which ended in December 2020, generated 870,000 certified emissions reductions (CERs) for the company.
Photo: Nuetech Solar
In the last year of the CPA, Nuetech received annual payments for over 120,000 installed systems commissioned since 2007. To trade CERs, the business set up a strategic partnership with German Carbonbay and Dutch Climate Focus. While the exact amount of CERs per system depends on where an installation is located, the rule of thumb is that 2 m2 of collector area generate about 1 CER annually, which is based on a certain assumption of fossil fuel electricity avoided. Every CER cuts emissions by 1,000 kg of CO2. CERs are calculated using emissions from electric heating as the baseline and a grid emission factor, which is usually 0.85 kg of CO2 per kWhel. And although there are fluctuations in global carbon markets, the monetary value of a CER has held fairly steady, averaging about USD 0.5 for nearly a decade.
| | | | | |
| --- | --- | --- | --- | --- |
| | No. of flat plate systems | Flat plate collector area | No. of vacuum tube systems | Vacuum tube collector area |
| 2018 | 1,461 | 8,790 m2 | 8,960 | 23,800 m2 |
| 2019 | 1,446 | 10,300 m2 | 8,717 | 23,600 m2 |
| 2020 | 930 | 5,510 m2 | 11,626 | 31,200 m2 |
Every year, more solar water heaters are added to the CPA. The table shows the number of new installations from 2018 to 2020. By the end of the first seven-year CPA, a total of 120,000 systems were registered with the UNFCCC programme.
Source: Nuetech
"We don't pass on that revenue to our clients. Instead, we offer them support well beyond their expectations," said Nuetech CEO Ananth Tyamagundlu. The income from CERs has allowed the company to grow at an impressive rate. The money was spent on conducting R&D, improving customer support and increasing capacity building.
Nuetech now wants to give other Indian solar water heater manufacturers the same opportunity by inviting them to join its second CPA from 2021 to 2027. "Our decision to open our CPA to other responsible Indian suppliers has the potential to increase CER generation ten-fold above present levels, and we aim to achieve that," said Tyamagundlu.
Manufacturers interested in joining the CPA need to undergo a UNFCCC and a Gold Standard due diligence check. Key criteria include companies' level of quality in maintaining customer data, commitment to customer service, and willingness to implement best practices to improve their processes overall.
Organisations mentioned in this article: