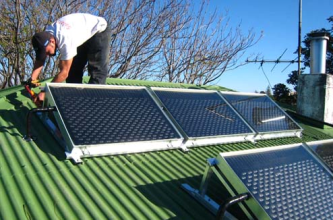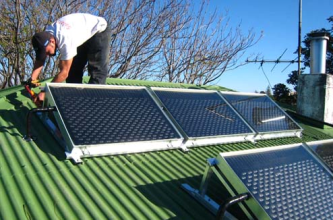 New Zealand: SolarCity receives carboNZero Certificate
SolarCity New Zealand Limited has been building, retailing and installing solar hot water systems for 30 years. To receive the carboNZero certification, the company has measured its greenhouse gas emissions pursuant to ISO 14064-1:2006 and has pledged to reduce them further. The carboNZero programme was established in 2001 by Landcare Research New Zealand Limited, a research institute owned by the New Zealand government. Since a merger with collector manufacturer and system supplier Solar Technology Systems Ltd in 2010, SolarCity has become New Zealand's largest solar company and has, meanwhile, begun to offer off-grid and grid-connected PV systems as well.
Photo: SolarCity

The companies headquarters is located in Nelson, in the north of the south island of New Zealand. Branch offices are in Christchurch (south island) and Auckland (north island). The carboNZero certification includes SolarCity's own offices and its subsidiary Thermocell Energy Limited in Christchurch. Emissions were measured and calculated between October 2009 and September 2010, taking that year as the base year for future reductions. Total emissions were calculated to be 43 tons of carbon dioxide equivalents, with petrol and electricity consumption, as well as air travel among the greatest sources of CO2.
The emissions reduction plan includes using Skype and VoIP to cut down on air travel and replacing the car fleet to reduce fuel consumption. In addition to company-own reductions, SolarCity will purchase carbon offsets from landfill gas and wind power projects.
Andrew Booth, CEO of SolarCity New Zealand Ltd, says he is thrilled about the fact that his New Zealand solar company has been the first to meet the rigorous certification requirements. "Achieving the carboNZero certification is important to us, as it reinforces the company's commitment to practising what we preach," he says. "As part of what we do, we are always encouraging people to be energy efficient by using solar panels in their homes and businesses. So, to achieve carboNZero certification is the ultimate gratification for us."
A look at the customer list shows how popular the carboNZero certification is in New Zealand. Companies can certify their whole business or single services, products or events. Among the almost 70 carboNZero certified organisations in New Zealand are the Christchurch International Airport and the Word Wide Fund for Nature (WWF) New Zealand. Although the name carboNZero is specific to New Zealand, the procedure is a standard established in more than 50 countries, according to carboNZero's website.
SolarCity is the only solar company which has been awarded with the carboNZero certificate. Other solar companies in other countries, such as Solarfusion in the UK or German PV inverter manufacturer Kaco, have achieved other certificates – but none of them had this one yet.
More Information:
http://www.carbonzero.co.nz
http://www.solarcity.co.nz