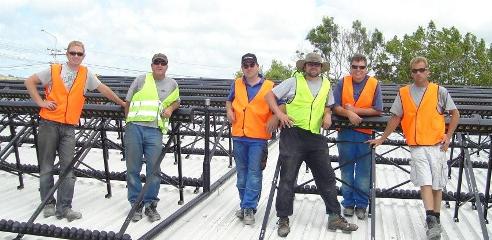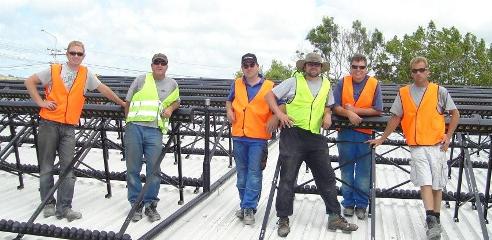 New Zealand: 300 m2 for a new Swimming Pool Complex
The dream team: This team of installers from New Zealand-based company Solar Technology Systems needed only a few days to install 300 m2 of vacuum tube collectors on the roof of a swimming pool complex.
Photo: Solar Technology Systems
300 m2 of vacuum tube collectors cover the roof of the brand new and very modern Kauri Coast Community Pool in Dargaville, a small town in the north of New Zealand. The designer and planner of the installation, the Nelson-based company Solar Technology Systems, is in a joint venture with a Chinese manufacturer for vacuum tube collectors. The installation is said to be the biggest solar swimming pool system in the country.
Dargaville's new swimming pool complex cost NZD 6 million. The amount invested into the solar thermal system was close to NZD 200,000. The Energy Efficiency and Conservation Authority (EECA) in New Zealand covered much of the cost.
 
The backup system consists of electric, air to water heat pumps to keep the main pool and the hydro therapy pool for the kids at 26 °C. "By diverting the solar power, we expect the main pool to be open seven to eight months of the year, and the smaller pools all year round," Vern Stevens, Trust Chairman of the Kauri Coast Community Pool, explains.
 
Solar Technology Systems is owned and operated by Frank and Roslyn Witowski. The husband founded the company in 2004 and is the driving force behind the business. For the past 5 years, he has been working in a joint venture with a Chinese solar thermal system supplier to oversee quality control. "We design the solar systems within the joint venture together with the Chinese company," explains Witowski. "Our Chinese collectors stand up to any panel manufactured in Germany since I am very keen on having the best". Right now, Solar Technology Systems is tendering for several big projects around the world, whether in India, Libya or the UAE, and covering four fields of technology: solar water heaters, photovoltaics, hydro power and wind turbines.
More Information:
Solar Technology Systems: http://www.solartechnology.co.nz/
Energy Efficiency and Conservation Authority: http://www.eeca.govt.nz/