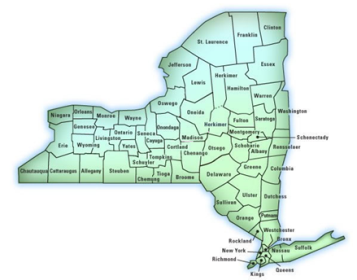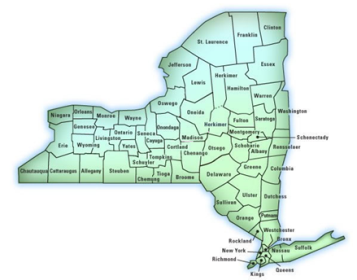 New York: Map of solar thermal Installers eligible for the NYSERDA subsidy scheme
New York is the third most populated state in the USA. 19 million people live in the large East-American state – many potential customers for the NYSERDA Solar Water Heating Program that launched in December 2010. Residential and commercial clients can apply for a performance-based incentive if they replace an existing electric water heater with a solar water heater. While the majority of the program incentive funding targets electric hot water systems, the programme also has a small amount of funding available for projects that use fossil fuels to heat domestic hot water. NYSERDA has 50 approved eligible installers in the program. To help customers quickly find an eligible installer, New York State Energy Research and Development Authority (NYSERDA) published an interactive online map (such as the one above) where the contractors are listed according to the counties where they are active.
Source: NYSERDA
"We have received 76 applications, of which we approved 50 in the first half year of the program," said Marci Brunner, Assistant Project Manager at NYSERDA. "We are seeing a steady increase in monthly incentive and installer applications."  However, the application figures are below expectations so far.
The programme, which runs for five years (until the end of 2015), foresees the support of 6,500 systems – that means 650 applications every half year – a lot more than the 76 applications in the first six month of the programme. Brunner confirmed that NYSERDA has not yet begun formal marketing activities for the programme. "So far the information about the programme is mostly spread through the eligible installers' conference calls and NYSERDA press releases," the Assistant Project Manager said.
Approved solar water heaters must generally supplement an existing electric water heater. Incentives are based on the amount of electricity displaced by the solar water heating system simulated with SRCC certification or RETSceen. The incentive is set at 1.50 USD/displaced kWh, up to USD 4,000 for residential systems and USD 25,000 for non-residential systems. The level has doubled compared with the announcements of NYSERDA in September 2010 (see http://www.solarthermalworld.org/node/1411). "We recognized that there would be a need for training and other start-up costs, so we doubled the incentive in order to get the technology into the market and build an installer base," Dayle Zatlin, Assistant Director of Communications of NYSERDA, explains the increase. The incentive can be combined with state and federal tax credits. Together with the NYSERDA incentive 60 to 70 % of the costs of an average solar thermal system are covered. Zatlin estimates a payback period of 4 years.
 
Installers have to be approved to participate in the programme. NYSERDA requires a non-technical 18-hour training on how the application formalities work. "So far we have approved 50 installers statewide," explained Brunner. "Effective June 30, 2012, all installers must be NABCEP-certified." Currently, 5 of the 50 eligible installers are NABCEP-certified.
North American Board of Certified Energy Practitioners (NABCEP) is a voluntary national certification programme. Made up of renewable energy stakeholders from the industry, organisations, state government, schools, and the trades, the all-volunteer board offers a national certification for solar thermal and PV installers who have at least one year of experience and pass a national exam. The organization does not train solar installers, but verifies skills learned elsewhere.
 
More information:
North American Board of Certified Energy Practitioners (NABCEP): http://www.nabcep.org
Map of eligible Solar thermal installers: http://www.getenergysmart.org/Resources/FindPartner.aspx
Documents of the NYSERDA Solar Water Heater Programme: http://www.nyserda.org/funding/2149pon.asp