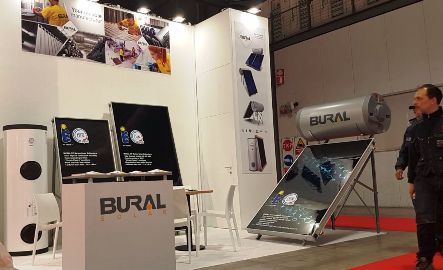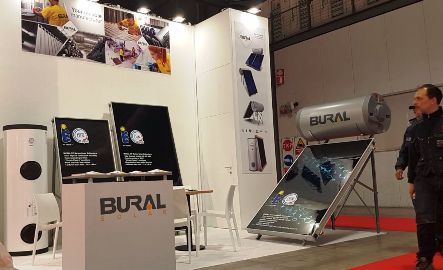 New export-orientated collector and tank factory in Turkey
Collector and tank producer Bural Solar, founded in 2015, showed its product range at this year's Mostra Convegno, an international trade fair in Milan, Italy, Mid March. The founder of the company, Hakan Alas, has been working in the solar thermal industry for 20 years. The export-focused business, based in Kayseri, central Turkey, started producing tanks and collectors in 2016. Mostra Convegno, which featured around 2,000 exhibitors, attracted more than 155,000 people, with every forth attendee coming from outside the country. It is 2018's largest show about heating, ventilation, air conditioning and energy in Europe. 
Photo: Bural Solar
"We may be a young company, but, in a way, we've been part of the solar thermal industry for 20 years," Sales Director Kutay Ulke said. "We invested in the market because we have considerable experience and expertise in manufacturing, designing and selling solar hot water systems. Our staff members in production, R&D, quality management and marketing have the necessary skills and knowledge because they all had worked in the solar thermal sector prior to joining us."
Bural Solar's new collector production facility in Kayseri, Turkey
Photo: Bural Solar
In early 2018, Bural Solar had 18 staff. The company is an export-only business producing flat plate collectors, which received Solar Keymark approval early this year. The collectors have a gross surface area of between 1.76 m² and 2.66 m², and their laser-welded absorbers are partly painted in back and partly selectively coated. The company also offers thermosiphon systems holding between 160 litres and 300 litres and vertical tanks ranging from 100 litres to 3,000 litres.
Bural Solar cooperates with an external engineering company to design solar thermal systems for commercial clients. Its factory has produced 12,300 m² of flat plate collectors since coming online in late 2016.
Organisations mentioned in this article: