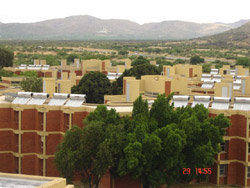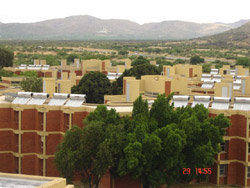 Namibia: Solar Water Heaters Mandatory for Public Buildings
A recoupment period of two years: The University of Namibia in Windhoek replaced an oil boiler that had reached the end of its life cycle with 109 solar water heaters.
Photo: Namibian Engineering Cooperation/Solahart
Well-known as the "sunshine country", Namibia can boast about a daily radiation rate of 5 to 6 kWh/m² (1,800 to 2,200 kWh/m2a). A thing not hard to believe when the country experiences more than 300 days of sunshine per year and up to 10 hours a day. These are ideal conditions for solar energy use. Nevertheless, Namibia faces many barriers for implementing solar thermal installations. Among them are poor social acceptance, high investment costs for installation, lack of capacity for service and maintenance and lack of information.
In 2003, the Namibian government established the Namibian Renewable Energy Programme (NAMREP) to tackle these problems. The programme possessed a budget of a Namibian Dollars (N$) 5.2 million. The first phase was completed in 2006 and was thought to public awareness, as well as reduce organisational and technical barriers. By the end of phase one, the number of annually installed solar water heaters had increased from 135 in 2003 to 400 systems in 2006. Even so, the potential for solar water heating installations was seen as much higher.
Namibia has over 97,000 electric household geysers, which collectively consume around N$100 million of electricity every year. Solar Water Heaters (SWH) can effectively substitute all these electric geysers. The government therefore enforced their measures in the second phase of NAMREP, which will last until 2011. An energy saving initiative with a budget of around N$70 million is being used to build up awareness for renewable energy, promote SWH and train skilled workers. It includes a cabinet directive, making solar water heaters mandatory for all public and semi-public buildings. Funds will be raised through the Ministry of Mines and Energy, the United Nations Development Programme (UNDP) and the Global Environment Facility (GEF).
The directive was implemented in August 2007. It helps to achieve the White Paper on Energy Policy goals, requires SWH on all new public buildings, on existing public buildings without water heaters and existing public buildings with electric geysers. Namibia could reduce its peak electricity demand by almost 20 MW thanks to this new directive. Solar water heaters for public and semi-public buildings will be acquired through an open tender, issued by the Ministry of Mines and Energy. "It took a while, but, in most cases, solar thermal installations are today part of public tenders for the new construction or replacement of heating systems", confirms Nick Brückner, Director of the Namibian Engineering Cooperation and distribution partner of Solahart, an Australian solar thermal system manufacturer.
The cabinet directive and NAMREP have time until 2011 to prove their success in establishing renewable energy in Namibia. Rising electricity costs and fuel prices will have a positive impact on the SWH market in the near future. It lies in the hands of the Namibian citizens to make the most of their "sunshine country".
Further information: White Paper on Energy Policy:
http://www.mme.gov.na/pdf/energy_policy_whitepaper.pdf
Grid Energisation Plan:
http://www.mme.gov.na/pdf/undp-reports/off-grid-masterplan.pdf
Solar Water Heater Study:
http://www.mme.gov.na/energy/pdf/SWH%20Study%20Report%20FINAL.pdf
Code of Practice:
http://www.mme.gov.na/pdf/undp-reports/code-of-practice-products-for-namibian-sets.pdf
This article was written by master of corporate communication Hanna Schober based in South Africa.