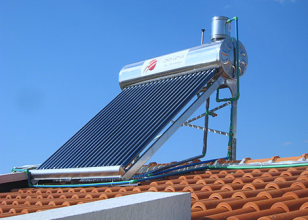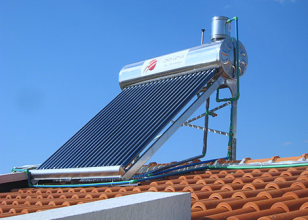 Montesol Shines in Montenegro
With only 625,000 inhabitants, Montenegro is a small country. But its government seems to make greater efforts to promote solar thermal energy than some bigger nations in Southeast Europe. In May 2012, the second phase of Montesol started with a programme for interest-free loans to help install solar water heaters in private households. "Since then, around sixty loans have been approved with an average amount of EUR 3,200," Mija Nenezić, expert at the Montenegrin Ministry of Economy, says and adds that Montenegro had one of the highest potential for solar energy in Europe: "At ourcoastline, the sun shines up to 2,500 hours per year. The annual solar radiation of 1,602 kWh/m2 in our capital Podgorica is actually higher than in Rome or Athens."
Photo: http://www.solaria.me
The Montesol programme was originally launched in July 2011, selecting eligible dealers / installers and local banks, and distributing awareness-raising brochures. The demand of the Montenegrin people for Montesol loans, however, has not developed as expected. That is why the Ministry of Economy has now decided to simplify project regulations, improve credit conditions and boost public relations through an informational video. One year ago, citizens could apply for loans of either EUR 1,350, EUR 1,800 or EUR 2,250. The new scheme regulations allow for loans of up to EUR 5,000 at an interest rate of 0%. The loan has to be paid back monthly in equal rates over a period of seven years. The two local banks, NLB Montenegrobanka and Hypo Alpe Adria, manage the loan scheme. They refinance the 0%-interest rate through a USD 1 million fund which the Ministry of Economy of Montenegro transferred to the banks. Initially, funding had been granted by the Mediterranean Investment Facility (MIF) (see further details in the database of incentive programmes).
"After industry and traffic, the residential sector is the area with the largest energy consumption in Montenegro," says Nenezić. Because electricity prices are rather low (0.1 EUR/kWh), up to 70% of the homes have an electric heating system installed. According to Nenezić, the installation of one solar thermal facility could save up to 2,000 kWh of electric energy, or EUR 200, per year. The market itself had been growing slowly, both on the demand and supply end, she admits. But given the favourable climate conditions and the Montesol programme, Nenezić hopes that "in the following three to five years, we can reach the critical point at which we can fully tap the potential of solar energy".
While Montesol is currently funding only individual households in using solar energy, Nenezić expects solar thermal systems to be the main providers of hot water and space heating also in other sectors in the near future. This includes multi-apartment buildings, the hotel sector, restaurants, and small and medium enterprises. "We expect to see the largest growth of these technologies in the central and coastal regions. But there are technologies – such as forced circulation solar-thermal systems – which could also be used in the mountainous northern parts of Montenegro."
Eighteen companies participated in a second tender for dealer / installers in March 2012, out of which thirteen were selected by an international commission after the evaluation. Tedeko Solar Energy, Solaria and Termoinženjering are three companies which now act as eligible partners of Montesol. They are authorised not only to sell and install solar water heaters, but are also responsible for maintenance issues. Lazar Kordić, Manager at Tedeko Solar Energy, sees solar thermal energy in Montenegro "still in its infancy". "Montesol," he hopes, "can give the market an impulse to develop." As a consequence, he oversees Montenegro's first Solar Shop opening in the second half of September 2012.
"The conservatism of the Montenegrin people" is one reason why the use of solar thermal energy in Montenegro had not yet been fruitful, according to Konstantin Skorniakov from Solaria. "Montenegrins don´t like, what they don´t know," Skorniakov says and adds: "Zero-interest loans are not a bad idea, but Montenegrins view it as a future saving and they prefer the here and now." He regrets that there are no grants as incentives. "Interest-free loans are still loans that have to be repaid," he notes and brings up another topic, which could prove problematic in his view: "The Montesol programme does not allow cheaper systems with no testing reports. This means we cannot offer solar thermosiphon systems for EUR 400, but have to use tested systems for about EUR 2,000. Some clients prefer cheaper systems, which means they have to pay them with their own money," Skorniakov explains. His company was only able to install two systems with the help of the Montesol project, while he sold more than 300 over the last three years.
Still, Skorniakov's colleague, Marko Krstajić from Termoinženjering, appreciates the active role of the government in the field of energy efficiency. "Until now, there has been a lack of information about the importance of future alternative sources of energy. With increased awareness, however, the demand for solar water heaters will increase as well," Krstajić believes.
More information:
Ministry of Economy of Montenegro: http://www.energetska-efikasnost.me
NLB Montenegrobanka: http://www.nlb.me/NLBMontesolkredit
Hypo Alpe Adria: http://www.hypo-alpe-adria.co.me/115/homeme.nsf/home/mne
Tedeko Solar Energy: http://www.tedeko.me
Solaria: http://www.solaria.me
Termoinženjering: http://www.termoing.me