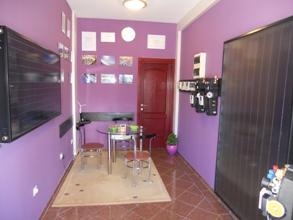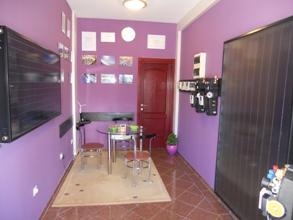 Montenegro: First Solar Shop Opening
Tedeko Solar Energy, a Montenegrin company specialised in solar thermal and photovoltaic energy. Tedeko is located in the town of Tivat at the picturesque Adriatic coast. At the beginning of October, the company opened its first solar shop in the country (see photo). Lazar Kordić, the manager who runs the shop, is satisfied with the first week of business. "Some twenty people gathered at the opening," he says. The following days confirmed his expectations that the solar shop will be of interest to his potential clients, Kordić adds. "There were both engineers and architects present. This seems very promising for our future development."
Photo: Lazar Kordic
Kordić wants to turn his shop into a showroom, which also includes offering engineering advice and all solar energy services at the same location. "We want to get potential users acquainted with how solar systems function, give them specific advice and establish a direct contact to engineers," Kordić explains. Initially, the shop opening had been planned for the second half of September. But various reasons caused a slight delay. "Some clients who were supposed to install solar systems in August postponed their installations to September, so we had to work on them first," the manager explains.
According to Kordić, most companies in Montenegro sell primarily conventional central heating and air conditioning systems, whereas solar systems seem like a side business to them. Tedeko Solar Energy, in contrast, has specialised in solar energy systems since its foundation in 2005. The still complete lack of solar component manufacturers in Montenegro has forced the company to import all products that are offered in its shop. The options include solar collectors by Turkish manufacturer Solimpeks, storage tanks by Bulgarian manufacturer Sunsystem, controllers by the German Steca Group, hydraulic components by the Italian Caleffi Group, and expansion vessels by Italian manufacturer Elbi.
"We offer both thermosiphon systems with natural circulation and systems with forced circulation. Whereas the latter enjoy a share of round about 77% of our sales, thermosiphon systems make up the other 23%," Kordić says. He adds that his company will be the first to offer the photovoltaic solar thermal hybrid collector Volther Powervolt from Turkish manufacturer Solimpeks on the Montenegrin market. "We did have a preliminary design on solar thermal collector production. The production costs, however, would be higher than the average price of an imported solar collector with a Solar Keymark certificate," Kordić says, with a sign of regret.
The manager sees its market at the Montenegrin coast in the south and the central part of the country. The company is an eligible partner of Montesol, the joint initiative by the Montenegrin government, the Italian Ministry for the Environment, Land and Sea (IMELS), and the United Nations Environment Programme (UNEP). Montesol promotes solar thermal energy for private households by granting interest-free loans. According to Kordić, his company has a share of about 13% of the total number of systems installed with support from the Montesol project. "By the end of 2015, we expect to have an 8 to 9% share of the total number of installed solar thermal systems for private households in the country," Kordić says. He adds that his company has had very strict rules from the start, in order to meet customer needs. Tedeko offers a warranty of ten years on solar collectors, five on solar water heaters and two on solar controlling units.
More information:
Tedeko Solar Energy shop: Zgrada Peštan, Donja Lastva, 85320, Tivat, Montenegro: http://www.tedeko.me
Montesol, supported by Montenegro's Ministry of Economy: http://www.energetska-efikasnost.me