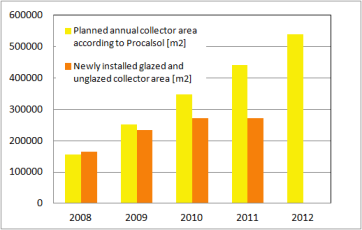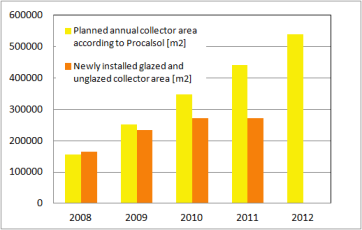 Mexico: Procalsol Programme Ends this Year
The programme Procalsol that started in 2007 will end in December 2012. It has been Mexico's first long-term scheme to support solar water heating. Experts disagree on whether the end of Procalsol will influence the solar thermal market in the country. In addition, it is not only the Procalsol's end which makes predictions difficult: This July, the Mexicans will elect a new president, who will take over in December. The chart shows that the annual installed collector area has lagged behind Procalsol's plans since 2009. Around 30 % of the installed collector area in the chart above include unglazed swimming pool absorbers.
Source: Solar Heat Worldwide, Anes, manufacturer`s information
Procalsol's aim is to reach a newly installed collector area of 1.8 million m² (including pool heating) between 2008 and 2012. It is not just an incentive programme, but rather a platform for several actions taken to promote solar thermal energy in Mexico. Although Procalsol is officially managed by the National Commission for Energy Efficiency (CONUEE), it is the cooperation of many private and public stakeholders which brings to life an impressive number of initiatives. Each year, these stakeholders come together again to agree on a new schedule.
Green mortgage programme Hipoteca Verde (see http://www.solarthermalworld.org/node/275) by Infonavit is only one of many examples for the cooperation between the different parties. Another case in point is the financing programme "25,000 solar roofs for Mexico", which started in summer 2010 and has been funded by the German Federal Environment Ministry (BMU) through an international cooperation for climate protection. All in all, the budget foresees EUR 2.5 million as direct subsidies to end consumers, who borrow money through Hipoteca Verde. By the end of this March, the programme has funded 13,500 solar water heaters.
In the field of capacity building, the National Council of Norming and Certification of Labor Competences (CONOCER) has established a certification mechanism for installers of solar thermal systems. Also, the Renewables Academy (RENAC) Mexico has been offering courses for engineers and planners of solar thermal systems.
To get a quantitative overview of what Procalsol has achieved, the German Agency for International Cooperation (GIZ) has developed a tool to calculate greenhouse gas and gas import savings and jobs created, based on the installed collector area. The 272,580 m² of newly installed collector area in 2010 will save 36.7 million m³ of natural gas and almost 200,000 tonnes of propane gas during their 15-year lifetime. This, in return, saves the government Mexican Peso (MXN) 525 million in importing and subsidising fossil fuels.
In 2008, the goal of 155,485 m² was over-accomplished. Both scheduled and actual installation figures have risen the following years, but Procalsol has fallen short of its annual goals since 2009 (see the chart above). Still, there is the wide-held belief that Procalsol has been the most successful solar thermal programme which Mexico has had so far.
The problem in 2009 was a decline in industrial and hotel installations, which the growing residential sector could not make up for (see http://www.solarthermalworld.org/node/1384). This resulted in a total new installation of 233,000 m² – instead of the 251,000 m2 that were set by Procalsol. The gap between installation and plan figures is widening from year to year. According to unofficial estimates, the market has stagnated in 2011 (Procalsol plan: 442,000 m²). This would mean that by the end of 2011, the collector area installed through Procalsol has only been 941,548 m². So, the goal for this year will not be reached if 2012 does not see a boom in sales.
Currently, nobody knows whether Procalsol will be continued from 2013. This year's general election candidates have not seriously mentioned renewable energies while campaigning. "We do not know what the candidates think about renewables in general and solar thermal in particular," says Salvador Steffani, General Director of Captasol. Wiebke Mai, former adviser with the GIZ, still sounds optimistic, because Procalsol's activities do not depend completely on the new government: "Within Procalsol, there have been initiatives which will keep running independently and further push the market," she says. Because Procalsol consists only of framework measures, the programme's end does not necessarily mean the end of the incentive programmes. For example, Hipoteca Verde is only influenced indirectly by the elections, as the Mexican government holds only one third of Infonavit. Regarding the 25,000 solar roofs programme of the GIZ: a follow-up would depend on a new bilateral agreement between the two governments.
More information:
About Procalsol (in Spanish): http://www.procalsol.gob.mx
GIZ in Mexico: http://www.gtz.de/mexico
http://www.renacmexico.com