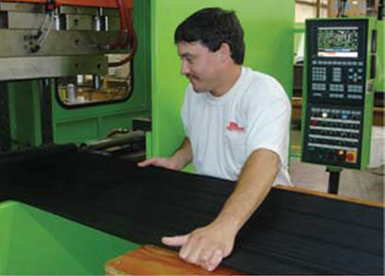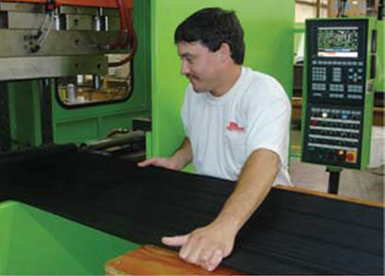 Mexico: Pilot Polymer Water Heater Factory by 2016
Two well-known solar thermal manufacturers from the USA and Mexico announced at the beginning of June that they will establish a joint-venture to manufacture polymer-based solar thermal absorbers and collectors in the Mexican city of Cuernavaca. The factory, which receives monetary support from CeMie-Sol, the Mexican Center for Innovation in Solar Energy, is expected to start producing by late 2016 with some 50,000 m² of capacity according to a press release published on 3 June. The plant should be fully operational by December 2018 and is located at the INNOVACyT Technology Park in Cuernavaca, just next to Modulo Solar's headquarter. The photo shows the production of polypropylene absorber plates at Aquatherm. It is one of the manufacturing steps that should be done in Mexico as well. 
Photo: Aquatherm
With an estimated 300,000 m² of annually installed solar water heater capacity in 2014, Mexico is the second-largest solar thermal market in Latin America behind Brazil. But the country is not only an installation end-market: The plans for the newly founded joint venture also affirm Mexico's role as an important industrial hub for the region.
USD 10 million – half for machinery 
A not yet released part of the funds for the new factory comes from CeMie-Sol, which is being administered by UNAM, the National Autonomous University of Mexico. Under the terms of the agreement, UNAM students will later have access to the pilot plant to carry out research and training. Daniel García, CEO of Modulo Solar, expects the new factory to cost up to USD 10 million – with half of the money to be spent on machinery and half on building infrastructure. Garcia says that the first phase described in the contract has already been underway, with research and development for a welder capable of connecting the polymer pipe arrays to the manifold headers. The second phase expects vertical integration to complete the pilot plant design by late 2018.
Regarding the products to be manufactured at the site, García says that "with the new plant, we will produce polymers for unglazed swimming pool heaters, but part of the polypropylene production will also be directed towards manufacturing our own polymer-based flat plate glazed thermal heaters for sanitary water heating. We will assemble the entire glazed thermal collectors by using our own polymer supply."
Improving market position
The two companies expect to join forces to enter new markets and segments: Aquatherm will license the joint-venture – with the name still in the works – to manufacture its pool heater product lines of Ecosun and Sun-Swim and improve its market position in Central and South America. "The joint venture will also produce polymer absorbers for Modulo Solar's Axol HVP line of thermosiphon glazed solar water heaters, which Aquatherm has been supplying Modulo directly with for the last several years," Dave Sizelove, President & CEO of Aquatherm, said in a press release. With this project, both companies expect to gain market shares – Aquatherm in Latin America and Modulo Solar in the US.
Modulo Solar is one of the main solar heater manufacturers in Mexico, with more than 650,000 m² of solar heaters installed for customers over the last 40 years. According to the CEO, his company had a 25 % share in the Mexican market last year. Modulo Solar manufactures glazed flat plate collectors for product lines Axol and Maxol with polymer absorbers supplied by Aquatherm and also distributes the US-made Ecosun brand of unglazed swimming pool absorbers of its new joint-venture partner.
Aquatherm is a major US-American pool heating absorber manufacturer. The company's extrusion, welding and injection moulding processes have been awarded four U.S. and two international patents. Currently, Aquatherm has distributors in Australia, New Zealand, as well as Central and South America, France, Egypt and Jordan. They have supplied heaters to around 500,000 swimming pools worldwide.
More information: