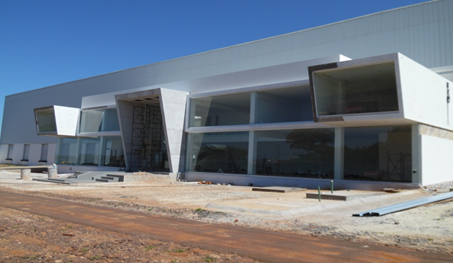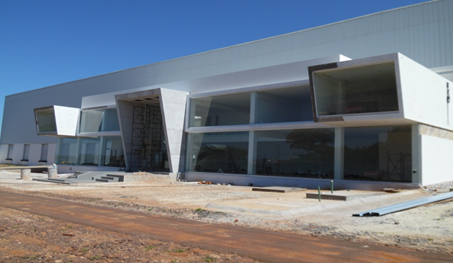 Mexico: First Local Vacuum Tube Manufacturer to Start Production in 2018
Frantor, the Mexican manufacturer and assembler of solar thermal systems based on vacuum tubes, has decided to start producing its own vacuum tubes. The new factory is expected to start manufacturing 80,000 tubes per month in 2018. Frantor located in Jalisco state in western Mexico, will be the first vacuum tube manufacturer in Mexico and wants to provide vacuum tubes to other Mexican producers, as well as to companies across the Americas. The photo shows the new factory in September 2015.
Photo: Frantor
Mexico has had a growing flat plate collector industry with manufacturers operating in the country since the 1970s. Today, there are around ten companies producing and assembling flat plate collectors and also supplying a considerable volume of their production to regional markets, such as the USA or Central America. Over the last five years, the number of vacuum tube importers has been increasing rapidly, but Frantor was one of Mexico's first solar water heater suppliers, which started importing vacuum tubes around 10 years ago. Nowadays, the company offers a wide collector range across three product lines with 70 different models, all based on vacuum tubes. Frantor´s Sales Manager, Hector Franco, said the company sold 46,800 water heater sets in 2014 with 2 m² each consisting of 15 imported vacuum tubes each.
Chinese machinery for local vacuum tube production
The company now decided to produce all vacuum collector components locally. Starting in 2018, Frantor expects to produce its own vacuum tubes in Arandas. The technology to produce these tubes will come from a Chinese company whose name has not been given, although the current provider of vacuum tubes is the Chinese Linuo Group. The capacity of the new tube manufacturing unit has not been specified, but sources say Frantor intends to start producing some 3,000 tubes per day or 80,000 tubes per month during the initial phase in 2018.
Vacuum tube supply to Mexican assemblers
Franco, said: "We are currently solving some issues we have had with the transformer and electrical substation and we are still waiting for some machinery to arrive from China, but we expect to start by 2018." He added that the company was currently building a new 5,000 m² factory to house the vacuum tube furnaces and that Frantor had already completed 5,200 m² of new premises. At the beginning, the company expects to produce tubes only for use in their own collectors. In this first phase, it plans to produce all the components required for collectors on its own (thermal tank, support structures, reflectors and vacuum tubes). In a second phase, Frantor is said to expand its production line and sell tubes to some other Mexican vacuum tube collector manufacturers which focus on the Mexican market and which currently import vacuum tubes from China or Turkey. In a third phase, Frantor plans to enlarge the tube production line even more and supply the Americas.
The project has received some support from local institutions: According to Franco, the National Council of Science and Technology, CONACYT, granted subsidies of Mexican Peso (MXN) 4,149,236 (USD 244,000) during 2013 and 2014 for the purchase of machinery. The company expects to obtain more funds from CONACYT over the following months.
More information: