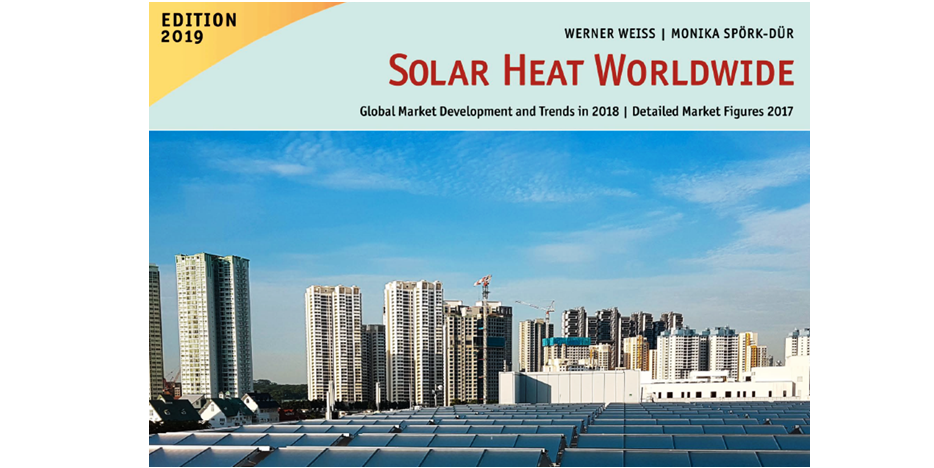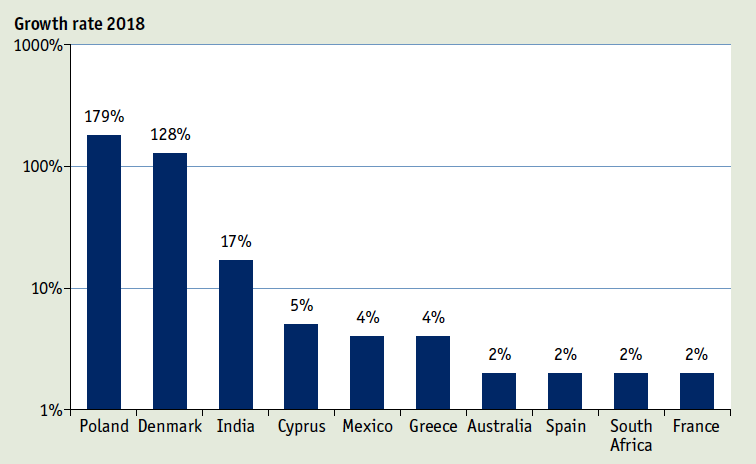 Megawatt installations on the rise
The solar heating and cooling markets show a reversing trend. The majority of the largest markets outside of China saw demand increase for the first time since 2015. This trend change is due to several factors – improved cost-competitiveness of solar thermal systems, rising interest among commercial and industrial clients, and clean air policies. These are some of the key findings of the report Solar Heat Worldwide, published by the International Energy Agency's Solar Heating and Cooling Programme (IEA SHC) at the beginning of June (see attached document).
"The report highlights the significant impact that solar heating and cooling technologies have on climate protection," said Daniel Mugnier, Chairman of the IEA SHC Programme. SHC systems in operation globally in 2018 totalled 480 GWth (686 million square meters) and saved 43 million tons of oil equivalent and reduced 138 million tons of C02. "Solar heating and cooling is a global business with 672,000 people working in this sector, which reached a turnover of around USD 16.9 billion in 2017," added Mugnier.
Strong growth in 2018
While China's market continued to contract in 2018, growing sales were reported from 10 of the top 20 countries shown in the following chart. Poland's market jumped 179 % thanks to clean air policies in many cities. Furthermore, Denmark remained the number one country for solar district heating, showing significant capacity additions (128 %). India ranked third and grew by 17 %.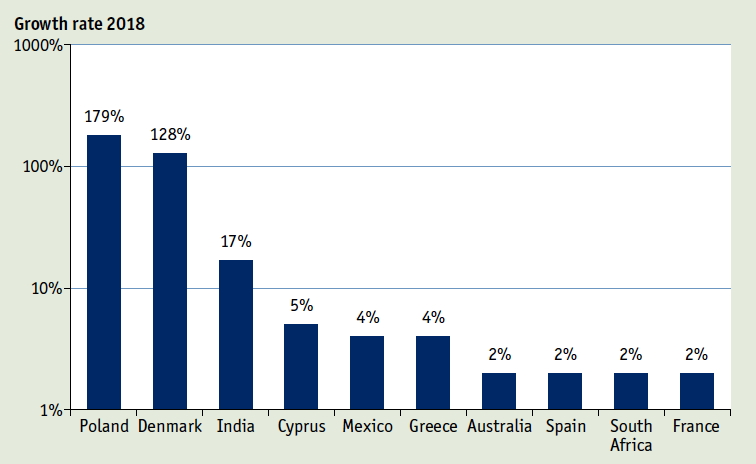 Positive trend: The majority of the large solar heating and cooling markets outside China reported growing sales in 2018.
Source: Solar Heat Worldwide 2019
Solar district heating
Megawatt installations are on the rise. At least 37 new large-scale (>350 kWth) systems were commissioned in 2018 to provide heat for district networks or large buildings, a significant increase compared to 17 systems a year earlier. In total, at least 339 large solar thermal systems were in operation at the end of 2018 with a total capacity equal to 1.35 GWth (1.93 million m²) including concentrating systems.

Large-scale systems for solar district heating and large residential, commercial and public buildings worldwide – annual achievements and cumulative area in operation in 2018
Source: Solar Heat Worldwide 2019
Solar Heat Worldwide
First published in 2005, Solar Heat Worldwide 2019 provides market data on installed capacities, costs and share of applications from 68 countries. The 84-page report includes chapters on commercial applications and Levelised Cost of Heat. Solar Heat Worldwide has a solid reputation as a reference for solar heating and cooling data among international organisations including REN21 and International Renewable Energy Agency (IRENA). The study was again the main contributor to the solar heating and cooling chapters of REN21's Renewable 2019 Global Status Report (GSR), which is one of the key policy adviser reports on renewables and will be published on the 18th of June.
Organisations mentioned in this news article: