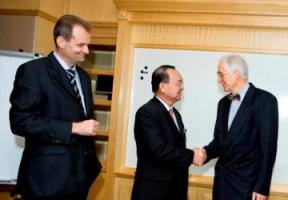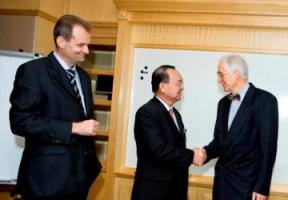 Malaysia Discovers the Advantages of Solar Thermal Technology
Organized by Benoit Hennaut, then President & CEO of Monier Sdn Bhd (left), the Malaysian Minister of Energy, Green Technology and Water, Peter Chin Fah Kui (middle), met in February 2010 with German solar thermal consultant Werner Koldehoff.
Photo: Monier
The delegation from Germany spoke with the minister about how to advance the renewable heating and cooling strategy of one of the largest nations in Asia. In his presentation to the minister and staff members, Koldehoff elaborated on the advantages and the potential of solar thermal technology within the residential, public and commercial sector – especially of roof-mounted installations
"We had an excellent discussion. Datuk Peter Chin Fah Kui is a well-versed and very ecology-minded politician," Koldehoff said, delighted. "We support the efforts of the Ministry," Hennaut, who initiated the meeting, stated. His company Monier Sdn Bhd is a subsidiary of the international Monier Group, a leading provider of pitched roofs, chimney and ventilation systems. Monier Sdn Bhd is active in the Malaysian market with their E3 solar roofing & cool roof products.
So far, solar thermal technology has not had a major role to play in the government policy "Green Initiative Malaysia". Hence, the meeting revolved around discussions about not only which steps could be taken to raise public and political awareness, but also how legislative initiatives and incentive programmes might look like in the future.
Setting up a demonstration building at the premises of the "International Greentech & Eco Products Exhibition and Conference" (IGEM), which is going to take place in the convention centre of Kuala Lumpur for the first time in October 2010, was also among the things under discussion. The demonstration building is thought to show different solar thermal technologies. And last, but not least, the minister also mentioned the need for increasing the efforts put forth to train installers.
Around 45,000 m2 of collector area were newly installed in Malaysia in 2009, an increase of almost 40 % compared to the previous year. Flat plate collector panels are the dominant solar technology on the market, making up around 95 % of total market volume. The biggest manufacturer in the country is Solartech Sales & Service, which has its factory in Petaling Jaya, in the state of Selangor. It is said that the company accounts for almost half of the annual distribution throughout the Malaysian market.
The only manufacturer for vacuum tube collectors is Solar Research Design. The company runs a factory in Kuala Lumpur, with an output of a few thousand m2 per year. Its brand name "Microsolar" stands for collector panels consisting of water-filled double glass tubes, which include a third coaxial tube. The cold water from the tank flows down this extra tube, in order to minimize turbulences and heat losses.
More information:
Ministry of Energy, Green Technology and Water: http://www.kettha.gov.my
Blog of the Minister Peter Chin Fah Kui: http://peterchin.my/?p=124
Greentech & Eco Products Exhibition and Conference: http://www.igem.com.my/
Solartech Sales & Service: http://www.solartech.com.my
Microsolar: http://www.microsolarsystem.com/
Monier Sdn Bhd : http://www.monier.com.my