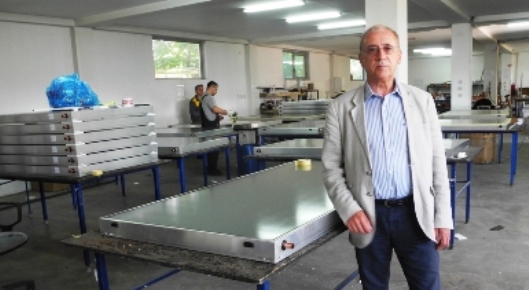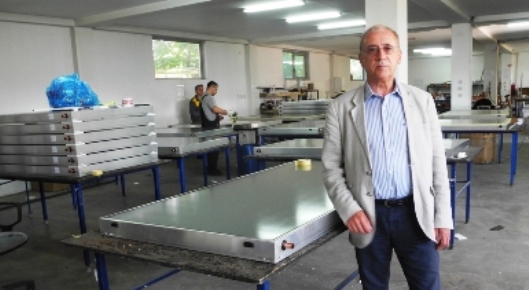 Macedonia – Small Country, But Innovative Industry
During the last days of May, it got rather heated in Skopje, Macedonia's capital – politically and climate-wise. While the summer sun was providing all the warmth it could muster, the nation's deputies gathered in the Macedonian parliament building to form a new government, bringing an end to a years-long and severe political crisis. The Former Yugoslav Republic of Macedonia, a small Balkan country with a strikingly viable solar thermal industry, has since been headed by Zoran Zaev, a member of the Social Democratic Union party. 
Assistant Professor Ilija Nasov (see photo) has high hopes for the new government. In 2012, when Nasov was dean of the Faculty of Ecological Resources Management at MIT University Skopje, he founded collector producer Camel Solar, located on the northern outskirts of Macedonia's capital.
Photo: Frank Stier
With around a dozen staff, Camel Solar manufactures absorbers, evacuated tube and standard flat plate, but also novel facade-integrated window collectors. With offices in the UK, Hong Kong and Shanghai, Camel Solar has been selling its products in Macedonia and the Balkans, in Western Europe and even in China. Its R&D sister company, Centre for Plasma Technologies – PLASMA, has specialised in the design of selective PVD coatings for solar absorbers among other things.
Past years have seen Nasov and his colleague, Professor Anka Trajkovska Petkoska, participate in fairly many European-funded research projects. Some of their results have been used for the design of the company's new integrated window collector incorporated into the south facade of the Camel Solar factory. "As our new and innovative Camel Solar absorber can be integrated into existing window frames, it has little impact on architectural design. And without humidity present, efficiency doesn´t decline gradually," the founder of Camel Solar explained.
Prototype of the window collector incorporated into the south facade of the Camel Solar factory
Photo: Camel Solar
But why Camel Solar? "We´ve named our company after the animal with perhaps the most efficient water and temperature control system," Nasov said. He holds several patents on absorber technology and has recently published a handbook for students on climate change and renewable energies. He is also the chair of Solar Mac, the Macedonian solar association, home to Macedonian businesses, such as Camel Solar, Euroterm Solar, Eco Solar, Solar Tubes and Leov Company, as well as Austrian-based Tisun.
Little government support 
The professor thought it unfortunate that the government had introduced few
measures to support
solar thermal energy in Macedonia and granted too few subsidies; a mere EUR 300 for each of several hundred residential solar thermal systems, adding up to EUR 90,000 a year. Additionally, there was a preferential VAT rate of 5 % on the purchase of a solar water heater. "Macedonia has many thermosiphon systems of Chinese origin. Of course, they are cheaper, but their quality is inferior to our Solar Keymark-certified products," Nasov said. Internationally, he didn't see much movement on the solar thermal market, whereas photovoltaic systems had been growing dramatically in number. Nasov named PV's declining prices as one reason for the boom; the other was larger subsidy amounts not available to solar thermal. There was also fierce competition from other technologies such as heat pumps and wood pellet boilers. But in terms of environmental benefits, solar thermal is leading, Nasov is convinced.
PV and solar thermal manufacturers have long focused entirely on their own technology. Now, the time had come to combine the benefits of both in one system, Nasov said. He pins his hopes on the new government, expecting an improved business environment for solar collector manufacturers to follow the normalisation of the political one in Macedonia. Overall, he was optimistic about the future of solar thermal, as it had great potential not only for providing hot water and space heating and cooling in residential buildings, but also in swimming pools and spa centres, hotels and greenhouses, and industries with large demand for hot water.
Websites of organisations mentioned in this article: