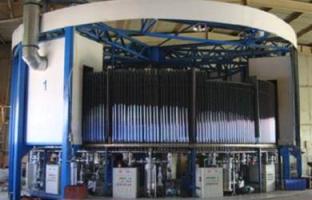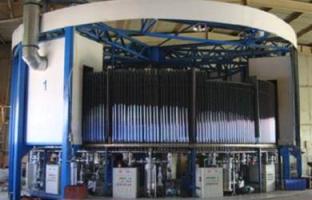 Linuo New Materials: Capacity for 30 Million Vacuum Tubes
Fully automated: This evacuation machine is part of the latest, fully automated production line at Linuo New Materials, the biggest vacuum tube manufacturer worldwide.
Photo: Linuo New Materials
China's vacuum tube producers are increasingly automating their production facilities. Frontrunner is Shandong Linuo New Material Co., Ltd. The biggest vacuum tube manufacturer worldwide is currently setting up one automated production line after the other. According to the company, an increase in capacities, a decrease in costs and a guaranty of constantly high quality are the main reason for this investment. One fully automated vacuum tube production line costs about EUR 2 million.
Start: The automated processing line of raw glass tubes at the beginning of the production line.
Photo: Linuo New Materials
Finish: The packing station at the end of the processing line (see photo below).
Photo: Linuo New Materials
"We have already automated two of our five factories for solar vacuum tubes within the last one and a half years," Tina Ma, the person responsible for international communication at Linuo New Materials, says. The company set up the first automated production line for vacuum tubes at the beginning of 2008. Till the end of this year, all remaining factory sites should follow.
Processing steps at the fully automated production lines are namely the cutting and washing of glass tubes, coating of the absorption layer, melting of two glass tubes, evacuation of the double glass tube and implementation of a getter that is to indicate leaks in a vacuum tube.
Linuo New Material was founded in 1998 with a starting capital of USD 500 million. "We possess 3 factories in Jinan and Tai'an, Shandong Province, and two others in Henan Province, specializing in the manufacture of full-glass evacuated solar collector tubes and achieving a capacity of 30 million vacuum tubes annually, which is equal to around 3 million m2 of collector area", explains Ma. The company has 126 production lines, 2 entirely automated lines and full sets of inspection instruments imported from Germany.
More information:
Shandong Linuo New Materials: slnmcl.en.china.cn/