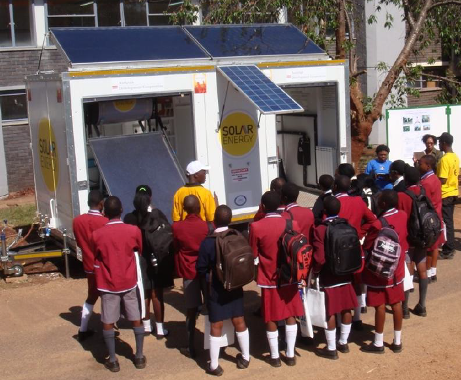 Lesotho, Mozambique and Zimbabwe: Solar Thermal Policies under Development
 A growing number of countries in Southern Africa follow the example of South Africa and Namibia to set targets and discuss regulations for an increased deployment of solar water heaters. The reasons are the acute power shortages and the fact that residential households spend 60 % of their electricity on hot water preparation when they use an electric geyser. Lesotho and Zimbabwe launched national strategies in September 2015 to ban electric geysers and Mozambique's Minister of Science, Technology, Higher Education and Professional Training, Professor Jorge Olívio Nhambiu, confirmed the target of installing 0.1 m² collector area per capita by 2030, as had been defined in the Solar Thermal Technology Roadmap for Zimbabwe in November 2015. The photo shows the Solar Energy Mobile Training Unit showcased during an open day at the University of Zimbabwe.
Photo: SOLTRAIN Zimbabwe/2015
Zimbabwe: Plans to ban electric geysers in new and existing homes
The minister of energy and power development in Zimbabwe announced a national solar water heating programme on 30 September 2015. Key elements of this programme were a national solar obligation, which required all newbuilds to be equipped with a solar water heater instead of an electric geyser, and an obligation to replace existing electric geysers within five years. According to a news article from the end of September 2015 published on Technomag.co.zw, there were about 250,000 electric geysers in operation across the country. A successful implementation of the ban of electric geysers would save Zimbabweans 300 MW. A news piece published on newsday.co.zw in January 2016 said that the nation's power demand was currently estimated at about 2,200 MW compared to available generation capacities of around 1,200 MW. The article on the latter website also quotes Zimbabwe's Energy and Power Development Minister, Samuel Undenge, as supporting the local manufacture of solar water heaters: "The government had instructed Zesa Enterprises to embark on the production of solar water heaters and would go for three additional local manufacturers."
Training campus of the Bethel Business and Community Development Centre in Lesotho with thermosiphon and pumped systems
Photo: SOLTRAIN
Lesotho: Government document proposes to phase out electric geysers
The Ministry of Energy, Meteorology and Water Affairs of the Kingdom of Lesotho explained its vision in the Lesotho Energy Policy: 2015 – 2025 in September 2015 (see the attached document). Among the key actions (see page 10) proposed in the field of renewable energies are:
Phase out the use of electric geysers in all existing public buildings and introduce solar water heating systems and heat pump systems.
Require all new public buildings with hot water demand to install solar water heaters.
Encourage the replacement of electric geysers with solar water heaters in industrial, commercial, residential and general-purpose segments
Mozambique: roadmap targets at 3.4 million m² of installed collector area by 2030
The government of Mozambique put serious effort in supporting the draft of the Solar Thermal Technology Roadmap, which was published in November 2015 after three stakeholder workshops between May 2013 and March and September 2015 in Maputo (see the attached document). In contrast to South Africa, where the roadmap was published without a foreword by the Department of Energy after a delay of several months, the Mozambican Minister of Science, Technology, Higher Education and Professional Training, Jorge Olívio Nhambiu, confirmed in his opening words the target of installing 0.1 m² collector area per capita by 2030, translating into an overall 3.4 million m² by that time. The roadmap even sets individual targets for residential housing, public buildings, hotels and lodges, as well as industrial and commercial applications, and defines actions for each of these segments.
Segment targets

Thermosiphon system for the residential segment

50 %

11.9 GWth

  1,700,000 m²

Tourism

25 %

5.95 GWth

  850,000 m²

Public sector, such as hospitals, student hotels and large service buildings

15 %

3.57 GWth

510,000 m²

Industrial and commercial applications

10%

2.38 GWth

340,000 m²

Total

3,400,000 m²
Dr Fabiao Cumbe from Mozambican public company ENPCT believes that the focus of the roadmap implementation should be put on the tourism segment over the first two years. ENPCT was created by the Mozambican government in 2012 with a mandate to implement science and technology parks across the country and to provide other services, such as technology assessment and professional training. In his presentation during the
SOLTRAIN conference
 in February 2016, Cumbe listed some of the programme's expected outcomes (see attached document):
At least five demonstration SWH systems, installed for medium-size tourism operators
Data on hot water use in tourism, correlated with other data to allow for crude modelling of hot water needs in this market segment
At least 2 Mozambican plumbing companies trained to design, install and maintain small to medium-size (pumped) solar thermal systems
The science and technology park as being fully capable of certifying the quality of solar water heaters
Draft for a roll-out programme for SWHs in tourism, the public and residential segment.
More information: