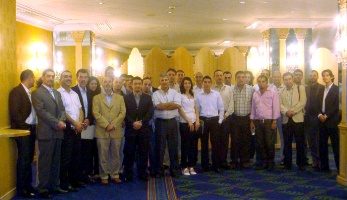 UNDP-CEDRO Project in Hamra
Lebanon: Training Programmes for Solar Water Heating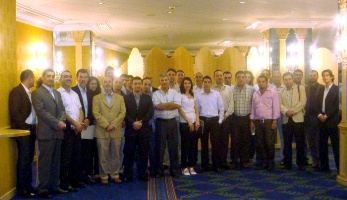 Training on how to design and install solar water heaters: Participants of the solar water heater workshop, organised by the UNDP-CEDRO Project in Hamra, Lebanon, in October 2009.
Source: UNDP-CEDRO
Training programmes play a crucial role in developing solar thermal markets – especially when it comes to larger solar thermal systems for commercial and public institutions. One of the projects to organise such programmes is the UNDP-CEDRO. CEDRO stands for Country Energy Efficiency and Renewable Energy Demonstration Project for the Recovery of Lebanon. It has already installed solar water heaters on hospital roofs and plans to do the same for military buildings and prisons. And, it also organised a technical workshop in Lebanon's capital Beirut: The workshop in October 2009 focused on how to design and install solar water heater systems. More than 30 participants from the Lebanese army, governmental hospitals and agencies, non-governmental organisations and the private sector listened to CEDRO's international consultants who offered various perspectives on solar water heater design, maintenance and their detailed operation. You can read the presentations about how to design and size solar water heater systems, as well as a speech about lessons learned from installation mistakes by downloading the attachments on this node.
UNDP-CEDRO, however, is not the only institution offering solar thermal trainings in Lebanon. The United Nations Economic and Social Commission for Western Asia (ESCWA) started solar water heater training programmes as well, in order to fulfil the Lebanese Millennium Development Goals laid out by the UN Millennium Summit in 2000. 191 United Nations Member States have pledged to meet eight specific goals until 2015 – and one of them is to alleviate poverty and generate income while preserving the environment.
The workshops are technical trainings to manufacture solar water heaters tailored to small manufacturing businesses. ESCWA, the Lebanese Solar Energy Society (LSES) and the Lebanese Industrial Research Institute (IRI) created the training programme, which has its focus on establishing an ongoing practical training for manufacturing, installing and maintaining solar water heater applications. The second workshop was held at the end of November 2009 and another four will follow at the beginning of 2010.
The attendants learn how to build solar water heaters, maintain them and test them according to Lebanese quality standards. The main objective of the workshops is to use renewable energy applications to create employment opportunities and simultaneously reduce carbon dioxide emissions and enhance environmental sustainability. Another objective is to give smaller companies a chance to compete in the industry and improve their productivity.
The Lebanese Centre for Energy Conservation (LCEC), in contrast, has offered training programmes since 2006. ETC China held the first of its kind and focused on evacuated tube systems. In 2008, the Province of Bolzano, Italy, held a workshop on building solar panels, as well as another workshop in cooperation with LCEC, in order to "train the trainers". This year, the LCEC had yet another workshop on building solar panels, in cooperation with the Italian organization Don Bosco Technique.
More Information:
http://www.cedro-undp.org/en/
http://www.escwa.un.org/information/meetings.asp
http://www.lcecp.org.lb/
Text was written by communication specialist Hanna Schober based in South Africa.
Schober@solrico.com