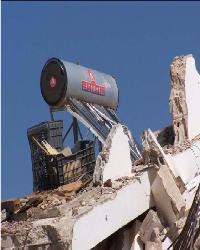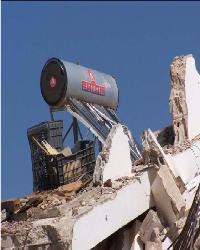 The Lebanese Solar Thermal Strategy (2008)
Damaged solar thermal system in South Lebanon: The war with Israel in 2007 destroyed 44 % of the 500 solar water heaters donated by China in 2005. Despite such setbacks, the country is working on a reasonable solar thermal strategy.
Photo: LCEC
The Lebanese Centre for Energy Conversation (LCEC) showed in March 2008 why solar thermal is inevitable for the country: The presentation "Lebanese Sustainable Solar Thermal Strategy – Opportunities and Challenges" listed the different facts and figures for a successful market development (download the presentation).
In 2002, the Lebanese government brought forth Electricity Decree 462, which, for the first time, mentioned the role of the private sector, as well as clean energy issues. Since that time, the country has made major progress towards rebuilding the sector. The Ministry of Energy and Water (MEW) is responsible for the energy sector and the major electricity provider is Electricite du Liban. Due to high energy costs, an inefficient electricity grid and extremely high government subsidies for the largest electricity provider, solar thermal would be an interesting way to decrease electricity use and help to reduce the risks of Global Warming.
And other interesting changes have happened in Lebanon over the last couple of years. For example, LCEC created a national solar awareness campaign, which was funded by LCEC itself and cost more than US$ 1.4 million. The Lebanese solar water heater industry has learned their lesson: From now on, national energy efficiency campaigns should be part of government policies and should be continued on a frequent basis.
Further information:
http://www.lcecp.org.lb
This text was written by communication specialist Hanna Schober based in South Africa. Schober@solrico.com