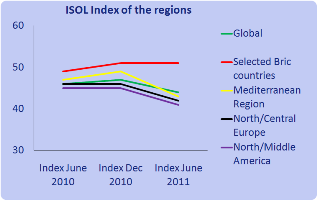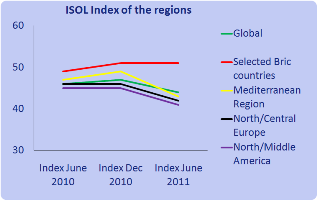 Launch of ISOL Navigator: Asia moves up, while Europe lags behind
The ISOL Navigator has been launched at the Intersolar Europe in Munich at the 8th of June. The international study presents the current and future market development in 16 key solar heating and cooling countries. The ISOL Navigator is based on the "ISOL Index", an international business climate index developed by German agency solrico at the beginning of 2010. This ISOL index is a point-based indicator (ranging from 0 to 100 points) showing the satisfaction of solar thermal manufacturers and system suppliers with current and expected market development. Company values are averaged to obtain country and regional indices.
Figure: solrico
The figure above shows the trend of the ISOL Navigator in the regions: Compared to the ISOL Index surveys in 2010, the score of the selected BRIC countries – China, India and Brazil – shows a clear upward trend. In contrast, the long-term trend of the Mediterranean Region Index shows a strong decrease – 6 points – due to the difficult economic situations in Greece, Portugal and Spain. North/Middle America scores lowest in regional indices with 41 points, because the market in the United States is not picking up as expected. The contrasting trends – up in Asia, but down in Europe and North/Middle America – slightly reduce the global ISOL Index by 3 points, to 44 points.
300 companies from all around the globe took part in the third ISOL Index survey in April/May 2011. Eligible to participate are manufacturers of solar collectors and solar tanks, as well as importers of solar thermal systems.
India leads the ISOL ranking with the highest country ISOL Index of 54 points. The manufacturers in this Asian country are extremely satisfied with their current and future business situation, enjoying high growth rates and strong political commitments by the national government. The countries with the lowest index in the latest survey are all located in Europe. The Czech Republic occupies the bottom of the ranking with only 35 points – the country's solar heating sector has been suffering from a sudden stop of the national residential incentive programme. And, Spain is down to 36 points. The bad mood in the industry is a result of the drop in the building sector, and a low Return of Investment because of high price pressures.
The current German ISOL index with 42 points stagnates compared to the previous year. Sector players lost confidence after two rather difficult years, with an average decline of the installed collector area of 26 %. The forecast is poor, and companies expect stagnation rather than growth.
Great Britain holds the attention of the European solar thermal industry because of the announced Renewable Heating Initiative (RHI) (http://www.solarthermalworld.org/node/2909). However, the country index is still fairly low with 43 points, because companies are dissatisfied with the delays in implementing the scheme. In addition, the feed-in tariff for solar electricity still dominates the solar market in the country.
The first issue of the ISOL Navigator was launched in cooperation with the Intersolar Europe. The 80-page study covers the following 16 markets: Austria, Brazil, China, the Czech Republic, Germany, Great Britain, Greece, India, Italy, Mexico, Poland, Portugal, Switzerland, Spain, Turkey and the USA. Two issues are going to be published regularly every June and December. The ISOL Navigator issue June 2011 can be ordered at http://www.solrico.com/en/navigator.html.