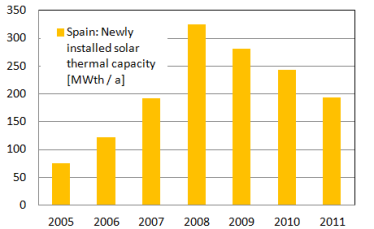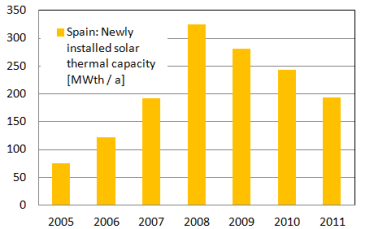 Newly installed solar thermal capacity in Spain
Latest Market Statistics from Spain: "We need a public commitment to comply with the national targets"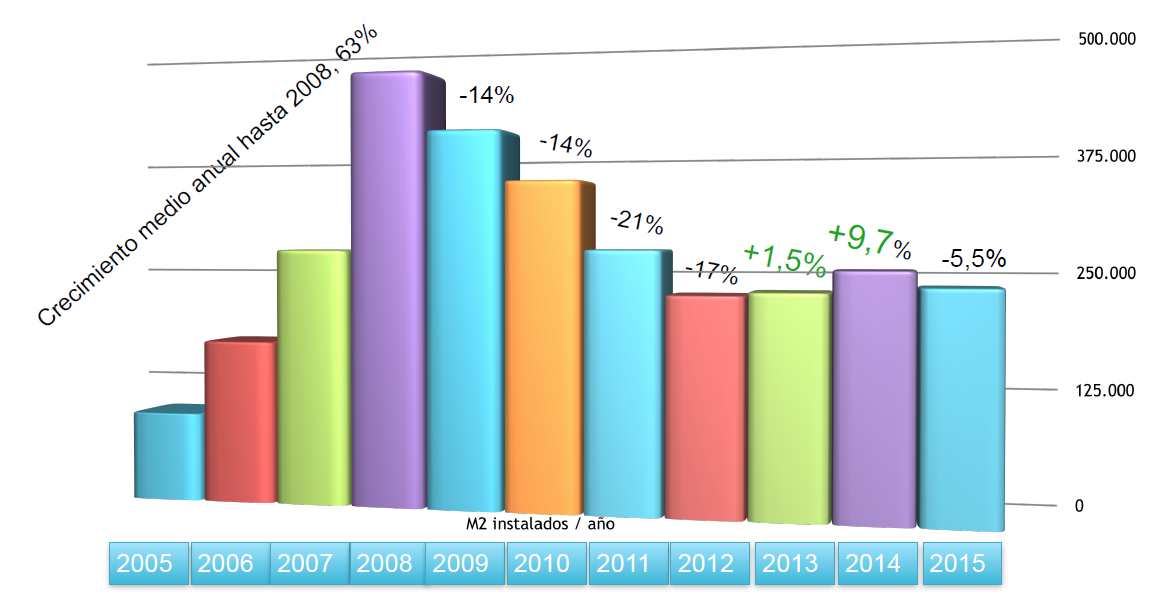 After two years of slight improvement, the Spanish market reached 169 MWth (241,165 m2) of solar thermal capacity in 2015, which meant a 5.5 % drop compared to 2014. This is the result of a market study published by the Spanish solar thermal association, ASIT, in March 2016. The main reason for the disappointing sales figures was the lack of new construction and a poor performance by Andalusia's regional incentives, which came to a halt in June 2015. The 2016 outlook, however, is another story: Spain has recently seen an upturn in the economy and construction segment and a growing number of unsubsidised systems. The Spanish solar thermal sector generated a revenue total of EUR 193 million in 2015 and provided employment to 4,800 workers. 
Source: ASIT
"Last year, there was a 5 % drop in newbuilds, which was almost exactly the contraction that could be observed in the solar thermal market, which is dependent on the Technical Building Code obligation," Pascual Polo explains. The General Secretary of ASIT believes that another, albeit less important, reason for last year's decline was the lack of activity on the major solar thermal market in Andalusia, where the
Prosol programme
was only running for six months up to June 2015.
But there seems to be a silver lining: According to Polo, the construction market is showing a slight but constant improvement. "Developers started around 44,500 new construction projects until November 2015, which translates into a 29 % increase. We expect to see the newly installed capacity growing progressively in 2016 and 2017 while the construction sector is on its route to recovery," Polo believes. The setback in the subsidised market has also not been as dramatic as had been expected. "Despite a lack of incentives, we've noticed increasing demand for non-subsidised systems in Andalusia and other regions, which is partially compensating for the lack of public support." ASIT's has named this model of unsubsidised systems "
voluntary installations by means of private financing
". It includes certain financing options or credit lines offered to clients by installers or manufacturing companies. The scheme allows them to pay off the investment in a solar thermal system over six to seven years by means of monthly instalments a bit below the amount that the client saves in energy. The move of the solar thermal system suppliers to unsubsidised systems is especially important in light of Prosol's end as a programme focused on solar thermal and its funding being allocated to the Programme to Promote Sustainable Construction in Andalusia.
Flat plate collectors on the rise 
The ASIT market report also includes figures on import, local production and export. In 2015, 54 % of the total installed capacity was manufactured in Spain (130,000 m2), which is a lower value than in 2014 (140,600 m2). The largest number of imports (23 %) came from Germany. Exports by the four major solar thermal manufacturers – Hucu, Baxiroca, Novasol and Termicol – were 3.3 % above the previous year. "An increasing export share is a success for our manufacturers, especially in times of shrinking markets all across Europe," Polo says.
Market not fulfilling expectations
According to the Spanish renewable energy plan,
PER 2011-2020
, released in November 2011, Spain was to achieve 10 million m
2
of installed solar thermal area by 2020. The ASIT report believes that with the current market trend, the number will be closer to around 5 million m
2
by then – half of the final target. The authors of the report conclude that "we need a public commitment to comply with the targets agreed upon with the European Union. Our sector is ready to help."
More information:
Detailed information about the Programme to Promote Sustainable Construction in Andalusia: