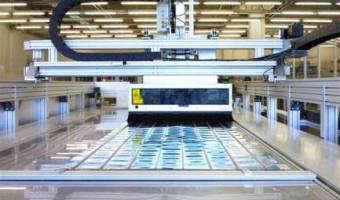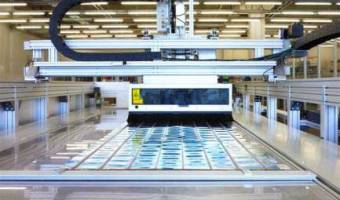 Laser welding machine
Laser Welding Captures the Market
Laser welding machine: a popular joining technique between absorber sheet and pipe. Photo: Sunlaser Consulting GmbH
Both, the laser welding technology and the utilisation of aluminium as an absorber material have finally become established processes in the solar thermal industry. Europe´s leading heating trade fair, the ISH 2009 in Frankfurt, demonstrated that in March. The first Turkish absorber manufacturers, namely Baymak and Eraslan, have announced to start laser welding production.
Companies in Middle Europe, such as Foco in Greece (closed down), KBB Kollektorbau in Germany, Sunlaser in Switzerland and Sunstrip in Sweden, had already begun to manufacture laser-welded solar absorbers some years ago. Many more companies have invested in this technology in recent years. Even in China, the first collector manufacturers have seriously thought about taking laser welding into consideration.
During the early days, solar absorber manufacturers had to design their own equipment. Nowadays, special companies are offering laser welding technology. You will find seven European suppliers in the attached table.
Laser welding technology is considered ground-breaking for various reasons: It joins the absorber tubes to the absorber sheet without any visible welding seam on the surface. The joint materials withstand the high temperatures of highly efficient, modern flat plate collectors. Laser welding is the preferred choice when it comes to joining aluminium sheets and copper tubes. Due to a price advantage of several €/m², investing in a laser welding system, which is far more expensive than a conventional ultrasonic welding machine, could pay off after only a few years, believe the machinery suppliers.