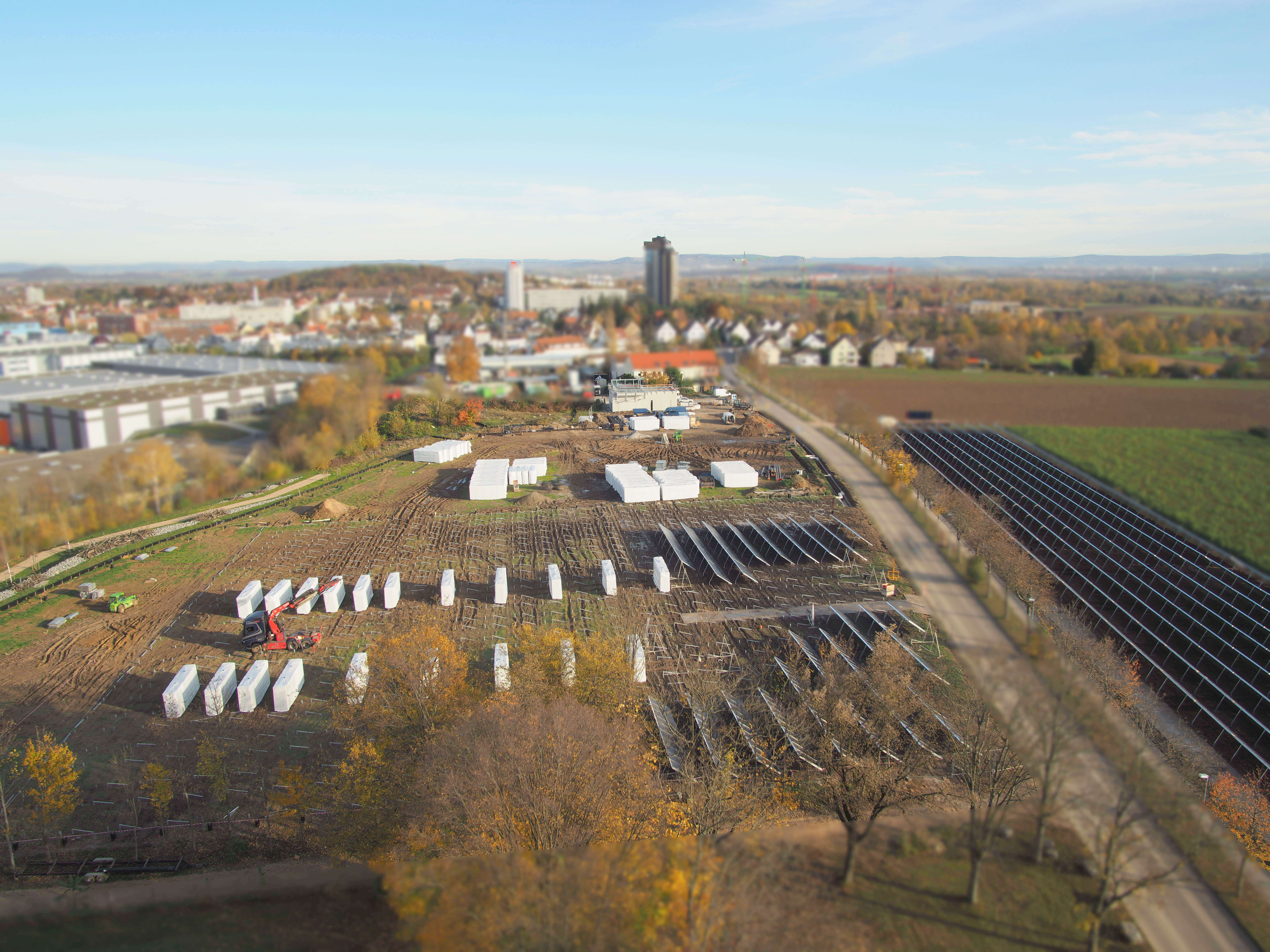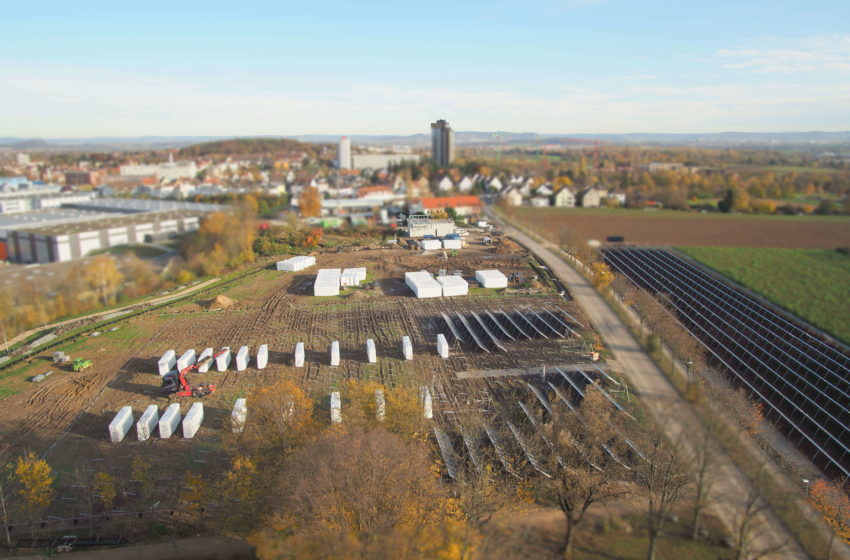 Large-scale solar heat is cost-competitive in Germany
In Germany, seven solar district heating plants with a total capacity of 26.6 MWth either came online or are still under construction this year. This is a significant increase compared to the end of 2018, when total SDH capacity reached 43 MWth (33 systems) according to Solites, a research institute based in Germany. The recent growth is the result of large SDH installations that produce heat at competitive prices. The national Heat Network 4.0 programme, however, has not yet led to the construction of new systems. 
Photo: Stadtwerke Ludwigsburg-Kornwestheim
In 2018, most solar-supported heat networks were built near
bioenergy villages
in the countryside. This year, however, district heating suppliers have turned their attention to the opportunities presented by solar thermal systems put up in urban areas. The largest that is currently under development is a 14,797 m2 (10 MWth) solar field between the German cities of Ludwigsburg and Kornwestheim. It is scheduled for completion in May 2020 (see the photo above).
| | | | | |
| --- | --- | --- | --- | --- |
| Site | Gross collector area [m2] | Solar thermal capacity [MWth] | Supplier of SDH turnkey system | Date of completion |
| Moosach | 1,067 | 0.7 | Viessmann, Germany | March 2019 |
| Erfurt | 1,700 | 1.2 | Ritter XL, Germany / S.O.L.I.D., Austria | Spring 2019 |
| Halle (Saale) | 5,091 | 3.6 | Arcon-Sunmark, Denmark | Early November 2019 |
| Ettenheim | 1,700 | 1.2 | Savosolar, Finland | Beginning of 2020 |
| Ludwigsburg | 14,797 | 10.4 | Arcon-Sunmark, Denmark | May 2020 |
| Potsdam | 5,091 | 3.6 | Ritter XL, Germany | December 2019 |
| Bernburg (Saale) | 8,595 | 6.0 | Arcon-Sunmark, Denmark | February 2020 (solar field) and Mid 2020 (solar storage) |
| Total | 38,041 | 26.6 | | |
SDH plants that were started up or are still under construction in 2019
Sources: Solites, Arcon-Sunmark, Ritter XL and Savosolar
The upward trend in the market is no coincidence, said Thomas Pauschinger, a member of Solites' management board. Because it is now possible to integrate solar thermal systems into existing DH networks at competitive costs, public utilities and district heating suppliers regard solar heat as a suitable means to diversify their energy portfolio and combat climate change. While the share of solar thermal in district energy generation is still in the per mil range, Pauschinger expects growth to continue in the coming years.
Each red dot on the map stands for one of more than 30 solar district heating plants that are up and running all over Germany, while the grey dots identify systems that are in planning or under construction. According to Solites, announcements have been made for another 34 installations totalling about 120,000 m2 (84 MW) (yellow circle).
Source: Solites
"The interest among municipal utilities and energy suppliers is growing steadily because customers keep asking for renewable heat," said Christian Stadler, who heads the German subsidiary of Danish turnkey SDH system supplier Arcon-Sunmark. Housing companies in particular have been keen on using as much renewable heat generation capacity as possible to meet the requirements of Germany's EnEV energy efficiency standard or the EEWärmeG, which is the law regulating renewable heat production.
Compared to a few years ago, municipal utilities now see large solar thermal systems as a serious and economically feasible alternative, said Stadler. He was confident that starting in 2020, more SDH systems in various sizes will be built in Germany and other countries.
Rolf Meißner, Head of R&D Department at Ritter XL Solar, also considers the market for solar district heating to be more promising than ever before, which has little or nothing to do with the available support programmes. Rather, "when the sun is shining, there is no more money to be made on the power exchange with renewable electricity because of PV. Heat, however, still has to be supplied."
Meißner and Stadler have not yet heard of a solar district heating plant being supported by the Heat Networks 4.0 programme, which funds feasibility studies on climate-friendly heat networks and their subsequent construction. Stadler said large solar fields are a tried-and-tested technology, so financial support is not needed for those kinds of studies if the field is to be integrated into an existing system. And the low-interest loans offered by the German KfW banking group under programme 271 will not delay a project either.
Companies mentioned in this article: