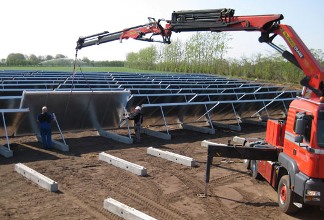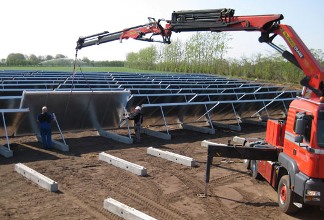 Large-Scale Solar District Heating in Denmark
802 collectors mounted in only three months: the inauguration of the latest solar district heating system by the Danish collector manufacturer Arcon Solvarme took place in the town of Gram in June this year. Photo: Arcon
Large-scale solar thermal plants are spreading like wild fire in Denmark. In June this year, the Danish collector manufacturer Arcon Solvarme inaugurated two solar thermal systems that were integrated into district heating plants: A 10,073 m2 installation in the village of Gram in the region Syddanmark and a 8,019 m2 system in the village of Strandby in North Jutland.
8,019 m2 of collector area cover 18 % of the energy demand for heating and domestic hot water of 830 households in the municipality of Strandby in North Jutland. Photo: Arcon
A third solar thermal system with 10,000 m2 is about to be installed in the town of Broager in the south of Denmark. Arcon Solvarme is a subsidiary of the Danish Holding Solarcap, which is part of the Danish VKR Group. The following table shows some further details about the three installations with collector type HT-SA:
| | | | | | |
| --- | --- | --- | --- | --- | --- |
| Site of System | Start of operation | Collector size | Number of connected households | Predicted specific annual solar yield | Predicted solar share |
| Strandby | 2008 | 8,019 m2 | 830 | 469 kWh/m2 | 18 % |
| Gram | 2009 | 10,073 m2 | 1,095 | 482 kWh/m2 | 17 % |
| Broager | 2010 | 10,001 m2 | 1,019 | 508 kWh/m2 | 22 % |
"In recent years, we have experienced an increasing demand for large plants," Anders Otte Jørgensen, CEO of Arcon Solvarme, explains. "Solar collectors are improving all the time, and in Gram, they will be able to cover the equivalent of the annual heating demand of approx. 190 households."
The large module fields save a lot of installation time. "The 802 solar collectors of Gram's district heating were mounted in only three months and with an insignificant interruption of the station's operation," remarked a Solarcap press release this June. The existing heating unit is a combined heat and power plant driven with natural gas. The solar thermal installation of Gram is a pure economic investment without any rebates or subsidies. "The independent district heating network owned by the users in the village or town decided to invest in this future technology and they will most probably reach a payback time of 7 to 9 years," Jørgensen explains.
Arcon Solvarme has been one of the pioneering firms in producing high temperature collectors and planning, as well as installing, solar district heating systems in Denmark.
More information
http://www.solarcap.dk
http://www.arcon.dk