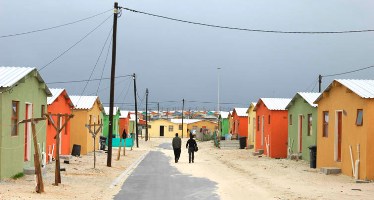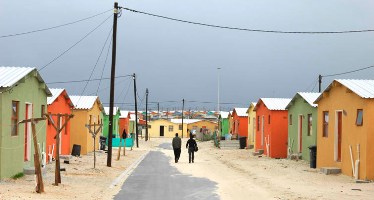 Kuyasa – South Africa's first Clean Development Mechanism project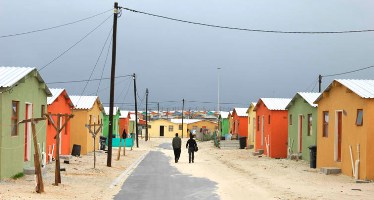 Over 6,300 solar water heaters are planned in Khayelitsha, the biggest informal settlement in Cape Town, South Africa. Photo: City of Cape Town
Kuyasa, a low-income housing settlement in Khayelitsha, Cape Town, is South Africa's first Clean Development Mechanism (CDM) project with solar thermal technology. It aims at installing solar water heaters (SWH) in existing low-income houses. Each SWH helps to reduce around 1.29 tonnes of CO2 per household and year. The South African Government and the Department of Environmental Affairs and Tourism fund this project. Implementation started in August 2008. So far, over 700 low-pressure solar water heaters, with a capacity of 110 litres each, have been installed in the area.
The CDM is one of the flexible mechanisms from the Kyoto Protocol. It enables South African project engineers to develop emission-reducing projects that can earn them sellable certified emission reduction (CER) credits, each of them equal to one ton of CO2. Over 2,300 houses will be equipped with solar water heaters in Kuyasa, which will cost about 12 million South African Rand (ZAR). 4,000 more houses that will be built in the coming years will already have solar water heaters installed.
The City of Cape Town initiated the project and developed it together with SouthSouthNorth, a non-profit development organization. Kuyasa is the first internationally registered CDM Project possessing the African Gold Standard. The SAEDF (South African Export Development Fund) is responsible for its implementation. It is also responsible for budget control and overseeing the project.
The CDM project was approved in 2005 (project design see attached document). A pilot project to install solar water heating on 10 houses was launched thereafter. August 2008 was the start of the rollout. The systems are expected to be in operation for 21 years.
South African contractors will install the collector systems. They have been chosen through an open tender by the Ward Development Fund based in Khayelitsha, the biggest informal settlement in Cape Town. The household owner will bear a part of the installation costs, paying ZAR 30 per month over a three-year period. Heating water with the power of the sun will save up to 40% of the residents' electricity costs, which will be approximately ZAR 626 per household per year. The solar water heaters will come with timers, as heating loads peak in the evening in winter, if the systems are supported by the use of an electrical geyser. Local plumbers and electricians will be trained to install and maintain the systems, in order to enable the collector on a roof to draw in as much sunlight as possible. Homeowners (mostly women) will be informed about renewable technology and its utilisation.
The Kuyasa project not only helps to reduce CO2 emissions each year, but will contribute to poverty mitigation and better health and living standards for the residents of Kuyasa. Reduced energy costs (which currently draw 25 % of a homeowners income), growth of a renewable electricity infrastructure, and job creation are only a couple of advantages for the people of Kuyasa.
More Information:
CDM:
cdm.unfccc.int/Projects
City of Cape Town:
http://www.capetown.gov.za/en/KuyasaEnergyEfficiencyProject.aspx
SouthSouthNorth:
http://www.southsouthnorth.org
Gold Standard:
http://www.cdmgoldstandard.org
Or
Carl Wesselink
South African Export Development Fund
10 Het Atelier 5 Roodehek Street Gardens,
Cape Town, 8001
Phone: 0027/21-4657522
Fax: 0027/21 – 4657631
Email: kuyasacdm@telkomsa.net
The text was written by communication professional Hanna Schober, who is based in South Africa. Schober_hanna@gmx.at