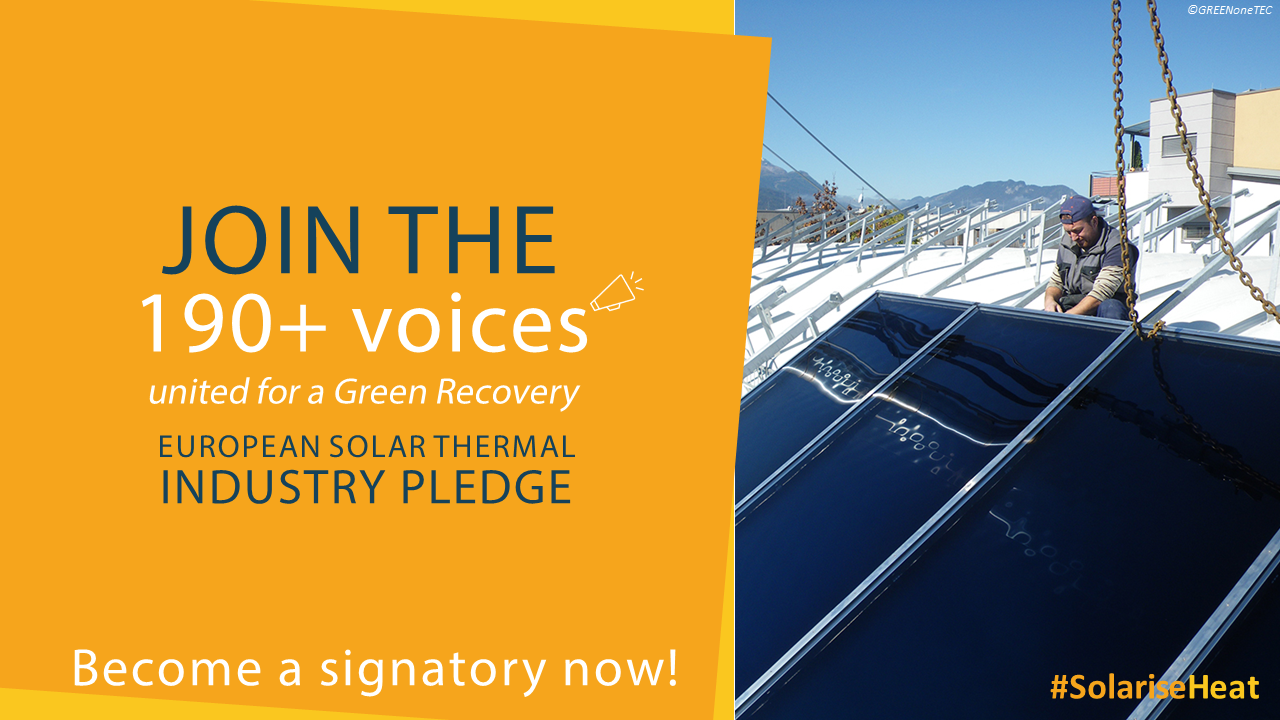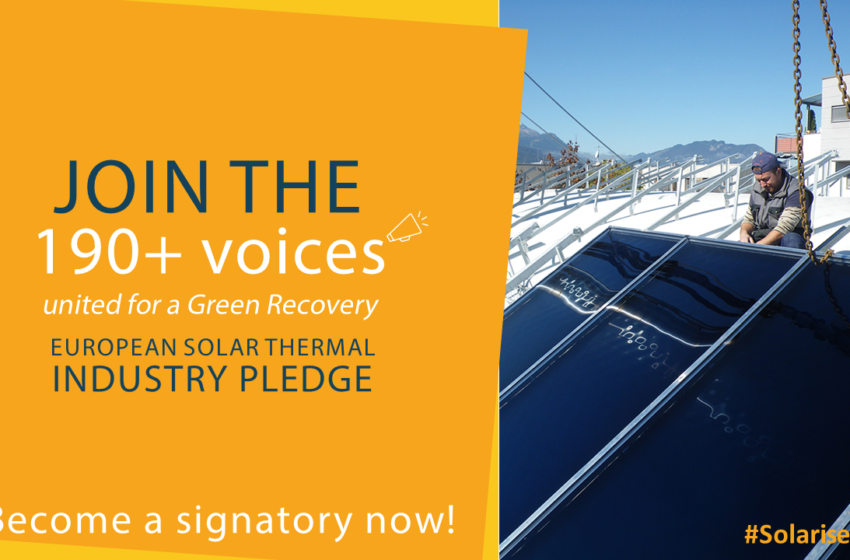 Join 190+ pledge supporters by Friday
Since mid-July, more than 190 organisations across Europe have shown their support for Solar Heat Europe's #SolariseHeat initiative by signing the European Solar Thermal Industry Pledge, promising to deliver a green recovery. The association has now launched a second call for signatures, offering both public and private entities to put their name on the pledge by Friday, 11 September 2020. The document including the new signatures will be published on Wednesday, 16 September. 
Time is of the essence, as member states will be submitting recovery plans to the EU by mid-October. "We need to ensure a concerted effort of all supporters to make national and European stakeholders aware of the initiative," said Irene di Padua, Policy Officer at Solar Heat Europe.
Besides signing the pledge, organisations can do several things to make #SolariseHeat the piece of news everyone will be talking about:
By pledging to support Europe's solar heating and cooling industry, organisations promise to do the following:
"We fully support the pledge"
So far, over 190 public and private companies and associations have signed the pledge and are listed, together with their logos, on both the SolariseHeat website and brochure. Each has their own reasons for supporting the solar thermal industry:
"We need to start acting now. The next 10 years will be crucial to transforming and decarbonising the heat market. We will need solar-assisted heating for households, trade and industry by 2030, since all systems installed after that year will most likely still be running in 2050, " said Austria Solar Chairman Robert Kanduth, who was one of the first to sign the document.
"We need to implement carbon prices to create a level playing field for solar heat in Europe. We are doing our part in growing the industry by providing highly durable, zero-emission solar heat systems that keep energy prices stable over their lifetime," explained Jonathan Koifman, Marketing Manager at Swiss collector manufacturer TVP Solar.
"We fully support the pledge, as a circular economy with sustainable, resource-efficient solutions is a key factor in making a zero-carbon Europe a reality by 2050. And copper, which can be recycled over and again without losing its properties, fits well into that strategy," said Robert Pintér, Manager of the European Copper Institute's Green and Healthy Buildings Group.
"As a start-up business, we are working hard to provide clients with solar energy solutions that can meet a high portion of their heat and electricity demand. It is great to see the solar heating and cooling sector standing united to support #SolariseHeat," added Dr Alejandro del Amo, CEO of Spanish-based Abora Solar.
The solar heating and cooling industry is confident that the numbers speak for themselves, as over 10 million solar thermal systems with a total heat generation capacity exceeding 36 GWth are running in Europe today. In addition, the industry provides 19,000 jobs, mostly at SMEs, and has been creating value locally all over Europe. Find more facts and figures about the European solar heating and cooling sector under
https://solariseheat.eu/?page_id=2
Organisations and initiatives mentioned in this article: