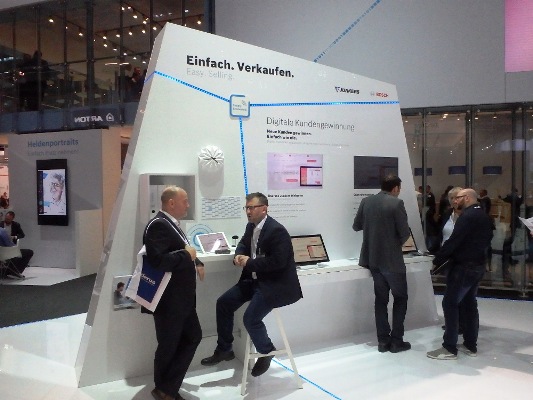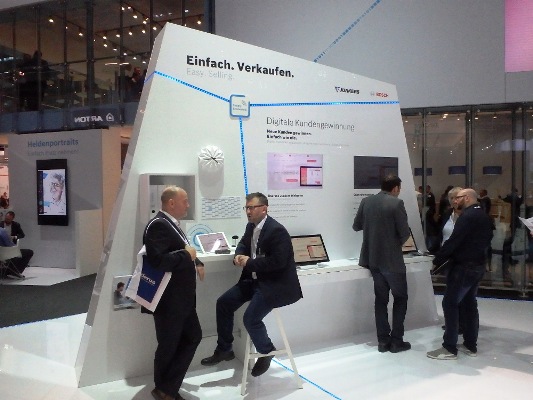 ISH in Germany: Easy Selling – Heating Industry Starts Digital Marketing Journey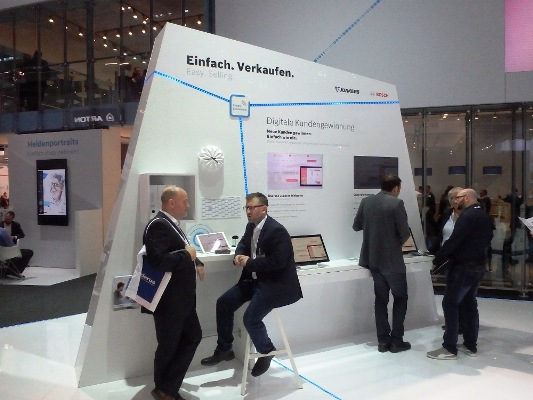 Traditionally, the ISH has been the biannual forum for the European heating industry to showcase product innovations and new business strategies. The big five in Europe – Bosch Thermotechnik with its brands Buderus and Junkers, Viessmann, Vaillant, Ariston and its Elco brand, and BDR Thermea with its brands Remeha, Brötje and De Dietrich – welcomed tens of thousands of installers to the international five-day business-to-business fair in Frankfurt, Germany, at the beginning of March 2017. They chose two entirely different ways of presenting the new generation of heating solutions: Viessmann and Junkers focused on online marketing and sales, whereas Vaillant and Buderus favoured system integration. "Easy selling" reads the exhibition wall at the booth of Junkers (see photo), where the new online marketing tool was shown to attendees.
Photo: Bärbel Epp
The booths of Viessmann and Junkers directed attention to digital marketing, remote control and maintenance tools, which pushed product innovations to the side walls of the exhibition space. An insider called it the "
Thermondo
effect". This fast-growing start-up founded in 2015 in Berlin, Germany, has enjoyed great success in selling heating systems on the web and prompted the management of heating companies to focus on digital marketing.
"80 % of all house owners look for information about new heating solutions online. So, we would like to invite installers to start with us on a digital journey," explained Thomas Lesch, Solar Product Manager at Viessmann. This "journey" consisted of five steps and revolved around a forum, during which Maximilian Viessman from the same-named family-owned business held presentations at the fair in regular intervals to explain the digital transformation of society. The big challenge is to get the plumber on board, because in contrast to Thermondo, Viessmann cannot bypass clients in the installation business. The newly developed calculation tool for heating demand will be incorporated into the website of each of Viessmann's installation partners and adapted to their logos and colours. Additionally, the quotes that the calculation tool generates automatically will be based on an installation partner's price list of components and services. This guarantees price autonomy for the plumber – an important step towards acceptance of the new approach. All attempts at
direct communication with consumers about prices
for heating systems had been heavily criticised by German installer associations in the past.
As is common when shopping online for commodities, consumers should receive preliminary offers for new heating systems in a short time and at weekends too. Building owners navigate through an icon-based menu to choose the current and favoured fuel source and heating technology. They also need to enter general information about the type and the size of the building they own, the number of people living in it, the insulation standard and the current heating system, in order to receive an automatically generated quote. Viessmann expects the quote to be the basis for first telephone contact between installer and consumer.
Junkers takes a slightly different approach. Online requests are gathered from web portal
http://www.heizungstausch24.de
, where the consumer is also led through an icon-based menu to provide information about his or her current and future heating system. "We cross-check all requests and delete 30 to 40 % before we send them to the installer to make sure that we forward only serious enquiries," explained Julius Ehret, Senior Online Marketing Manager at Bosch Thermotechnik. This approach has been used for both brands – Junkers and Buderus. The installer provides an individual quote based on the data generated from the website. Ehret focuses on the generational shift among plumber businesses in Germany. "The younger generation has grown up to smartphones, which makes them more open towards online marketing," said Ehret. Bosch and Viessmann will first implement the new tools in Germany and go global later.
In addition to those tools, heating businesses have offered online maintenance platforms and apps to provide user-friendly service contracts. "It would be ideal if the installer called the end customer to tell him or her that the heating system was experiencing technical difficulties, even before the consumer notices a drop in room temperature," explained Lesch. At Viessmann, the tool is called Vitoguide and allows for a remote detection of defects in heating devices. Junkers calls its tool EasyService Pro, an app which establishes a fast connection to heating technology on site.
ELCO, a brand of the Italian Ariston group, has been in the pilot phase of digitising its service department. "We engage 800 service engineers to support our customers by maintaining around 1.7 million ELCO heating installations across Europe," explained Markus Hödl, Head of Product Management of the ELCO Division. "These service engineers will gradually implement software solution Remocon Net for remote control on site."
Innovations: Solar heat out of focus
Digital marketing was not the central theme at the booths of Vaillant and Buderus. Rather, products were grouped based on application for easier wayfinding across the large booths. There was exhibition space dedicated to solutions for newbuilds, retrofitting, multi-family buildings or the property industry, and some of these areas offered solar thermal units as an option.
One Vaillant novelty concerned a drainback system which has now been introduced to the German market after having been sold in other European countries for several years. There was also a premium line of A-labelled 300- and 500-litre storage tanks, which were equipped with a vacuum panel inside the reservoir's PU foam insulation to improve efficiency. Junkers showcased new A-label tanks of up to 200 litres, with thicker insulation made of polyester fibre fleece but without vacuum panels.
Viessmann's new premium steel storage tanks carrying an A label hold between 160 and 500 litres and are identical in design to the enamelled product line. The business's new vacuum tube collectors were equipped with ThermProtect, a heat pipe to lower the stagnation temperature to 120 °C. At this maximum temperature, the condensation of the heat transfer fluid in the copper pipe stops, interrupting the heat transfer.
ThermProtect
has likewise been available for Viessmann´s flat plate collectors for the past two years.
Ariston no longer places much importance on renewable heating and particularly solar thermal. The renewables product division has recently been dissolved and merged with the heating division, meaning there are only two separate business units remaining: heating and air conditioning.
For specialised solar thermal exhibitors which attended the ISH, please see this second
news article
.
Websites of companies mentioned in this article: